Latest Episode | Cut To The Race Podcast
Formula 1 returned in the summer of 2020 as one of the first international sports to do so during the Covid-19 pandemic. Overshadowing the joy was the murder of George Floyd, which spawned the Black Lives Matter protests. Lewis Hamilton now speaks out about that time.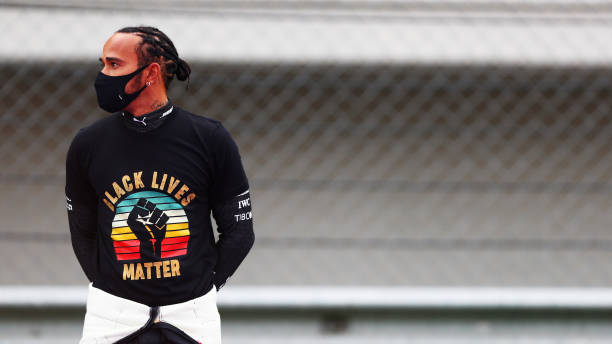 Formula 1 responded by displaying the "We Race As One" initiative and the "End Racism" slogan on its cars. Drivers wore shirts with the sayings, and F1 held one-minute silence before races.
Some drivers decided to take a knee. This gesture was originated by NFL player Colin Kaepernick and is a symbol against racism.
Lewis Hamilton was one of the drivers who made this gesture. At the first race after the pandemic break, he also wore a Black Lives Matter shirt.
Hamilton kept the gesture a secret from the team
Lewis Hamilton talks about this time in Formula 1 on the Jay Shetty Podcast.
The seven-time world champion admits he was scared before performing the pre-race ceremony for the first time.
"There's a right way to do it but the first day I was going to take the knee, I didn't feel like I could tell my team. Because I felt that they wouldn't understand how important it is for me to do this on this day," Hamilton explained.
"I remember I had my Black Lives Matter shirt hidden and I just wore it out there and I went ahead with it. The sport had made all these t-shirts with the 'We Race As One' slogan and they gave these t-shirts to everybody and I was like 'I'm not wearing that, that's not what this is about', and so this is what I'm doing."
"Afterwards my team are like 'Well if you just told us we could have prepared better' but I had this fear that they would try and stop me.
"But that was just a fear, they have been massively supportive through the whole thing. My hope was that kids would be watching me and saying 'Why is he taking the knee? What does that shirt mean? What is going on Dad, Mum?' And then the parents would have been in an awkward position having to explain it," Hamilton said.
The future of the anti-racist initiative in Formula 1
Recently, the FIA amended its International Sporting Code so drivers cannot make "political, religious, or personal" statements. Instead, these statements must be permitted by the governing body in advance.
Hamilton, however, will probably continue to stand up for his beliefs. Even if it costs him his sponsors, Hamilton will continue to make statements.
"I remember kind of being on my knees thinking 'What is happening in the world?' I've got to be outspoken. I've got to take that chance because if I don't do it, then no one's going to do it," Hamilton said.
"If I don't take the knee, if I don't let people like me know that I care, [that] I hear you and I'm with you.
"I'm going to do something about it and I'm going to risk it all. I don't care if my partners want to drop me because they want to be associated with this narrative. I literally let go of all that fear and that's why I came so forward with it."
We look forward to further developments and the far-reaching consequences of the FIA's ban. Will Hamilton break the code – if so, what will the consequences be?
Feature Image Credit: Photo by CHRISTIAN BRUNA / POOL / AFP via Getty Images