Latest Episode | Cut To The Race Podcast
Mercedes driver George Russell believes that the battle to finish third this year is more exciting than the battle going on between Red Bull duo Max Verstappen and Sergio Perez at the front of the grid.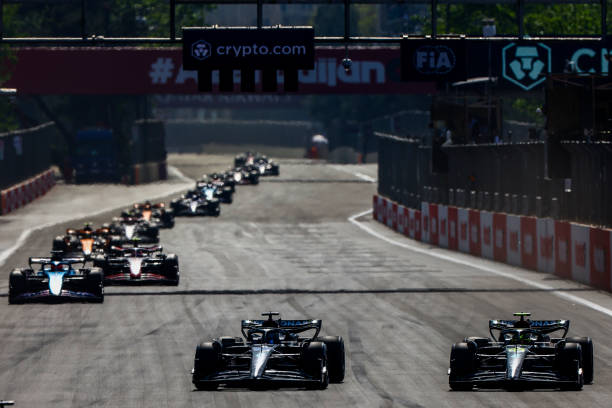 It's been a dominant start to the season for Red Bull, who have won all four races at the start of the 2023 season, as well as the sprint race in Baku.
The only race so far this season where both of the two spots weren't filled by Verstappen and Perez was in Australia where the Mexican ran into mechanical issues meaning he started from the back of the grid.
Miami is expected to be much of the same, with Red Bull expected to dominate whilst Mercedes, Ferrari, and Aston Martin will all be competing for the last step on the podium in America.
Ferrari came close to ending the dominance as Charles Leclerc finished first in qualifying but failed to hold off both Perez and Verstappen in the sprint as well as the race.
The main battle in that race was in fact between Leclerc and Fernando Alonso in the Aston Martin, with the Spaniard trying to make a late move to secure another podium this season.
Alonso saw his run of podiums end in Baku, coming in third in the first three races of the season.
As for Russell, he believes the battle between Aston Martin, Mercedes, and Ferrari is much more interesting than what goes on at the front of the grid.
"I'm confident we'll make progress but of course, we want the competition," said Russell.
"I think the competition we've got at the moment between Ferrari and Aston Martin… every race we go to is really close between us in qualifying."
"The pace is really close in the race and if that was the fight for victory, it would probably be one of the most exciting seasons we've seen in a long, long time. And it's obviously just a shame that there are two more cars well out in front?"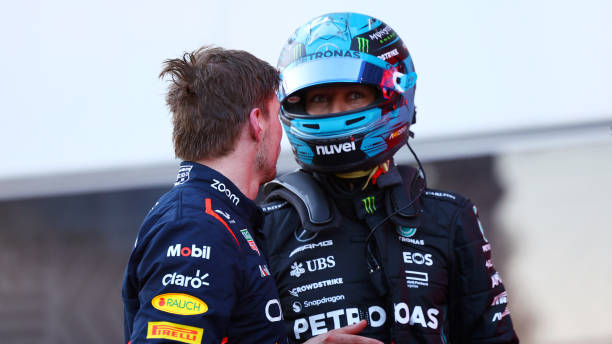 "So yeah, forget about those two and just watch the race for P3. It may be a bit more exciting. But yeah, it's challenging. I think in no sport, you never want to see somebody dominating. You want to have that competition and that's what we all want.
"In an ideal world, you have 20 drivers and 10 teams all capable of winning every single weekend, if you do the right job."
Mercedes have been vocal about their desire to get back to the front of the grid and give Red Bull some competition.
For now, however, they will have to settle for competition in the middle of the grid, battling out for third place.
Featured image credit: Jared C. Tilton