Latest Episode | Cut To The Race Podcast
Alpine driver Pierre Gasly has admitted it was a 'frustrating' second half of the Las Vegas Grand Prix, experiencing extreme graining on his tyres.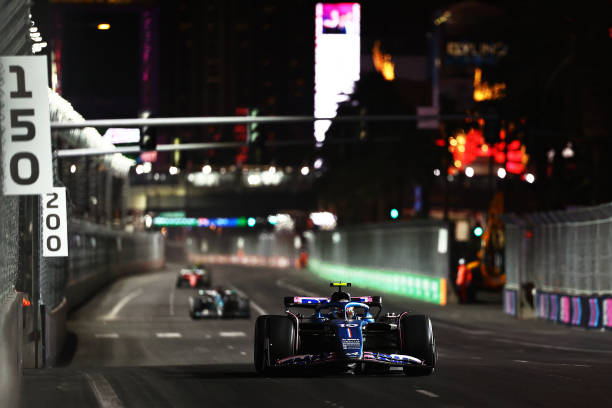 The Frenchman had started the race from P4, his best qualifying result of the season, before struggling after pitting for a set of Hard tyres.
After struggling with his new set of tyres, Gasly dropped from the front of the pack to P11 by the end of the race.
"The main thing was just that after 5/6 laps I grained the hard tyre and, from there on I just never recovered and it was just a very painful, long last 25 laps," said the Frenchman, speaking to Motorsportweek.com.
"So, obviously frustrating because, the start was great. Started in the right train behind George [Russell] and Charles [Leclerc] not too far ahead, I knew there was, yeah, big, big opportunity on the table, but then, yeah, after on that Hard tyre, it was just a pretty much a nightmare."
A tricky second stint for Pierre meant his hard work from Quali was unfortunately undone 😩

Still plenty of positives to take from this weekend and we'll come back fighting in Abu Dhabi 👊#Alpine #LasVegasGP pic.twitter.com/OfISVkHUSt

— BWT Alpine F1 Team (@AlpineF1Team) November 19, 2023
Gasly started the race on the medium tyres, a tyre he was able to manage much better.
A safety car restarts things significantly harder for the one-time race winner, who struggled to get the heat back into his tyres.
"I don't know if it was with the Safety Car, the tyres get cold, you, you start pushing on a very cold compound so, yeah, we need to review," he continued.
"I don't fully understand why we struggled so much on my car."
Still positives for Alpine
Despite a poor showing for Gasly, his teammate Esteban Ocon had a great race, turning around a poor qualifying session to finish P4 in the wildly criticized race.
Currently sixth in the constructors with no chance of moving up or down, the result is still positive for the team going into 2024
"But looking at the big picture as a team, I think it's been a very, very strong weekend," continued Gasly.
"Strong qualifying, lining up fourth on the grid, Esteban managed to finish fourth, we had good pace throughout the whole weekend. So I think as a team, we can be pleased and just need to understand the few things that didn't go well."
The driver pairing both had different strengths across the weekend, with Gasly doing well in qualifying and Ocon showing great race pace.
One thing that hindered Gasly's race was starting on oil that had been spilt by cars during the driver's parade.
"It wasn't nice, especially lining up on the best spot of the year for us,
"I've discussed it already with the FIA and I'm sure we'll change a few things because it doesn't feel really fair that some guys got to start on oil and some others clear tarmac but I'm sure they'll fix it."
Featured Image Credit: Song Haiyuan via Getty Images