Latest Episode | Cut To The Race Podcast
The Japanese Grand Prix delivered a surprising twist as Alpine driver Pierre Gasly found himself during a contentious racing moment.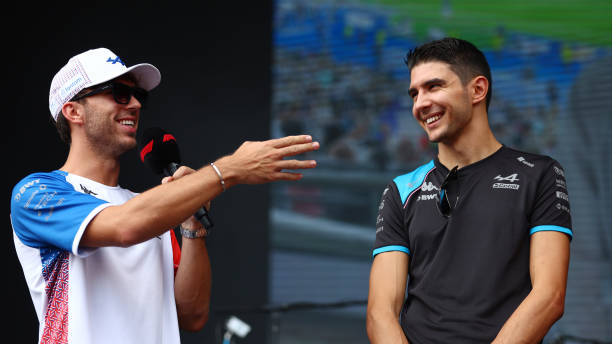 Gasly was ordered to let his teammate, Esteban Ocon, pass him on the race's final lap, leaving both drivers in disbelief.
Throughout the race, Gasly and Ocon had already exchanged positions not once but twice. Ocon initially allowed Gasly to overtake him on lap 46 of the 53-lap race. This strategic move raised eyebrows due to its timing. However, the plot thickened when Gasly received an unexpected order from his team to surrender his position to Ocon just a few laps later.
Gasly's reaction was one of astonishment. He questioned the seriousness of the instruction with his race engineer, Karel Loos. Eventually, Gasly complied with the order, yielding his position to Ocon at the final corner's exit on the last lap. Nevertheless, he vehemently believed the decision was a "complete joke."
Back in the points after a good recovery drive. Today was about teamwork and both cars in the points is a good result for us. Still a lot of work to do, we won't stop pushing.

Arigato gozaimasu, Suzuka. 🇯🇵 pic.twitter.com/EuAUXgt8Ed

— Esteban Ocon (@OconEsteban) September 24, 2023
Gasly shares his point of view
The aftermath of the race saw a visibly agitated Pierre Gasly. After completing the final lap, he vented his frustration by repeatedly striking his car's steering wheel and the halo.
Gasly revealed that discussions about the team potentially swapping the running order of their cars had taken place before the race. However, he did not anticipate that the positions would be reversed again at the end of the race, and the lack of a clear rationale for this late-race swap left Gasly and spectators perplexed.
According to GPfans.com, Gasly explained:
"We both finished in the points, so there were positives and negatives.
"For the team, whether we do nine and 10 or 10 and nine, it's all the same. I don't see the point of doing that. On the last lap, I was asked to give Esteban my place, something that hadn't been discussed before the race.
"I'd done better in qualifying, I was out in front, I had more pace. I don't understand. It's three more points for the team, but we'll talk about the rest. We weren't far from Alonso at the end. We have good pace in the race and less in qualifying."
The controversy surrounding this incident has raised numerous unanswered questions about Alpine's strategy in the Japanese Grand Prix.
Feature Image Credit: Clive Mason via Getty Images