Latest Episode | Cut To The Race Podcast
The first free practice in Montreal since 2019 had it all. Yesterday there was a tornado warning. Whether the first practice session would take place was questionable for a long time. The water stood in the pit lane, which looked much drier today.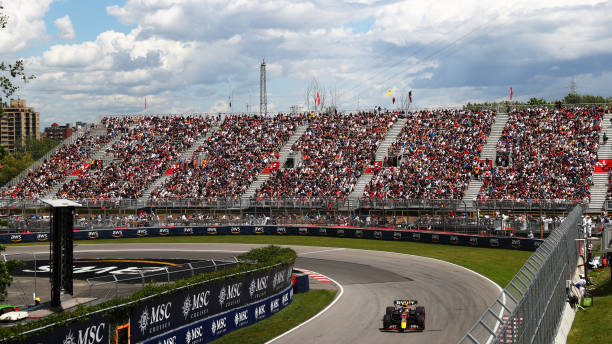 After the first free practice, the usually known drivers were in the first ranks: Carlos Sainz followed Max Verstappen, who finished in P1. Fernando Alonso surprisingly set the 3rd fastest time during FP1.
Finally: F1 in Montreal again
At 19.00 GMT, the cars left the pitlane.
All eyes were on Mercedes, who will likely struggle with the new FIA regulation on porpoising or bouncing. The W13 has problems with the problem that triggers severe oscillations.
These vibrations are sometimes so violent that they can trigger pain.
Lewis Hamilton seemed barely able to get out of the car after the race in Baku.
That's why the FIA now reacted.
For the team surrounding Toto Wolff, the results after FP1 meant that their drivers finished in 6th and 8th place.
How the trend continues remains to be seen in the remaining practices.
McLaren showed a rather strong pace in Montreal.
After Ricciardo and Norris both scored in Baku, the trend in Team Papaya seemed to be on the up.
Ricciardo set some fast laps on the soft tyres and ended up in P10, in front of teammate Lando Norris in P12.
Clash of the Titans
The Ferraris showed blatant symptoms of porpoising, with the heads of drivers Sainz and Leclerc jolting around on the long straight.
The porpoising was less noticeable for the Red Bulls. The car seems to exhibit less bouncing on the track in Montreal.
Verstappen had to pit after just under 30 minutes because he suspected that the steering rod was not correctly connected to the front tires.
Best of the Rest?
Esteban Ocon had to return to the pits after 15 minutes because a paper towel got caught in the front right brake. His Alpine was smoking as a result, but significant damage was prevented. He left the garage with 23 minutes left on the clock.
Homeboy Nicholas Latifi was more subdued in the Williams. He finished FP in P19.
On the other hand, Lance Stroll showed that the B-Spec version of the Aston Martin worked. He finished the practice in P7. His teammate Sebastian Vettel made it to P9.
Yuki Tsunoda kissed the wall – however, he was able to save his AlphaTauri and mainly left some small bits of the chassis hanging on the barrier.
Haas showed a rather bad side. After it became known that the team might even delay the updates until Hungary, hopes in the American team were relatively low.
Mick Schumacher finished the first practice session in P18 and Kevin Magnussen in P20.
All eyes are now on FP2.
Verstappen, Sainz and Alonso lead the way after first practice 👏#CanadianGP #F1 pic.twitter.com/6RuqbsmBjZ

— Formula 1 (@F1) June 17, 2022
Feature Image Credit: f1.com