Latest Episode | Cut To The Race Podcast
A Formula One team boss has said that across the paddock, the "general view" is that FIA President Mohammed Ben Sulayem has "got to go."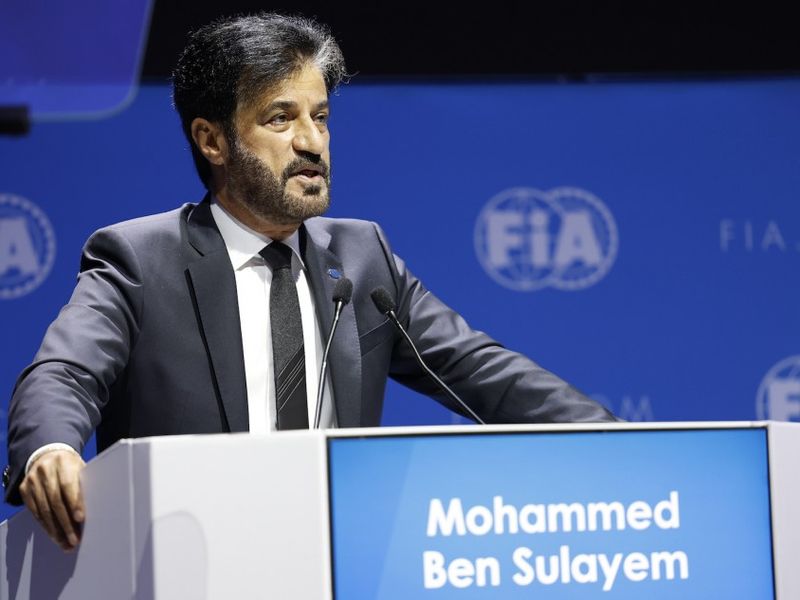 While speaking with the BBC, a team boss anonymously said: "Everyone thinks he's got to go. That is definitely the general view."
It comes after there have been several controversies revealed concerning the 61-year-old. First, the restrictions on drivers using their platform to speak out about social matters. Many drivers have been raising awareness about issues such as LGBTQI+ rights, mental health and racism.
Then, it was revealed that the Saudi Arabian Public Investment Fund (PIF) made an unsuccessful bid for Formula One's commercial rights. Ben Sulayem deemed the value of the sport being "inflated". As a result, tensions grew between the FIA and Liberty Media.
Now, an old website of Ben Sulayem's was found making misogynistic remarks. The website was archived because of the derogatory and outdated views it contained. Despite this, it still sparked rage, especially since the new F1 Academy is set to make its debut this season.
Drivers should 'only' care 'about driving'
In December, the FIA banned any "political, religious and personal statements" by those who compete in any racing category. It comes after a new clause was created in Article 12.2.1, which says:
"The general making and displaying political, religious and personal statements or comments notably in violation of the general principle of neutrality promoted by the FIA under its Statutes, unless previously approved in writing by the FIA for International Competitions, or by the relevant ASN for National Competitions within their jurisdiction."
It brought into question the freedom of speech and whether the FIA is trying to "control" drivers. Valtteri Bottas insisted that they "should have the right to talk about what we want."
Ben Sulayem previously questioned "the balance." He said the "FIA should be careful not to be dragged into politics without forgetting our roots of motorsport." The FIA President then went on to compare how drivers such as Niki Lauda and Alain Prost "only cared about driving."
He added: "Now, Vettel drivers a rainbow bicycle, Lewis is passionate about human rights and Norris addresses mental health. Everybody has the right to think. To me, it is about deciding whether we should impose our beliefs in something over the sport all the time."
💬 "I'm gonna push as hard as I can and use my voice wherever I can to support you"

Thank you to everybody who sent in a message for Seb – we have showed them to him, and now he has a message for you! 😊💚#F1 #LGBTQ #Pride @AstonMartinF1 pic.twitter.com/7OZscVdZey

— Racing Pride (@RacingPrideHQ) December 9, 2021
It then further added how the clause was released so that the FIA can be in line with other sporting organisations. These include the International Olympic Committee (IOC) and the footballing body FIFA.
The clause is being contested as it's still not clear whether it complies with the European Convention on Human Rights. This plays a massive part since the FIA is based in both France and Switzerland, which makes them signatories.
In Formula E, Maserati have already gone against the FIA's stance. It maintained the pride colours on their livery; the team insisted that they "will stand up for what we believe in and make sure we use our unique platform on a global basis to share our voice and our opinions."
Controversy with Liberty Media
Following the breaking news that a Saudi Arabian PIF failed to buy Formula One's commercial rights for $20 billion last year, Ben Sulayem made a statement on Twitter. In a thread, he said that "any potential buyer is advised to apply common sense." He added how they should keep in mind "the greater good of the sport" and come up with a "sustainable plan."
Ben Sulayem continued with: "It is our duty to consider what the future impact will be for promoters in terms of increased hosting fees and other commercial costs, and any adverse impact that it could have on fans."
A letter from chief legal and administrative officer of Liberty Media, Renne Wilm was obtained by Sky News. The letter accused the FIA of interfering "with those (commercial) rights in an unacceptable manner."
The letter said that any potential buyer of Formula One, shouldn't be "required to consult with the FIA," as insinuated in Ben Sulayem's tweet.
The FIA entered an agreement with the European Commission. This saw it become separate from the commercial matters around Formula One. As a result, the FIA can't have a say on whether the rights can be sold or not. 
Another agreement that prohibits the FIA is the "100-year agreement". This saw Formula 1 Management lease its commercial rights for 100 years till 2110.
Ben Sulayem previously said that "the championship is ours; we have only rented it out. So far they are only rumours about a possible sale. But the FIA should have a say and be able to offer advice."
Misogynistic remarks
The Times revealed that an archived version of Ben Sulayem's website was found with misogynistic comments. It read: "I love the desert and I love meeting real people. I don't like talking about money, nor do I like women who think they are smarter than men, for they are not in truth."
These unearthed comments raised many questions about Ben Sulayem's intentions to get women into Formula One. It comes as the new F1 Academy is set to make its debut and provide young female drivers with a better opportunity to make it through the ranks. It will provide women with a pathway through Formula 3 and Formula 2 to eventually make it into Formula 1.
We aim to enable aspiring female drivers to fulfil their potential, preparing them technically, physically and mentally 🎯#F1Academy pic.twitter.com/jVzUDRXihD

— F1 Academy (@f1academy) February 1, 2023
An FIA spokesperson issued a statement regarding the website. It read: "The remarks in this archived website from 2001 do not reflect the FIA President's beliefs. He has a strong record of promoting women and equality in sport, which is happy to be judged on.
"It was a central part of his manifesto and actions taken this year and the many years he served as FIA Vice President for Sport prove this."
Having been in the news for the wrong reasons recently, the thoughts surrounding Ben Sulayem aren't all that positive. Whether he will be leaving the FIA or remaining in his position has yet to be confirmed. But only time will tell. 
Featured Image Credit: Sky Sports