Latest Episode | Cut To The Race Podcast
Since all focus was on Pascal Wehrlein and Porsche's powertrain strength throughout the weekend, we will take a look at some of the other teams that surprised us.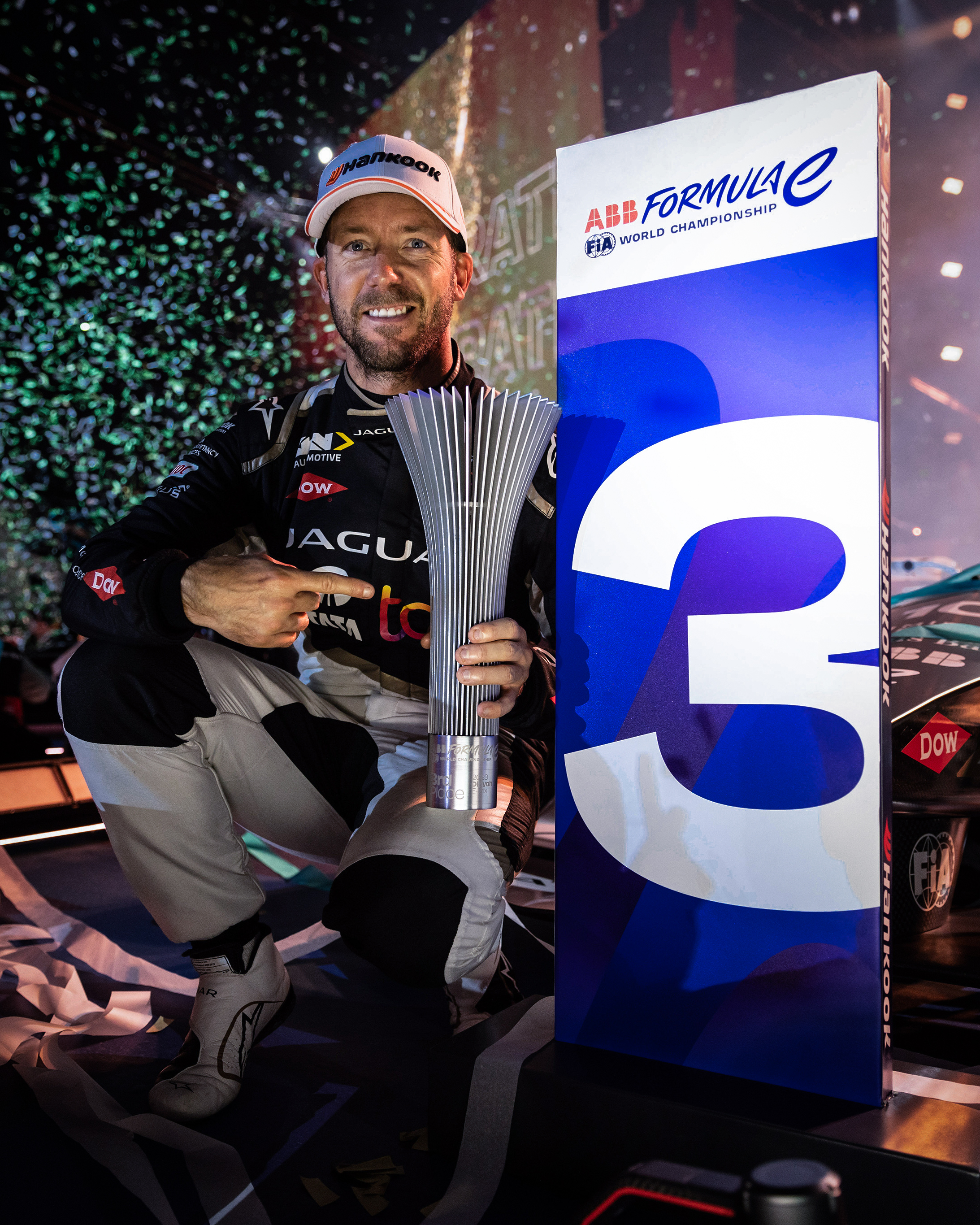 It was a double race weekend in Diriyah and some teams are starting to get a better idea of the Gen3 cars. Jaguar had a stellar weekend as Sam Bird celebrated his 100th race during Round 3.
Meanwhile, Jean-Eric Vergne would have loved to celebrate his milestone with some more points. DS Penske are still struggling to find their feet in the new system.
NIO 333 earned their first points thanks to Dan Ticktum who had obtained a frustrating qualifying result because of a cat that ran out in front of him. Japanese outlet Nissan also celebrated their first points in the series after a struggling start to the season.
Maserati were also in the mix as they finally managed to see some good signs from their car. Having finished pre-season testing fastest, more was expected from the Italian side, however, they failed to get the maximum out of it during race weekends.
Let's dive into these four teams' weekend and how they surprised us Formula E viewers.
Jaguar
Jaguar were on top of their game in Diriyah. Not everything was in their favour however.
Let's start with Sam Bird – who celebrated 100 E-Prix starts this weekend and he made it one to remember. He started with a strong practice session – finishing fastest – and then he went on to reach the Semi-Finals during qualifying.
The Brit was battling for first throughout Round 2. He still tasted champagne since he finished third, as the Porsche powertrains ahead proved too dominant. In Round 3, the 36-year-old tried to take the long run and conserve his attack mode. However, at lap 33, he was forced to activate it and that cost him a podium finish.
He lost his place to Rene Rast. He tried chasing down the McLaren but the German held on tight to his podium place and Bird finish his 100th race in P4.
Meanwhile, Mitch Evans started Round 3 leading the race after he overtook pole-sitter Jake Hughes at turn one. The ball wasn't in his court for long however, as he activated an early attack mode and started going down places.
The Jaguar was having problems conserving energy and got in the mix outside the podium. He was on for a P4 finish. But Hughes' McLaren ran out of power and it halted in the middle of the track. The Kiwi driver got caught up behind him and Sebastian Buemi passed by him too. Hughes managed to hold on to P5, but Buemi was keeping tight to P6 and Evans went from leading to finishing in P7.
DS Penske
DS Penske's disappointing run persists as they leave Diriyah with just six points. They were early-favourites to dominate the season during pre-season in Valencia, but that quickly took a turn.
They made the qualifying Duels for the first time during Round 3 thanks to Stoffel Vandoorne. The progress faded as Sebastian Buemi beat the Belgian with over three-tenths of a second.
Team Principal Jay Penske insisted that the team are doing all they can. He admitted that despite them being quick in practice, it doesn't mean much if they are not showcasing it in qualifying to get a good position for the race.
He said: "The guys worked awfully hard overnight to make sure we got everything out of the car. We tested 100 things. If I tell you the amount of things that were tested in this last practice session.
"They've worked on everything; every little, small gain we could find, we worked on. Really proud of all the efforts the engineering team did overnight."
DS Penske are going through a learning curve while hoping that they "can reproduce something that" Porsche did. The German outlet set the benchmark for this season, with the exceptional speed without attack mode and clever energy conservation that is seeing them overtake and comeback from low positions in races.
NIO 333
Dan Ticktum was NIO's star boy this weekend. He finished fastest in FP2 and was on for a good qualifying on Saturday. But a cat ran out in front of his car and damaged his timing.
He started P11 on the grid and would have loved to push further. The NIO powertrain is the one thing that is getting in the team's way of getting better-finishing results. The race pace is still not there and it was a factor that damaged their race in Mexico too.
In Round 3, Ticktum did his best to get the most out of the car and managed to bring it up to P10. He earned the team's first points this season.
This already displayed an improvement from Mexico. NIO need to take the right steps from this E-Prix and keep building on them. The Brit realised that the Anglo-Chinese outlet are moving in the right direction.
In a post on Instagram, he wrote: "First points of the season!! Trust me with the car we have at the moment the team and I can be very very proud of that performance today.
"I thought we maximised the race yesterday but somehow we dialled the balance/systems in even more and I was able to carry very good minimum speeds which allowed me to stay efficient enough despite the powertrain losses."
Ticktum added: "Combined with no mistakes my side, it shows that we can fight for points if we nail it! Head down again as we are back out in India in 2 weeks time."
Maserati
The Italians joined Formula E this year and they looked strong in pre-season. However, they didn't seem to have it together in Mexico and that dragged on to the opening stages in Diriyah.
Both drivers were out of Round 2. The qualifying for this session was daunting with both cars out of the running too. Maximilian Guenther crashed while Edoardo Mortara's car halted in the middle of the track.
This was a very disappointing stint following Mortara's failure to finish in Mexico too. The Swiss crashed in Round 1 and hoped to have a better weekend in Diriyah.
It all turned around on Saturday after Mortara managed to get himself into the Duals. He lost to Mitch Evans who was looking strong all weekend. But that enabled him to start in P7 in the race. He was surrounded by cars such as Andretti and Porsche – who so far look unbeatable.
But he managed to finally get two points at least out of the weekend and show signs of improvement. The pace is still far from perfect and Maserati struggle to keep consistent pace throughout the race.
Mortara said: "After a tough first race, I think we recovered quite well today and advancing to the qualifying duels put us in a good position to challenge for points. I had quite a bit of wheelspin at the start, but I was able to get into the top five by passing Seb [Buemi] and Jake [Dennis].
"Unfortunately, we didn't really have the pace to stay with the leaders in the long-run, but after yesterday, we should be happy with some points. We have taken some steps forward, but we need to regroup before Hyderabad so we can continue to fight through the challenges we're facing. I'm very grateful to my team and I have a lot of respect for everyone in the garage for all their hard work this weekend."
Nissan
The Japanese outlet embraced their new beginning in Diriyah. This year, Nissan took over the e.dams operation and together with Formula E entered a new era. They also got two new drivers: Norman Nato and Sacha Fenestraz.
The French-Argentinian is one of the rookies this season but is trying to push his Nissan forward as much as he can. He was having a great qualifying session on Friday before Maserati stopped his progress with a red flag.
He failed to make it to any of the Duals, but put himself in P12 to start the race. He managed to finish off in P8 and take away four points from the weekend.
The 23-year-old is looking like one of the best prospects this season, already showing signs of strength. Nissan still have a long road ahead to reach the likes of Porsche or Andretti. But this youngster is setting the pace.
Featured Image Credit: Stoffel Vandoorne Official Twitter