Latest Episode | Cut To The Race Podcast
Pascal Wehrlein dominates Diriyah winning both E-prix for Porsche in Rounds 2 and 3 of Formula E.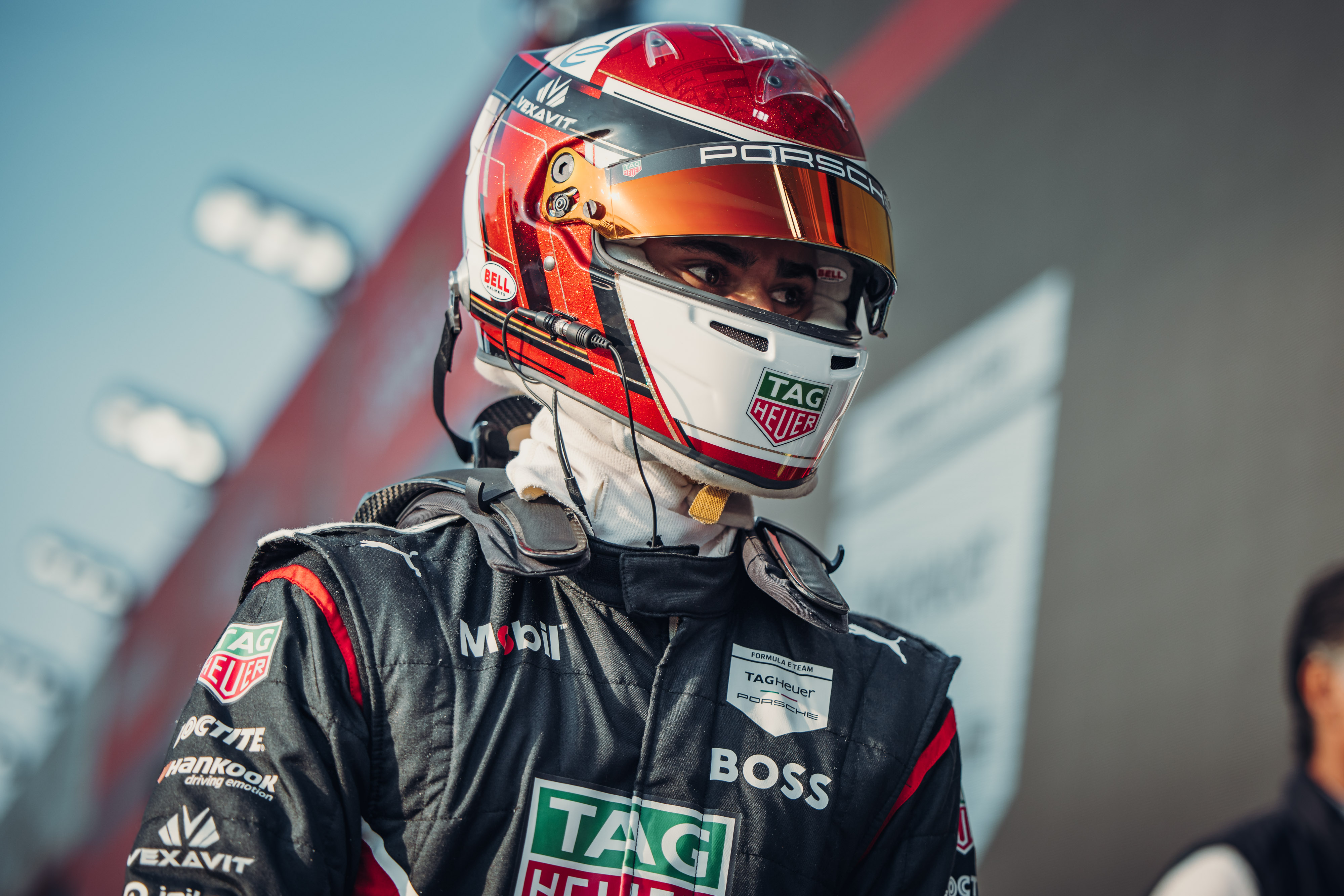 Mitch Evans took the lead of the race at turn one on the opening lap, however, his energy was not matched to that of the Porsches and Sam Bird.
Viewers witnessed another Pascal Wehrlein masterclass as he made a comeback to first from P5. Meanwhile, Jake Dennis gained eight places after he fell to P7 to finish P2.
Rene Rast meanwhile held on to P3 after he was put under immense pressure by Sam Bird.
The opening laps
Mitch Evans immediately took the lead as he overtook pole-sitter Jake Hughes in the first corner. Meanwhile, Pascal Wehrlein made an unbelievable start which saw him in a good position to hunt down the top three. Mortara also went up two places in P5, seeing Maserati run in the points for the first time this season.
Evans led the first 10 laps, however, a radio to teammate Sam Bird stated that he was running faster than the race leader. The Kiwi driver activated his attack mode for three minutes at lap 10, sending him down to P3.
Both McLarens were leading until Jake Hughes followed with attack mode on Lap 11. He went down to P3 and the pressure was on as Wehrlein was chasing with his strong Porsche powertrain. Meanwhile, the other McLaren of Rene Rast also activated attack mode and managed to maintain first place.
The power of the Porsche
Wehrlein waited until he activated attack mode and use the strength of his Porsche powertrain to hunt down the top three. On Lap 13, he managed to take over Hughes and Evans who had both already used up one of their attack modes.
The Porsche had 2% more energy than the other cars, making it impossible to keep up with Wehrlein. The German activated attack mode at Lap 15 for three minutes and still maintained second place. He immediately got on the back of Rene Rast thanks to the boost. At lap 17, at turn one Wehrlein took the outer line and placed himself well on the track to overtake Rast at the second turn. Wehrlein was now leading the race.
Jake Dennis and Sam Bird enter the mix
Rast activated his attack mode to try and reach Wehrlein's strength. It was useless as the Porsche's speed couldn't be matched. Meanwhile, the Porsche powertrain in Jake Dennis' Andretti was starting to show its strength too.
He was making his way from P7 and got to P6 when Sebastian Buemi activated attack mode. However, Sam Bird was also running strong and started hunting down the fellow Brit. This made it even harder for Dennis to hunt down Mortara. It became even more worrying when data showed that Sam Bird had 49% of energy when compared to the 47% and 45% other cars had.
Dennis avoided trouble immediately as he finally managed to make the move on Mortara. Next up was Hughes, who was struggling with energy management. He used up what he had left of his attack mode and Dennis went up to P4.
The Brit dominated even more when he then went after Evans' Jaguar. Dennis made an impeccable comeback as he even overtook Rene Rast on Lap 25.
Replay of Round 2?
The gap to leader Wehrlein was that of two seconds. It was Pascal Wehrlein vs Jake Dennis once again. Porsche vs Andretti. Porsche powertrain vs Porsche powertrain. The Brit took a minute of attack mode on Lap 26 and had three left to try and get on Wehrlein's back.
Sam Bird was doing very well to conserve his energy while maintaining speed. He was faster than his teammate Mitch Evans and then even overtook Rene Rast on Lap 27.
However, a safety car was deployed on Lap 28 after Nico Mueller crashed into the wall. He sent it deep into Turn 1 and braked too late to save his car. This played well in Dennis' favour, for him to give him more time to activate attack mode. Meanwhile, Bird had more energy than the leaders and two attack modes opportunities too.
The last run for the win
The cars went racing again at lap 30. Bird managed to gain on Dennis and the pressure was on. The top three cars were all in the running for first. Wehrlein made a great restart which saw him keep P1 and keep a gap from Dennis. Both Brits had attack modes remaining, with Bird having four full minutes. This came as a disadvantage with around 12 minutes left on the clock.
If drivers don't use two attack modes, they'll receive a penalty. Both of them went through on Lap 33 and the Jaguar lost one place to Rene Rast. Dennis kept P2, however, Wehrlein was flying way ahead. Bird was within distance of catching the McLaren while Dennis was one and a half second far from Wehrlein.
Bird made an overtake on Rast but he went wide and lost the place again along with crucial seconds. Luckily, the extra energy he had helped him to catch up and with one attack mode remaining, he was still in a good position to snatch a podium on his 100th race.
In the battle for first, Dennis gained on Wehrlein as he recorded the fastest lap and was getting on the German's back.
Extra lap given
To make up for the time behind the safety car, one lap was added. There were two main battles on the track – Wehrlein vs Dennis and Rast vs Bird.
The Jaguar kept that 2% energy advantage and was putting massive pressure on the McLaren. Andretti were now concerned with Bird's energy too as Wehrlein started to break away once again.
Wehrlein took the win eventually with drama at the back of the pack as Evans was overtaken by Buemi. Hughes slowed down because he was running out of energy and Evans got stuck behind him. Buemi overtook the Kiwi driver which left him fuming at the end of the race.
Final Results
Pascal Wehrlein (Porsche)
Jake Dennis (Andretti)
Rene Rast (McLaren)
Sam Bird (Jaguar)
Jake Hughes (McLaren)
Sebastian Buemi (Envision)
Mitch Evans (Jaguar)
Sacha Fenestraz (Nissan)
Edoardo Mortara (Maserati)
Dan Ticktum (NIO 333)
Stoffel Vandoorne (DS Penske)
Antonio Felix da Costa (Porsche)
Andre Lotterer (Andretti)
Nick Cassidy (Envision)
Norman Nato (Nissan)
Lucas di Grassi (Mahindra)
Jean-Eric Vergne (DS Penske)
Sergio Sette Camara (NIO 333)
Kelvin Van der Linde (ABT)
Maximilian Guenther (Maserati)
Oliver Rowland (Mahindra)
Nico Mueller (ABT)
Featured Image Credit: TAG Heuer Porsche FE Team Official Twitter