Latest Episode | Cut To The Race Podcast
Red Bull boss Christian Horner has offered driver Sergio Perez a few words of advice ahead of the Las Vegas Grand Prix.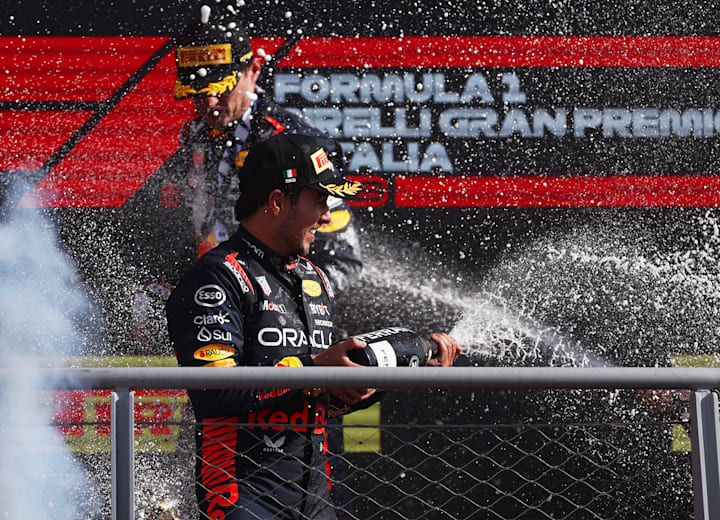 Both Drivers' and Constructors' Championships have been decided long ago, with Max Verstappen and Red Bull taking the spoils in a campaign they have well and truly dominated.
Red Bull's other driver, 33-year-old Sergio Perez, has had a far less impressive season. He has scored less than half the points of his triple World Champion teammate, while his last podium finish came seven rounds ago at the Italian Grand Prix.
The Mexican driver has been the subject of much scrutiny in the past few months, including calls for his immediate sacking. While Perez has a contract running till the end of the 2024 season, which the Milton Keynes-based outfit intend to honour, there is denying that his performances are being compared to the likes of Daniel Ricciardo and Yuki Tsunoda among others.
Horner's advice to struggling Perez
For now however, Red Bull Team Principal Christian Horner has offered up some advice to Perez as he tries to see out a difficult 2023.
Speaking on the eff won with DRS podcast, Horner stated: "Being a teammate of Max is the hardest job in the paddock… Checo has done a great job next to Max during the last three years."
"Look at a race like Japan… The very first lap that Max does out of the pits is two seconds quicker than the rest of the field. And you're looking at that data and you're thinking, 'How has he done that? How has he done that?' And so often, that will happen."
The Red Bull boss believes that Perez should focus on himself, instead of directly comparing his pace to Verstappen. He continued: "The problem is for Checo, he's trying to compare himself to Max and what he needs to do is forget about Max."
"Just focus on himself, don't even look at his data. Just focus on being the best you can be. As we saw earlier in the year, sometimes that can be good enough."
Red Bull are determined to have their two drivers finish first and second in the Drivers' Standings, something the team has never managed before in its 18-year history.
Hot on Perez' heels is seven-time World Champion Lewis Hamilton, with the latter just 32 points behind. Despite a disappointing showing at the Sao Paulo Grand Prix, Mercedes have closed the performance gap to Red Bull as the season has reached its climax. This means the battle for second in the Drivers' Championship remains up in the air.
Feature Image Credit: REUTERS