Latest Episode | Cut To The Race Podcast
Yesterday, it was reported that Michael Masi does not make part of the FIA Organisational Structure for the month of January 2022 and many rumours rised regarding his possible sacking. Today, the FIA issued a statement saying that the new FIA president, Mohammed Ben Sulayem, appointed Peter Bayer, who is also Secretary General Sport, as the Single-Seater director in order to "optimize the organisation of the FIA structure for the 2022 season" and for further review.
Now the FIA has decided to consult all Formula One teams on various issues, including the one arising from the Abu Dhabi GP, which cost Mercedes' Lewis Hamilton the title.
On January 19th 2022, the Sporting Advisory Committee will meet and discuss the use of the Safety Car. After this, the FIA will look into having a discussion with all Formula One drivers. The outcome of all discussions will be presented to the F1 Commission in February for further review and a decision on what action may be taken to satisfy Mercedes' appeal will be announced at the World Motor Sport Council in Bahrain on 18th March, the day on which the first practice of the first Grand Prix of the 2022 season takes place.
The FIA also announced that this exercise will offer more clarification and detailed analysis for future purposes.
FormulaNerds will keep monitoring the situation and bring you more updates as developments are made.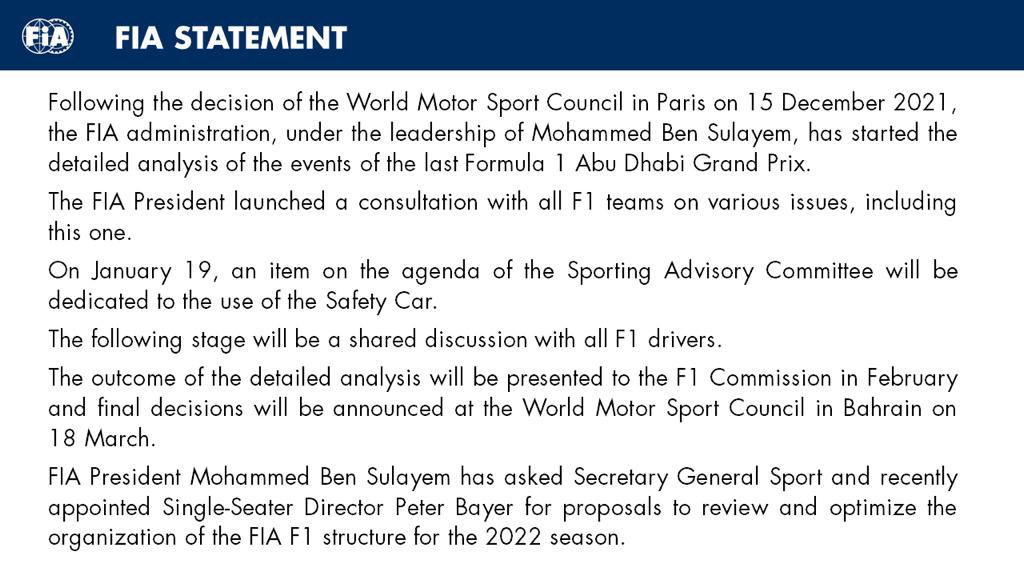 Image Credit: FIA
Head Image Credit: Giuseppe Cacace