Latest Episode | Cut To The Race Podcast
In addition to the new regulations for Formula One power units from 2026, the FIA World Motorsport Council has set out changes to address porpoising and the roll hoop.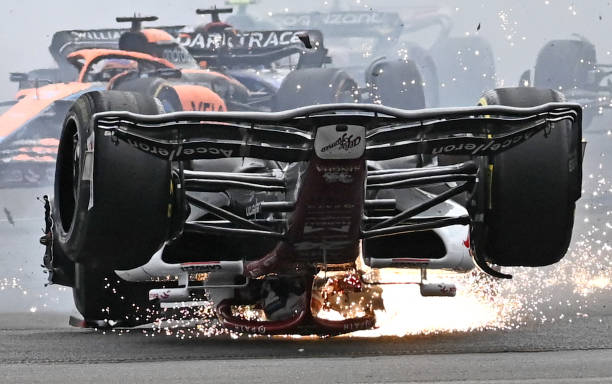 With the new technical changes for 2022, a problem has arisen with downforce due to the ground effect of the cars. Some drivers already complained of pain as their F1 cars bounce heavily and cause discomfort, especially over straights.
Will the porpoising end now?
After Mercedes and Ferrari, in particular, reported problems with the porpoising effect, the WMSC discussed changes to counteract the problem.
The changes have now been adopted.
Before the summer break, the FIA published a technical directive that affected the stiffness of the floor. This will be monitored from the Belgian Grand Prix onwards and adjusted if necessary.
From 2023 the regulations regarding porpoising then will be:
The floor edges will be raised by 15mm
The diffuser throat height will be raised
The diffuser edge stiffness will be increased
An additional sensor will be mandated to monitor the porpoising phenomenon more effectively
Nevertheless, the FIA says that "care has been taken to avoid any impact on the teams' designs of the mechanical components".
WMSC decides to adjust the roll hoop
Another change is a direct reaction to Guanyu Zhou's violent accident at the beginning of the British Grand Prix at Silverstone. His car was flipped after contact with Russell and Gasly. Zhou slid headlong over the gravel, rolled over a tyre barrier and landed in the catch fence. The Chinese driver was uninjured, yet investigations revealed that the roll hoop failed.
The following changes were decided for the 2023 season:
A rounded top will now be required on the roll hoop, which will reduce the chance of it digging into the ground during an accident
A change will be made to ensure a minimum height for the point of application of the homologation test
There will be a new physical homologation test where the load pushes the roll hoop in the forward direction
There will be a definition of new tests, to be carried out by calculation
We are sure that the adjustments to the regulations will positively impact the sport's safety.
Feature Image Credit: Lars Baron via Getty Images