Latest Episode | Cut To The Race Podcast
Fernando Alonso believes that he can return to winning ways in 2023 as he lists the specific circuits where he'll have the best chance of claiming victory.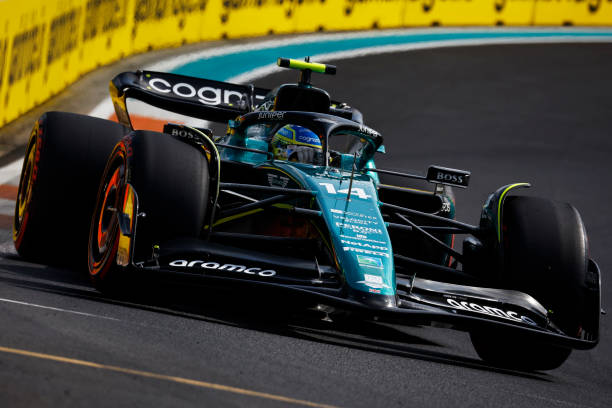 Aston Martin have surprised us all this season, with a certain man being at the heart of their success so far. Fernando Alonso has picked up four podiums in five races, with all of them being third place finishes. He currently sits in third place in the Drivers' Championship on 75 points, behind only the Red Bull duo.
Aston Martin have scored a total of 102 points this season and sit in second in the Constructors' Championship. With that being said, can Alonso and the team in green keep up this momentum throughout the course of the year?
It was announced in the early hours of Wednesday morning that Aston Martin will partner with Honda as their new engine supplier from 2026 onwards. According to some reports, Alonso is expected to stay with the team at least until the end of 2026. This could mean that the two-time world champion could be racing in the sport at the age of 45.
Alonso backs himself for win number 33!
Alonso spoke to Martin Brundle in a recent interview with Sky Sports. With no plans on retiring any time soon, the Spaniard is confident that he will return to winning ways this season as he names the tracks that will most likely see win number 33.
"Hopefully soon. I don't know. We seem to have a car that is maybe not the fastest on the straights. We need to improve that, but we are very good on the corners."
"So, I would say that the slowest speeds of the championship, let's say Monaco, Budapest, Singapore. These kind of circuits, I think we put our main hopes at the moment."
Formula 1 returns this weekend for the Monaco Grand Prix. This is one of the tracks where Alonso believes he can possibly win at. Despite this though, Aston Martin have a little way to go before being able to compete with Red Bull. Will Alonso be able to pick up a shock victory in Monte Carlo? We'll have to wait and see.
Feature Image Credit: (Photo by Dan Istitene – Formula 1/Formula 1 via Getty Images)