Latest Episode | Cut To The Race Podcast
MP Motorsport takes a double podium in the final sprint race of the F3 season.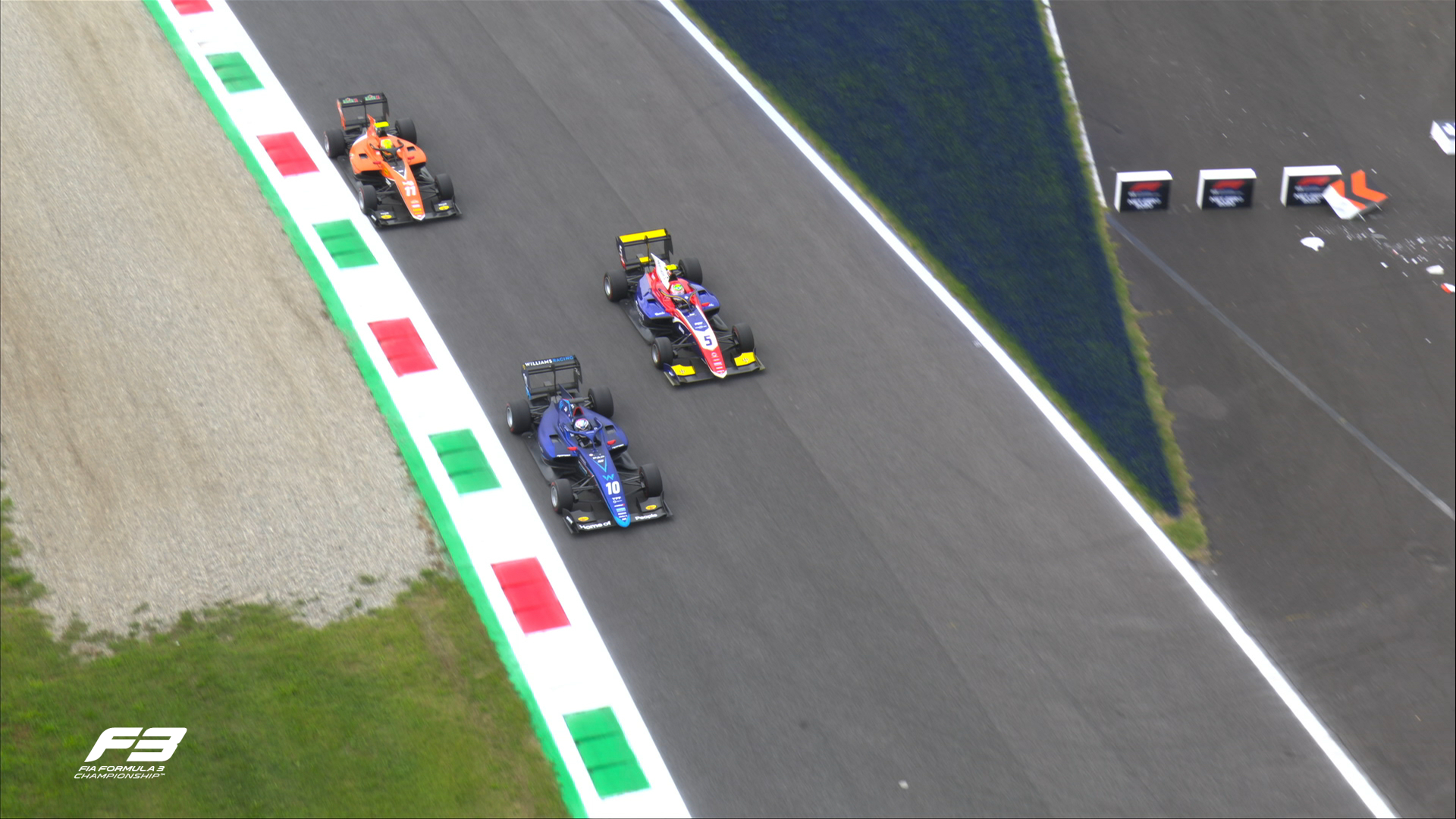 A new champion was crowned in Friday's qualifying session. Trident's Gabriel Bortoleto became the 2023 Formula 3 Champion after a shortened qualifying session. Bortoleto's teammate, Ollie Goethe, took pole position.
Five drivers were disqualified from qualifying, sending them to the back of the grid. All three of the Hitech drivers, and Rodin Carlin's Francesco Simonazzi and Ido Cohen, were disqualified. Oliver Gray was also handed a penalty for causing a collision with Cohen. This three-place grid drop was combined with an already-standing five-place penalty; Gray started from P25.
Disqualification for the Hitech and Rodin Carlin drivers meant that Boya and Colapinto were promoted to P11 and P12. As such, Colapinto started the Sprint race on reverse pole, whilst Boya started behind him in P2.
Lights out
A great race start for Mari Boya saw the MP Motorsport driver take the lead from his teammate into Turn 1. Further back in the field, Paul Aron spun. Caught up in the crossfire was Jonny Edgar; yellow flags waved as the drivers clambered out of their stricken cars.
A modern-day Renaissance painting 😵‍💫

Aron slides across the grass after suffering a puncture, colliding with Edgar and terminally damaging Marti's car in the process#ItalianGP #F3 pic.twitter.com/hoMU6s69dn

— Formula 3 (@Formula3) September 2, 2023
It was a mistake from Collet that played a part in the mayhem. Collet went into Turn 1 too deep, locking up and sending himself into the side of Pepe Marti. Although Marti attempted to back to the pits, the front left tyre gave up on the way. The safety car came out as a clean-up of the track got underway.
Racing continues
The safety car came in on lap 5. Boya was under pressure to hold onto the race lead, whilst teammate Franco Colapinto loomed in his wing mirrors. Boya restarted well, soon opening up a second gap to his teammate. But the battle was on for P2, as Gregoire Saucy began to challenge Colapinto.
Christian Mansell and newly-crowned F3 champion Bortoleto begin to make moves. Both drivers got past Nikola Tsolov, moving them up into P6 and P7 respectively. Meanwhile, Bortoleto's teammate Ollie Goethe started to pick his way through the pack. The Trident driver overtook both Fornaroli and Tsolov in one fell swoop. With two more places under his belt, Goethe began to close the gap to Mansell for P7.
Eight laps remain
Franco Colapinto swipes the race lead out from under his teammate on lap 10. A puncture for reverse polesitter Saucy has the ART Grand Prix driver plummeting down the order. Goethe continued to be a man on a mission as the Trident driver began to hunt down the Jenzer of Taylor Barnard.
Boya regained the race lead on lap 12, utilising DRS to pass Colapinto. Less fortunate was Tommy Smith, whose race came to an end after contact with Kaylen Frederick. Smith parked his car up at the side of the track, bringing out yellow flags in Sector 3.
LAP 11/18

Not for the first time this season, we have an airborne Tommy Smith 👀 #ItalianGP #F3 pic.twitter.com/EiSzMZbRYw

— Formula 3 (@Formula3) September 2, 2023
Soon after, Colapinto re-takes the lead from Boya. Meanwhile, an over-ambitious move from Goethe on O'Sullivan sent the Trident driver off-track. Slipping through the slalom, Goethe rejoined the pack in P7.
Final laps
With two laps remaining, Colapinto continued to lead the pack. The MP Motorsport driver had an advantage of eight-tenths over his teammate. Behind Boya in third was Bortoleto; in fourth, Taylor Barnard.
Colapinto broke free from the DRS range with one lap to go, all but confirming him as a victor. Bortoleto began to scrap Boya for second place, the Trident driver just keeping the car on track as Boya attempted to defend his position. But the F3 champion got past, claiming the second spot on the podium.
The final sprint race of the 2023 F3 season finished with a double podium for MP Motorsport. It was a superb drive from Gabriel Bortoleto, who made his way through the grid from P8 to finish P2.
Full Sprint race results can be found here. 
Featured Image Credit: Formula 3 on X