Latest Episode | Cut To The Race Podcast
Rain makes for tricky conditions and a late incident throws the order of the grid into disarray.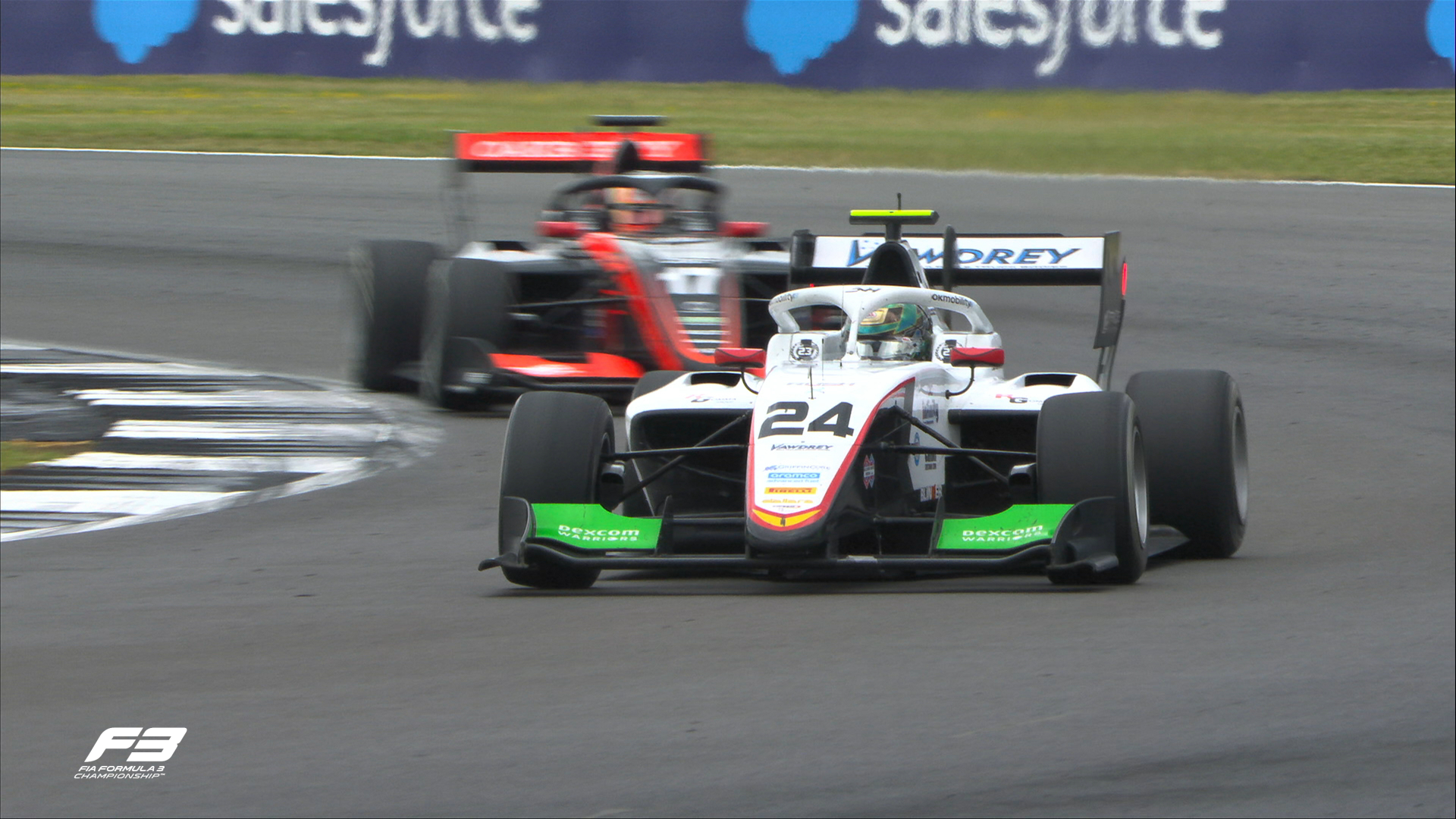 A maiden pole position for Leonardo Fornaroli means he started Saturday's sprint from P12. Meanwhile, Hitech Pulse-Eight's Sebastian Montoya leads the pack in reverse pole position. All three Tridents and MP Motorsport drivers made the top 12, providing the teams with an excellent opportunity to pick up some points.
Equally eager to capitalise on the success of Friday's qualifying session is Campos Racing's Mansell and Martí. The two drivers shared with FormulaNerds yesterday that Saturday's sprint would a chance get an idea of what to expect on Sunday.
As the drivers headed to the grid, it began to spit, the air heavy with potential rain. It looked like things could get interesting…
The starting grid
QUALI 🔃 SPRINT GRID

Who's taking the chequered flag first? 🏁#BritishGP #F3 pic.twitter.com/wNeNf0iugj

— Formula 3 (@Formula3) July 8, 2023
Delayed start
What started as spitting soon became something more substantial. The start was delayed as the teams were given the opportunity to switch from slicks to wets. But whilst some areas of the circuit were damp, others were dry, providing some tricky variability to the track conditions. In the end, only Gregoire Saucy opted for the wets, the resting of the grid deciding to start on slicks.
Lights out!
Sebastian Montoya got away well, but Taylor Barnard got away excellently. The Jenzer driver was quick to jump Johnny Edgar, who then lost out to Colapinto.  Meanwhile, Pepe Martí was flying, having moved up three places to take P10 by the end of lap one.
LAP 2/18

Jonny Edgar is falling down the field! Pepe Marti is the latest driver to make it past the MP driver #BritishGP #F3 pic.twitter.com/nb8qwMpZvZ

— Formula 3 (@Formula3) July 8, 2023
On the second lap, yellow flags waved in sectors two and three — though it was only a brief intermission, as green flags waved soon after.
Taylor Barnard remained P2, nine-tenths behind race leader Montoya. Half a second back from Barnard was Colapinto, with Browning and Mini rounding out the top five. In P9, Trident's Leonardo Fornaroli was just a handful of tenths behind Pepe Martí, splitting the two Campos drivers. Behind Mansell was Fornaroli's teammate, Goethe. On lap five, the pack was close together, with each of the top 10 within DRS range of one another.
Six laps in
Championship leader Bortoleto began to challenge Gabriele Mini for his position, the Trident driver all over the back of Mini.
LAP 5/18

Bortoleto vs. Mini 🔥

The two young stars are fighting hard for P5 🤯#BritishGP #F3 pic.twitter.com/GFQCfMpAMY

— Formula 3 (@Formula3) July 8, 2023
As Mini ran wide, Bortoleto was able to swoop past, taking P5 from the Hitech driver. Mini continued to face challenges from the other drivers, with PREMA's Paul Aron starting to eye up an overtake. Montoya, meanwhile, remained the race leader with a seven-tenths lead on Taylor Barnard.
Ido Cohen was handed a
Down came the rain
Remember the light rain from earlier? It made a reappearance, demonstrated by Roberto Faria slipping his way through turn seven and sliding into the run off. It soon began to pour, the slippery conditions bringing out a safety car on lap 8.
As the rain continued, multiple drivers made the decision to switch to wet weather tyres. Beganovic, Faria and Floersch were among the first to do so. More drivers soon joined them, with Aron, Goethe and Browning heading to the pits.
Behind the safety car, things got a little tense, as Campos Racing's Pepe Martí gestured for Oliver Goethe to pick up the pace.
LAP 10/18

⚠️ Safety Car ⚠️

Marti isn't impressed with Goethe 👀#BritishGP #F3 pic.twitter.com/zbd78N0aRj

— Formula 3 (@Formula3) July 8, 2023
Safety car comes in…
With just six laps remaining, away came the safety car. Though no longer actively raining, the track remained damp in some spots, the grid still on wet tyres. Almost immediately, there was contact, as race leader Montoya was tagged by Taylor Barnard. Out of contention spun Montoya, his race coming undone at an alarming rate.
With Montoya now down in P18, and Taylor Barnard just ahead in P17, Colapinto inherited the race lead. Behind the MP Motorsport driver was Bortoleto, with Christian Mansell rounding out the top three.
Down in P9 Mini was suffering from a lack of pace, as Marti and Browning both passed him by. An instance of overtaking behind the safety car was noted, with both Gray and Frederick now due to pay the stewards a visit after the race finished.
All out — final lap!
Montoya was doing well to recover from the earlier incident, as he charged his way through the pack. Now P8, Montoya will be sure to take home some points — but after missing out on a sprint race win, it'll likely be of little comfort to him.
In P3, Christian Mansell began to come under pressure from Caio Collet, the Van Amersfoort driver relentlessly pursuing Mansell. The Aussie clung on excellently to third position, putting it all together to take home his first-ever podium. P2 went to Trident's Gabriel Bortoleto.
On the top step stood Franco Colapinto. It's a win that will certainly mean a lot for MP Motorsport.
Sprint race top 10
Your Top 10 from the Sprint Race! 🇬🇧#BritishGP #F3 pic.twitter.com/oZ1FHeWpN0

— Formula 3 (@Formula3) July 8, 2023
Full sprint results can be found here.
Featured Image Credit: Formula 3 on Twitter