Latest Episode | Cut To The Race Podcast
FIA Formula 3 driver Christian Mansell drove with a mobile phone in his cockpit throughout the weekend in Bahrain last week. But why is that?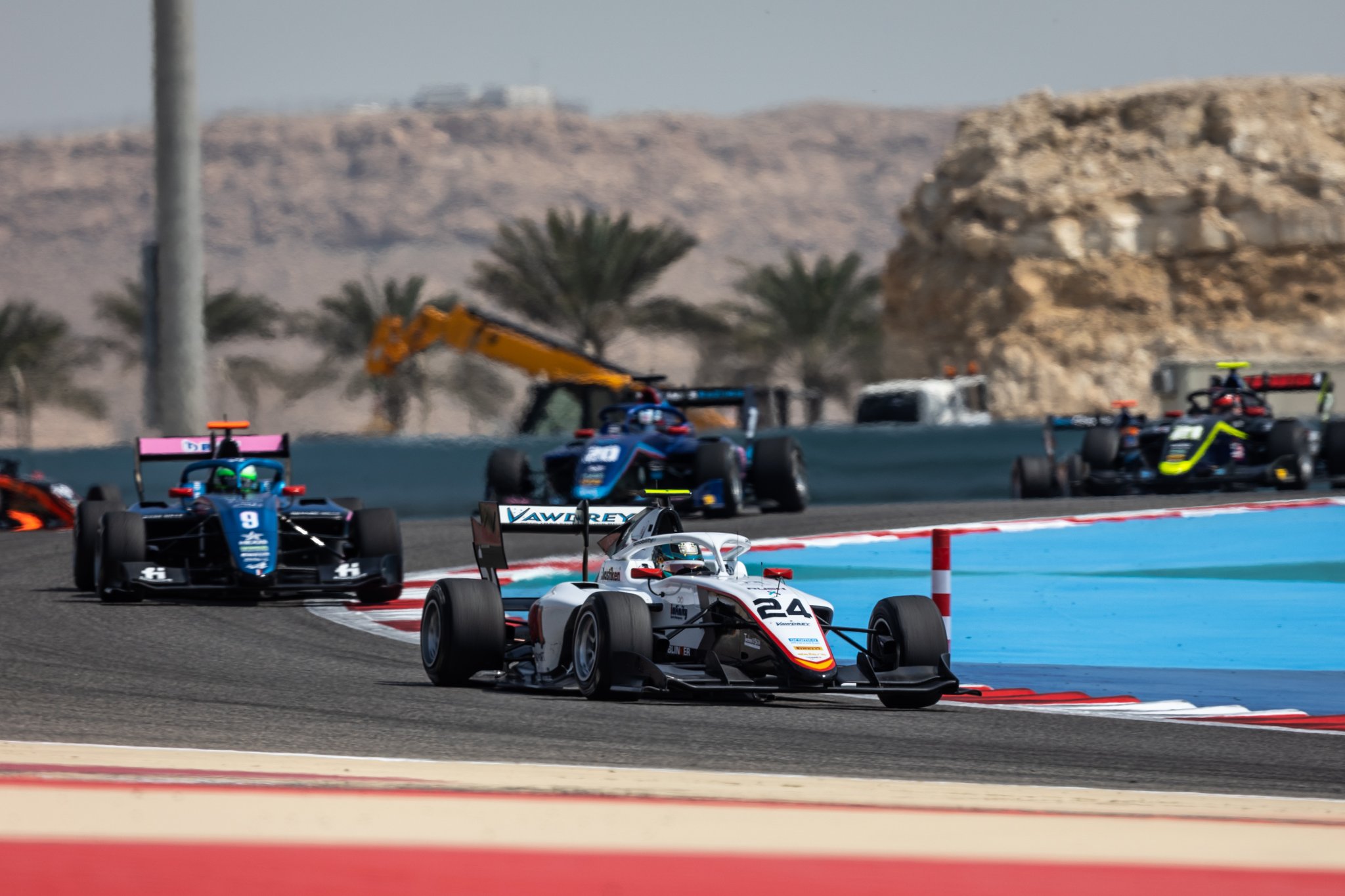 The Campos Racing debutant endured a somewhat lacklustre first round of the 2023 season, finishing qualifying, the Sprint race and the Feature race all in 13th position. In a race weekend full of attrition and drama the 18-year-old Australian driver may have been disappointed to leave with no points.
But perhaps the more significant bit of news surrounding the young Aussie was the fact that he was given permission to carry a mobile phone inside his F3 machine. This is despite the prohibition of wireless devices inside a vehicle by the FIA, which a phone would naturally fall under. So why was Mansell granted such an exemption?
On medical grounds
Mansell is the only driver on the current F3 grid to be a Type 1 diabetic. This requires careful monitoring of blood sugar levels which diabetes has an adverse effect on controlling.
The Campos Racing driver has an implanted device in his body which can measure his blood sugar levels in real time, but it needs to be within range of a bluetooth device such as a phone to transmit the data constantly.
This is why Mansell needs to have a mobile phone inside his car when he is competing. The information can be relayed to a coach trackside who can radio with the Australian driver if his blood sugar is getting too high or too low, possibly saving his life if a safety risk is detected. This was all communicated with the FIA medical team, and they subsequently granted an exemption on medical grounds for the 18-year-old driver.
Racing and illness
However, Mansell is not the only driver competing in F3 this year to suffer from a chronic illness. Jonny Edgar, who races for MP Motorsport, has been racing in F3 while battling with Crohn's disease since 2022.
Being a disease which causes inflammation of the digestive tract, the young Briton lost a considerable amount of weight following the conclusion of the 2021 season. He came back the following year, but having lost around 17 kilograms was unable to apply maximum pressure when braking. Edgar withdrew from the sport for a few months to focus on recovery before returning for the Silverstone round the same year.
Nowadays the British driver has to take injections every eight weeks to keep symptoms at bay so he can focus on his ultimate goal of reaching Formula 1.
Alright… let's get to work! 👊🏼

📸 @DutchPhotoAg #F3 @FIAFormula3 #MPMotorsport @OfficialMPteam #Racing #Motorsport #BRDCSuperstars pic.twitter.com/SR3IztuzIb

— Jonny_Edgar (@JonnyEdgar_) March 3, 2023
There is no denying the determination and bravery that both Mansell and Edgar have displayed by working through their respective illnesses to make it to such a high racing stage. Their perseverence in achieving their dreams through hardship can only be commended.
Feature Image Credit: @CMansell_Racing on Twitter