Latest Episode | Cut To The Race Podcast
A superb drive from Vesti saw the PREMA driver battle his way up from P6 to P1. But driver mistakes put Bearman and Martins out of contention in heartbreaking fashion.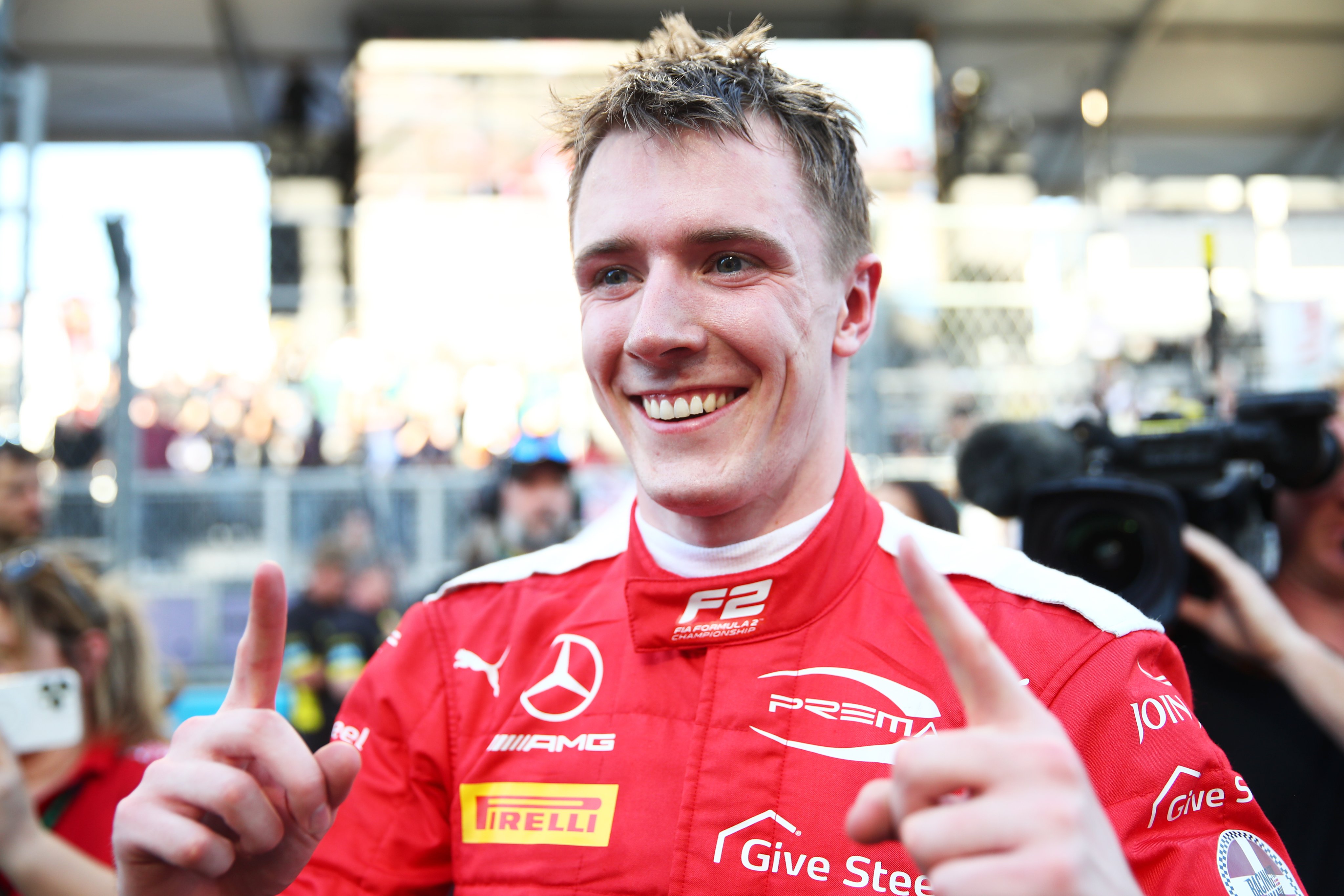 The action was back underway at Jeddah Corniche Circuit after yesterday's thrilling sprint race. 28 laps, each of them jam-packed with wheel-to-wheel racing. Catch up with all the drama at the Saudi Arabian F2 feature race.
Starting grid
🚨 FEATURE RACE GRID 🚨

Who will be crowned king of the streets? 👑#SaudiArabianGP #F2 pic.twitter.com/MaM1y0e0Pv

— Formula 2 (@Formula2) March 19, 2023
ART driver Theo Pourchaire took a five-place grid penalty after his collision with Ollie Bearman in yesterday's sprint race. His teammate, Victor Martins, had an exceptional run in the sprint race, and started from pole today. Meanwhile sprint race winner Ayumu Iwasa started P5 on the grid.
Lights out
Bearman got the jump on Martins, leaping up into first. Doohan also got away superbly, but couldn't quite convert it into second position. Martins held onto P2, only dropping down one place. A less-than-ideal start for Martins. Amongst the chaos, Frederik Vesti was able to get ahead of Daruvala.
DRS was enabled on lap 2, but contact between Benavides and Cordeel brought out a virtual safety car. Benavides was forced to retire, whilst Cordeel returned to the pits for a new front wing.
Doohan was hot on the heels of Martins, eyeing up the opportunity of an overtake. Further back in the pack, there was a bit of back and forth between Novalak and Leclerc. Leclerc able to stay ahead.
There were incredible scenes as drivers went seven wide at turn 1, each jockeying for position. What a sight to behold!
Box box
The pits were open, and drivers immediately dived in for a set of new tyres. Battles across the track were punishing for the super soft compounds, with many drivers opting for mediums.
Bearman and Martins pitted on lap 8, and the race to see who would leave the pits first commenced. Bearman stayed ahead, managing to maintain the net race lead.
Lap 9, and Leclerc was now the on-track race leader. Behind him was Fittipaldi, who was tailed by Hadjar. There was a scary moment for Arthur Leclerc, who luckily managed to avoid losing the car on a corner.
Martins made a move on Bearman for the net race lead, the two of them tussling their way around the track. The two went wheel-to-wheel, with Martins going off track. Martins ended up ahead of the PREMA driver, but soon handed the position back. The ART driver was just biding his time though…
Martins gets ahead
Another superb battle on lap 11 saw Martins overtake Bearman for the net race lead. Forced to go defensive, Bearman then lost position to teammate Frederik Vesti.
Amauray Cordeel was handed a ten-second penalty for causing the earlier collision with Benavides. Fittipaldi sent it round the inside of Pourchaire into turn 27. Pourchaire was battling on track for P14 — not where the ART driver would have wanted to be this weekend.
Vesti started to challenge Martins for the lead on lap 16, looming large in the ART driver's rearview mirrors.
Spins galore
Ollie Bearman lost the rear, spinning at Turn 22 and dropping down to P11. Terrible luck for the PREMA driver, who had been running so strongly up until this point.
Vesti continued to chase after Martins — but only a lap after Bearman spun, Martins spun too! Whilst Bearman was able to get running again, Martins was forced to retire. It was heartbreak for the ART driver.
LAP 17/28

MARTINS SPINS AND IS OUT OF THE NET RACE LEAD!

He tries to get moving but the car refuses to go, he is now out of the race#SaudiArabianGP #F2 pic.twitter.com/wihde6olsi

— Formula 2 (@Formula2) March 19, 2023
Both previous race leaders spinning out of winning contention meant that the net race lead was now in Vesti's hands.
Still holding onto their tyres on lap 23, Leclerc, Hadjar and Stanek were still yet to pit. Leclerc then pitted on lap 24, but suffered a poor pitstop. The Dams driver came out in P9, just behind Ollie Bearman.
With the final drivers pitting, Vesti finally became the on-track race leader. A late move by Roy Nissany saw him overtake Theo Pourchaire.
The final laps…
Bearman, who was still just about in the points, managed to overtake Leclerc. But the Dams driver was on fresh tyres and overtook the British driver under DRS with ease. Meanwhile there was a battle for tenth between Hadjar and Maini as the two drivers scrapped for a points finish. By the penultimate lap, Vesti had a comfortable five second lead ahead of Doohan.
After a strong and consistent drive, it was PREMA driver Frederik Vesti who crossed the line as the winner. The podium was rounded out with Doohan and Daruvala.
The top ten
Your Top 10 from the Feature Race! ✨#SaudiArabianGP #F2 pic.twitter.com/RPA3VgG9nz

— Formula 2 (@Formula2) March 19, 2023
The full race results can be found here.
Featured Image Credit: Motorsport.com