Latest Episode | Cut To The Race Podcast
A sprint race packed with close racing saw an intense battle for the podium, whilst an incident took championship leader Pourchaire out of the race early on.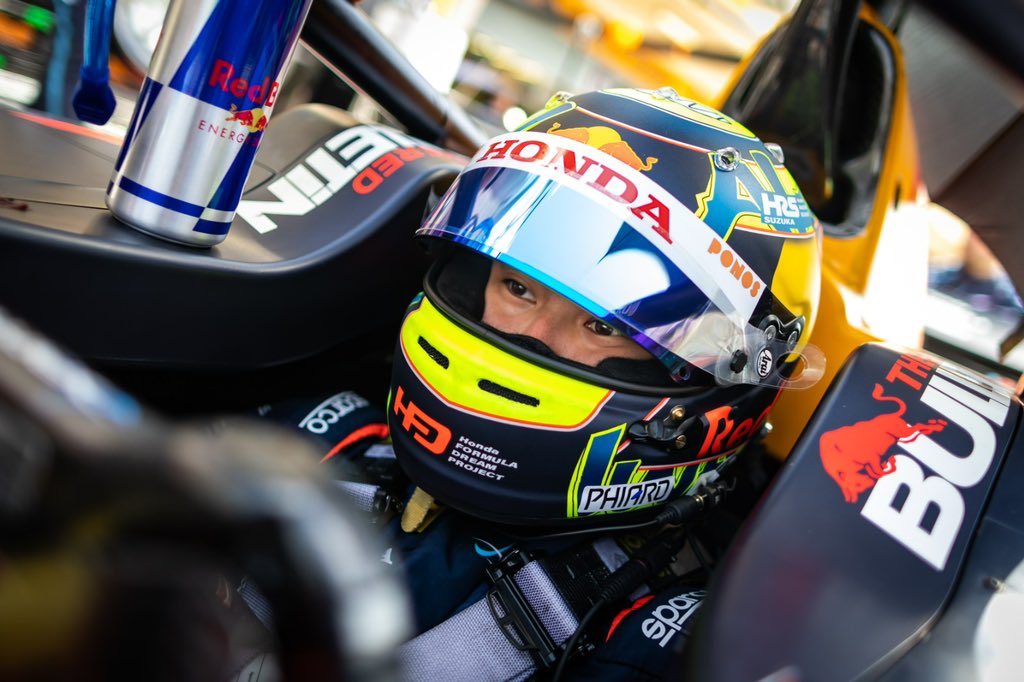 It was an action-packed afternoon at the Jeddah Corniche Circuit as the F2 drivers navigated its high-speed corners. There's no margin for error in Jeddah — let's look at how the drivers got on.
The starting grid
🚨 SPRINT RACE GRID 🚨

Don't miss our first street fight of the year!

Lights out at 18:10 local time (+3 GMT) ⏰#SaudiArabianGP #F2 pic.twitter.com/VwlXcdYg9z

— Formula 2 (@Formula2) March 18, 2023
The sprint race would be an uphill battle for Trident. Both drivers were issued a five-place grid penalty after qualifying yesterday due to a breach of the Sporting Regulations by the team. 
Lights out
A good get away for reverse polesitter Jak Crawford, but it was Iwasa who quickly asserted himself in the race. Ayumu Iwasa was quick to sweep in and take second, pushing Boschung back into third. Meanwhile, tomorrow's polesitter Victor Martins had a great start to the race
There was soon a battle for first, as Crawford attempted to keep his grip on the race lead. Iwasa was looking racy, though, and was soon side by side with Crawford. The DAMS driver made an overtake on Crawford, swiftly taking the race lead.
Zane Maloney spun on lap 2, brining out a safety car. Unable to get the car going again, it was a premature end to the sprint race for the Rodin Carlin driver.
The action returns
Racing got back underway on lap 5 as green flags waved. It was an excellent restart for Iwasa, and an equally good one for Boschung.
Victor Martins was a man on a mission, making his way up the grid. Meanwhile his teammate Theo Pourchaire was looking equally quick as he pulled off a superb overtake on Maini to secure P7.
There's contact!
Theo Pourchaire went for another late lunge — but with far less success. A miscalculation saw Pourchaire go much deeper than necessary, careening straight into the side of Ollie Bearman.
Pourchaire was quick to apologise to Bearman, fully accepting his fault in the incident. That's both Pourchaire and Bearman out of the race, and the safety car back out on track.
SAFETY CAR (LAP 7/20)

Theo Pourchaire gets it all wrong! He goes to overtake Martins, misjudges the braking, and slams into Bearman

Both drivers are out and okay#SaudiArabianGP #F2 pic.twitter.com/DedzhQx8XS

— Formula 2 (@Formula2) March 18, 2023
Racing resume
Green flag, and the racing continued. Pourchaire's teammate, Martins, was now up in P4. Maini and Crawford went wheel to wheel, Maini getting ahead of Crawford. The Campos driver got ahead of Crawford, who was quick to snatch the position back. But Crawford held onto P5 for only a moment, as Maini was just as eager to grab the position back.
Meanwhile, Daruvala and Boschung began to battle for P2. Jehan Daruvala got ahead for a moment, but Boschung soon fought back.
The top four were separated by mere tenths of a second, as the battle for the podium really began to heat up. Picking up a massive tow, Martins jumped ahead of Boschung. That's P3 for Martins, who had started this sprint race in P10.
Five laps remaining…
Things were tense as the podium battle continued. It looked like it could be anyone's race. Iwasa was still holding onto the lead, but the gap between him and Daruvala was minimal. Martins started to size up Daruvala, looking for a space to make a move on the MP driver.
Daruvala tried to make a move on Iwasa for the lead, but couldn't make it stick. Martins, meanwhile, sensed the opportunity and overtook Daruvala, leaping up into P2. Meanwhile, there was action in the middle of the pack, Hauger making a move on Leclerc to take P9. Vesti was showing great pace in P6, holding off Crawford.
The final lap
Martins pushed into driving defensively as the DAMS driver clung onto the race lead. Martins was hot on his heels, gunning for the race win. Iwasa managed to extend his lead by a couple of tenths, holding off Martins.
FINAL LAP!

The top three is separated by less than a second!#SaudiArabianGP #F2 pic.twitter.com/V8Cr9gldyE

— Formula 2 (@Formula2) March 18, 2023
Ayumu Iwasa crossed the line victorious after an incredibly strong drive. Victor Martins also drove a superb race, having climbed the rankings from P10 to P2. Jehan Daruvala rounded up the podium, securing P3 for MP Motorsport.
After such an exciting sprint race, there's anticipation to see how things will play out in the feature race tomorrow.
The full results can be found here.
Featured Image Credit: @damsracing on Twitter