Latest Episode | Cut To The Race Podcast
Kush Maini has been one of the early revelations of the F2 season. The 22-year-old has taken points in all but one race and scored a podium in Australia.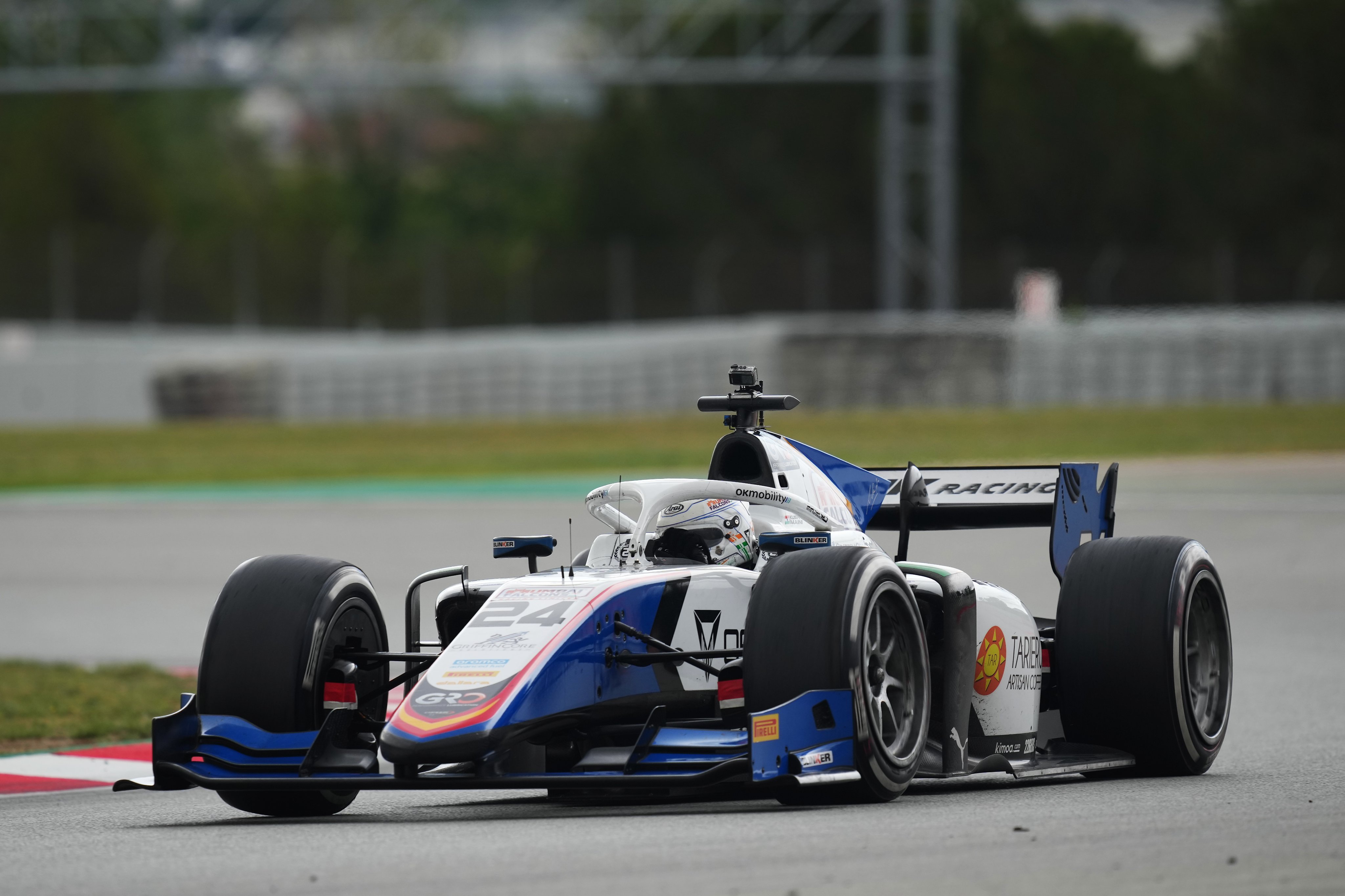 Paired with the experienced Ralph Boschung at the previously unfancied Campos, the Indian driver has impressed with his pace and consistency during his maiden F2 campaign.
In the one race he didn't score – the Jeddah feature event – he still brought the car home in P12. In addition to his third place down under, he boasts a pair of P4 and P5 finishes, respectively.
Maini's debut season in F2 comes directly off the back of a single, challenging year in F3 with MP Motorsport.
Unable to produce the performances of teammates Caio Collet and Alexander Smolyar, Maini finished the season in fourteenth, with just 31 points, and one podium, to his name.
If stepping up to F2 was a surprise to some, Maini – and Campos – have further put the racing world on notice with their combined start to 2023.
The Spanish outfit finished the 2022 F2 season at the foot of the Teams' Championship, although Boschung's campaign was greatly affected by injury.
Although his teammate has struggled of late, Maini's 41 points – combined with Boschung's 33 – has helped Campos surpass last year's total within four rounds.
Ahead of the fifth weekend of the season, Maini spoke with selected media, including FormulaNerds, about his season so far.
Knowing what to expect
When asked what factors have resulted in his change of fortunes, all whilst stepping up a category, the Campos driver highlighted having the opportunity to race consistently.
"I came into F3 after not racing for a year," he said.
"Coming into F3, even though the speed was really good, [it was] just really tough to put a weekend together – something always went wrong."
The Indian driver says he knows where he was going wrong last year, and that it wasn't just a case of working on one particular thing, but rather better knowing what to expect from race weekends.
"I wouldn't say I did anything different, but sometimes it's just when you're in the flow, and this is my second season in this paddock now, so just much easier to be consistent really, this year."
Maini highlighted to FormulaNerds that whatever his mindset has been this year, it seems to be working.
So much so that the rookie is having the best start to life in F2 of any driver since Lando Norris in 2018. The McLaren driver finished runner-up that season and moved straight on to F1.
Trying to learn
Campos's turnaround in fortunes has piqued the interest of the F2 paddock since the first round when Boschung won the Sprint and finished P2 in the Feature in Bahrain.
However, to Maini, it was just a case of putting the pieces together. When asked about the mood within the team and what might be the catalyst behind their recent return to form, he began by touching upon the motivation and work ethic within the team.
"The minute I signed with Campos, and I did the first few tests with them, everyone's really motivated here – they've had a few tough years but they're working super hard."
The 22-year-old sees parallels between his situation last year and that of his current team from over the past few seasons.
"The cars always been good, to be honest with you – I think even the last few years. But yeah, obviously circumstances don't let you – similar to my F3 season. Everyone starts to think 'Oh right…' when there's a few things off – it's generally pulled the whole team down.
"So, I think they've finally got out of the slump. The atmosphere here is really nice with Ralph [Boschung] as well. I ask him a lot of questions through the weekend, try and learn as much as I can.
"And like, even the mechanics, when we get a podium, it's like, they got a podium as well, and I love that – when every single member of this team, the race is as important to them as it is to me, so that makes for a great atmosphere around the track."
Putting in the groundwork
Whilst Maini isn't the only driver without a retirement in F2 this season, he's the highest-placed ever-present in the championship standings. That consistency has become a cornerstone of his maiden year in the series, even if it means compromising slightly in other areas.
"A big goal of ours, and the teams, is just to gather a lot of data in races, so that meant driving the whole race," he replied when asked how important finishing races and keeping his nose clean has been to developing consistency.
"So, for sure, in some moments I have been a bit calmer than I normally would like to be. But also, you know, sometimes in those kinds of moments you still go for it – you are a racing driver in the end, and when you put the helmet on, you do what your instincts tell you.
"I think it's a massive positive that we have finished every race. We've learned something at every race as well. There've been so many different tracks, so many different characteristics that every race you learn something new, that's really helped us keep building.
"I don't think my mindsets going to change. We all want to win races and always be on the podium, but to get there you have to do the groundwork, and that's what we've been doing right now. So yeah, super happy and just gonna keep it the same way."
Featured Image Credit: @kmainiofficial on Twitter