Latest Episode | Cut To The Race Podcast
Oliver Bearman took victory in the Feature race at the Circuit de Barcelona-Catalunya.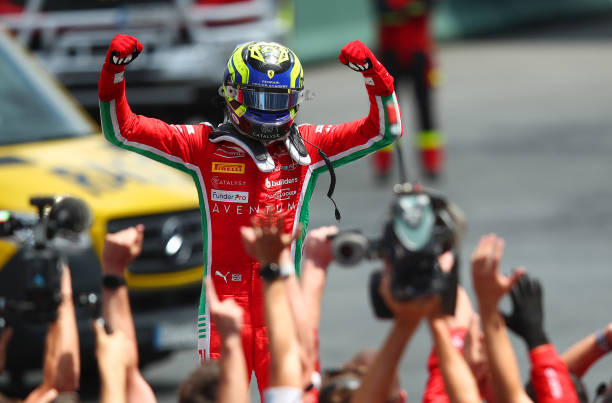 A recap of the weekend so far
In the only practice session of the weekend, The current Championship leader in Frederik Vesti topped the timesheet with a 1:26.722. His PREMA Racing team-mate Oliver Bearman finished behind him in second. Jehan Daruvala for MP Motorsport rounded out the top three.
In Qualifying, Bearman went fastest to put himself on pole for Sunday's Feature race with a 1:23.546. Enzo Fittipaldi would start the Grand Prix in second and Jack Doohan rounded out the top three. However, with a reverse grid for the Sprint race, Invicta Virtuosi driver Amaury Cordeel would start from the front of the grid on Saturday.
After Qualifying, Théo Pourchaire was given a three-place grid for impeding Dennis Hauger at Turn 3. This meant that the ART Grand Prix driver was dropped from sixth to ninth for the Sprint race.
Vesti took his third victory of the season in an eventful Sprint race which saw rain and safety cars in Barcelona after starting from P3 on the grid. Pourchaire came through the pack from P9 to finish second and F2 rookie Victor Martins claimed the final spot on the podium finishing in third.
After the Sprint race, several drivers were penalised. Cordeel received an additional ten second time penalty on top of the five second time penalty that he got for exceeding track limits. This meant that the Belgian driver dropped from 14th to 17th in the classification.
Both Juan Manuel Correa and Roy Nissany were given grid penalties for incidents that occurred in the Sprint. Correa was handed a three-place grid penalty meaning that he will start the Feature race from P14 rather than P11 due to hitting Trident driver Roman Stanek which caused him to spin.
However, Nissany was punished more harshly as he was given a five-place grid penalty for causing a collision with Daruvala. This meant he would be demoted from P16 to P21 for the Feature race.
With this being an eventful weekend so far, everything was set up for a great Feature race on Sunday.
The starting grid
THIS IS YOUR ONE-HOUR WARNING!!! 🚨#SpanishGP #F2 pic.twitter.com/NKXar74Fm8

— Formula 2 (@Formula2) June 4, 2023
Lights out and away we go!
As the lights went out, the pole sitter got a great start as he lead into Turn one. Fittipaldi ran wide into the first corner and had to go of onto the run of area to then re-join the track. Into lap two, both Clement Novalak and Isaak Hadjar had to pit due to sustaining damage on the opening lap.
Pourchaire had a great start to the race gaining two places as he moved up from fifth into the top three. Five laps into the race, Fittipaldi was desperately trying to stay in the DRS of the race leader in Bearman. The British driver managed to pull out a 1.3 second lead over Fittipaldi going into lap six.
LIGHTS OUT IN BARCELONA!

A clean start as Bearman holds on to P1, with Fittipaldi (P2) and Pourchaire (P3) behind#SpanishGP #F2 pic.twitter.com/rcthLadNPz

— Formula 2 (@Formula2) June 4, 2023
Yesterday's Sprint winner Vesti made a move going into lap six on Jak Crawford to regain eighth place. Ralph Boschung was the first man to make his mandatory pit stop on lap seven. Vesti was shown the black and white flag for track limits on lap eight meaning one more of these would incur him a time penalty.
Going into lap nine, Correa had a moment on the final corner running wide as he lost a few places. Pourchaire pitted on lap 10 as more drivers started to make their stops. The Frenchman would go onto the hard tyres after being on the softs. Fittipaldi and Jack Doohan came in for their pit stops a lap later as they hoped an undercut would work better as we progressed through the 37-lap race.
The race develops
As the race started to develop, the race leader in Bearman had a 13 second advantage over Martins in second going into lap 13. However, the PREMA driver had not pitted yet. Hadjar was then given a 10 second time penalty for track limits. Bearman pitted on lap 14 and entered back onto the track in P11. A few laps later on lap 16, Bearman moved up into the top ten after overtaking Kush Maini.
LAP 13/37

Look at those tyres… 🥵

Bearman jumps into the pits, drops down to P10 but maintains the gap in front of Fittipaldi#SpanishGP #F2 pic.twitter.com/Cgh9zDp7bY

— Formula 2 (@Formula2) June 4, 2023
Fittipaldi moved up a place into P11 on lap 17 as Bearman made up another place as well putting him in ninth place. Lap 18 saw Doohan overtake Pourchaire for P13 in the race. The drivers who were in the lead at the start were stuck in traffic behind those who had not pitted yet as we hit the hallway point in the race.
After 21 laps, last season's F3 world champion in Martins led the way out in front as he maintained a 1.5 second lead over the current championship leader in Vesti who sat in second. Brad Benavides struggled with track limits in the race as he received a 10 second time penalty. Things went from bad to worse for Benavides as he then received another penalty for track limits soon after.
With the final few drivers making their first pit stops on lap 24, Martins continued to lead the way as both PREMA drivers sat behind the Frenchman in the top three. Vesti then made his stop and came back out onto the track in ninth on the soft tyre. Martins made his stop on lap 26 and entered the track in fifth place as Bearman retook the lead of the race.
Vesti's fresh soft tyres were helping him fly past the competition as he made up three places in two laps moving up from P9 to P6 with ten laps to go. Martins moved ahead of another Alpine academy driver in Doohan on lap 28 as he moved up into fourth. Vesti would then overtake Doohan to take fifth place on the same lap.
Two corners, two overtakes

Outrageous double move from Vesti who is up to P7 👊#SpanishGP #F2 pic.twitter.com/wvMrT5pW3a

— Formula 2 (@Formula2) June 4, 2023
The closing stages
As we entered the final five laps of what had been a clean race so far, Bearman led the way by over four seconds to Fittipaldi in second place. Ayumu Iwasa rounded out the top three as things stood. However, Martins was closing in on the Japanese driver for P3 late on.
On lap 35, Martins who started on the alternative strategy moved up into the podium places after getting ahead of Iwasa with the help of DRS into Turn one. With Iwasa in fourth place with two laps to go, Vesti looked to make an overtake on him but couldn't make the move stick in the end.
Martins looked to make a late attempt for second place on the final lap as Bearman came across the line to claim his third win in Formula 2. Fittipaldi hung on for P2 and Martins rounded out the podium places in third.
OLLIE BEARMAN WINSSSSS!!! @OllieBearman wins the feature race in Barcelona! Leading from pole to chequered flag 🤩✨#SpanishGP #F2 pic.twitter.com/D94Dzvj29e

— Formula 2 (@Formula2) June 4, 2023
Feature race final classification
Oliver Bearman
Enzo Fittipaldi
Victor Martins
Ayumu Iwasa
Frederik Vesti
Jack Doohan
Théo Pourchaire
Dennis Hauger
Arthur Leclerc
Richard Verschoor
Full race results can be found here.
Feature Image Credit: (Photo by Joe Portlock – Formula 1/Formula Motorsport Limited via Getty Images)