Latest Episode | Cut To The Race Podcast
Roy Nissany apologised for the mistake which led to Dennis Hauger crashing into the top of his car during the F2 feature race at Silverstone.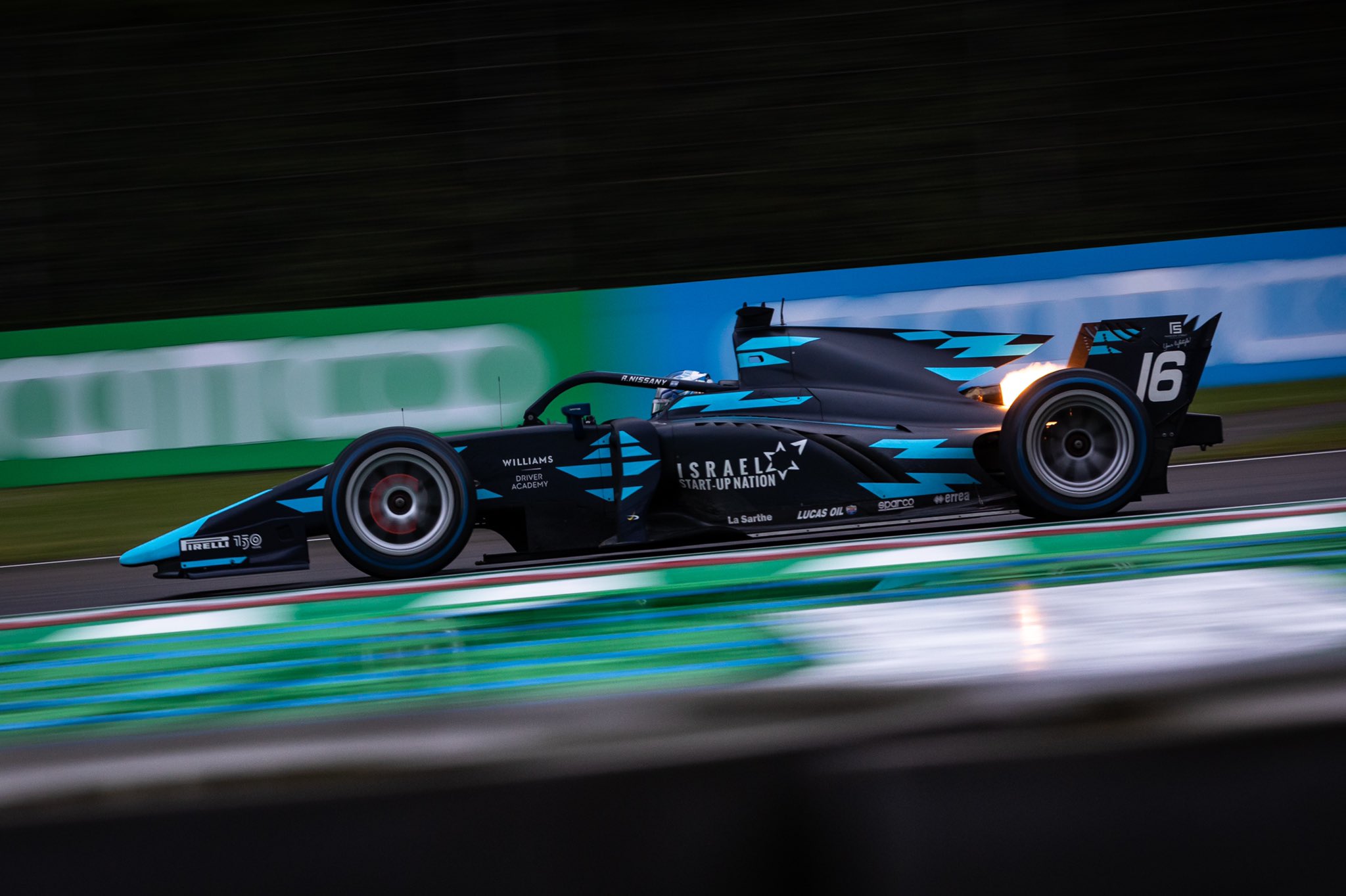 Deemed guilty of causing the incident that could have seriously injured him, the DAMS driver received a 5-place grid penalty for the next round, in Austria next weekend.
FormulaNerds spoke to the 27-year-old as he headed back from the Stewards. When asked how he was and for his take on the events, he was introspective in response:
"I'm all good. As for the stewards, it was my mistake moving to the left and blocking Dennis [Hauger], so I take the blame. Sorry for him, sorry for his team, sorry for my team, and luckily, we are all okay. I will take a 5 grid position penalty [in Austria], which I think is fair."
As for the safety of increasingly controversial 'sausage' kerbs – one of which launched Hauger into him – Nissany was diplomatic when asked if he felt they needed to be reviewed, whilst highlighting extenuating factors for the crash:
"Yes, consequences are, I mean, to look at from the professionals [sic], because what I can focus on is my driving, and then you know, what comes after is such a long chain of events.
"Like, I'm out of Stowe and then I'm trying to come back and the track characteristics is not allowing my mirror view to see clearly where Dennis is coming to. So, and then touching him and then he is going straight and I am coming exactly in the right moment."
Thank you all so much for the concern. I'm ok, it's part of racing and luckily the halo was there for me. We'll recover and come back stronger for Austria. 🙏🏽pic.twitter.com/InyIfyJGSt

— Roy Nissany (@RoyNissany) July 3, 2022
"The consequences alone are big, but at the end, what I want to focus on is my driving and to make sure that nothing like this will happen in the future."
A sign of things to come
Not for the last time on race day at the British Grand Prix, the halo device prevented severe injury. Only a few hours later, Zhou Guanyu's life was certainly saved by the contraption.
The horrifying freak accident saw the Alfa Romeo driver sliding into a barrier upside-down before flipping aggressively. Like Zhou, despite the big hit, Nissany walked away relatively unscathed:
"Yeah, very small stuff [with regards to injuries], a bit in the finger and just a small dizziness at first, but now all good and ready to go at Red Bull Ring."
Looking ahead
Even though his day ended in disappointment, Nissany remains hopeful for the weekend to come:
"[it's a] new page, that's the most important. And we had a good free practice here and in qualifying – so close to the reverse grid pole. So, we're still there and Red Bull Ring is a track I like very much."
The Israeli driver has struggled for points. In part, this is due to a series of feature race retirements which has hampered early progress. Candid about his current position, Nissany reflected on a season he wouldn't say has been positive (or negative):
"By now, we can say 50-50. Started not bad, but it's not going in the right direction at the moment, so [we're] trying to turn the tables around."
With another three race weekends in July, Nissany will have ample opportunity to turn his season back around.
Featured Image Credit: @RoyNissany on Twitter