Latest Episode | Cut To The Race Podcast
The Kingdom of Saudi Arabia are planning to host two races in the future according to Chairman of the Saudi Automobile & Motorcycle Federation Prince Khalid bin Al Faisal.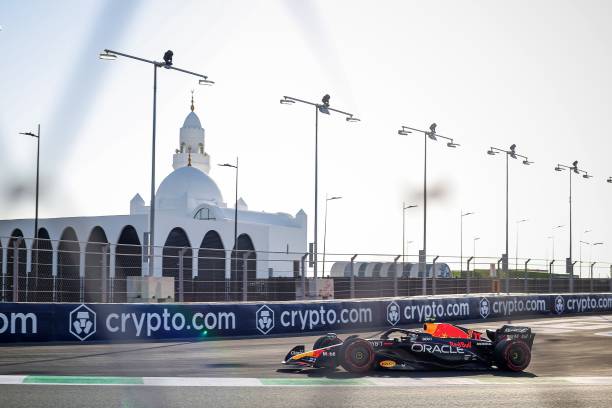 The Saudi Arabian Grand Prix is currently taking place for the third year in a row. The country wants to hold two races in the future. However, Saudi Arabia could potentially host the season opener in 2024. 
Next years race in Formula One coincides with the Islamic festival of Ramadan. This means that they wouldn't be able to host the race for when it is scheduled in 2024. 
Because of this, bosses are looking to host the Grand Prix either as the season opener or later on in the year, according to Prince Khalid. 
"The problem is we're going to have Ramadan. Every year it shifts like 10 days, 11 days earlier. It's either going to be Saudi or Bahrain that can have a race before Ramadan, and after Ramadan, the weather in April and May is hot."
"We need to discuss with FOM (Formula One Management) and the teams, and then we make our decision."
"Otherwise, it will shift to somewhere, I mean, October or after October, where the weather starts to get better in our region."
The Qiddiya Circuit
This would be Saudi Arabia's second track if they are able to host two races in the future.  The Jeddah Corniche Circuit is set to remain in F1 until 2027. Construction of the Qiddiya Circuit is expected to be completed in the next four to five years.
The track was supposed to replace Jeddah from that point onwards in F1. However, it could now potentially play host to Saudi Arabia's second race in the sport later down the line. 
Prince Khalid believes having two races in Saudi Arabia is possible due to the demand and growth in the sport. 
"The idea of having two races in Saudi is doable. F1 is growing, there is a lot of demand here and because Saudi is big, the regions are so far away, it's like the United States."
"You have three races in the States because the market is big there and there is a demand. The demand is there, but the decision is not made."
"We built this track (Jeddah) to last, so in theory, yes we can have two races. The sport is growing, the demand is growing, so I would not be surprised if Saudi, in the near future, will host two races, I wouldn't be surprised."
"The demand is there and we have two beautiful facilities."
The Saudi Arabian Grand Prix continues across this weekend with Qualifying up next. 
Feature Image Credit: (Photo by BEN STANSALL/AFP via Getty Images)