Latest Episode | Cut To The Race Podcast
The weight of the Formula 1 cars seems to be a bigger problem with the new regulations than previously thought. McLaren took probably the most drastic measure in Miami: Daniel Ricciardo had less than the possible three litres of water available to drink.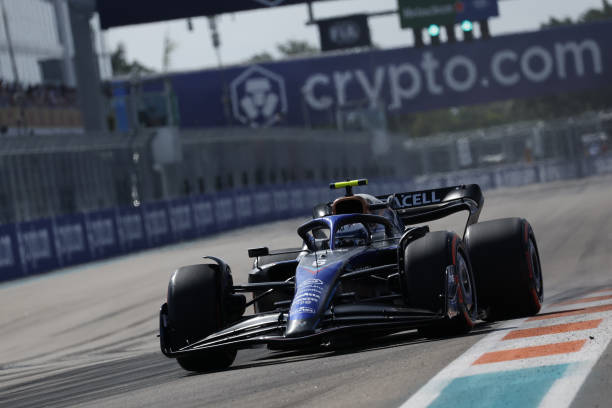 Miami was the first scorching race of the season. The air temperature averaged 34 degrees during the day, and the tarmac on the track was a lot hotter. So, in the Miami Heat, it was important for the drivers to drink enough water during the race to avoid dehydration.
McLaren's solution to the weight problem
In the post-race interview, in which Ricciardo expressed some disappointment with his 13th place, he explained the links between physical exertion and the heat and whether there was a comparison with Malaysia or Singapore:
"Yeah, it's got that heat factor to it. It's tough as well, because I mean, everyone's obviously fighting for that last bit of weight.
"So we don't have the luxury of putting three litres in the drink system. We have a little bit, and it's never enough fluid. So naturally, you're gonna get dehydrated. And yeah, this heat was was pretty real.
"They're the tough ones, obviously. I mean, everyone obviously worked hard today, it is hot, drivers, mechanics, everyone's feeling the heat."
All the teams are working to reach the minimum weight of 798kg, but is reducing the water supply really necessary?
In further interviews after the race, Ricciardo barely had a voice, one of the first signs of dehydration.
Is McLaren really risking the health of its drivers to achieve more speed?
Williams shows a further way of losing weight
After the first rounds of the 2022 season, Formula 1 spectators saw a change to the FW44's livery: less paint.
Although, at first glance, it doesn't seem like less paint would make much difference, Williams' head of vehicle performance Dave Robson admits:
"I don't think I can give you any figures, but it's quite a lot – meaningful for sure."
"Obviously, the paint scheme is a little bit more than purely an engineering decision.
"But I would imagine it will stay because it will be expensive and time-consuming to find the weight some other way."
Removing the livery from the race car seems to be a cost-effective alternative to reducing weight – and definitely not as dangerous as giving the drivers less water.
Whether the FIA will intervene remains to be seen. The next race weekend in Barcelona will be warm but not as hot as in Miami.
Feature Image Credit: Chris Graythen via Getty Images