Latest Episode | Cut To The Race Podcast
Carlos Sainz snatched pole position in qualifying for the Belgian Grand Prix despite not being the fastest man on track today in Spa.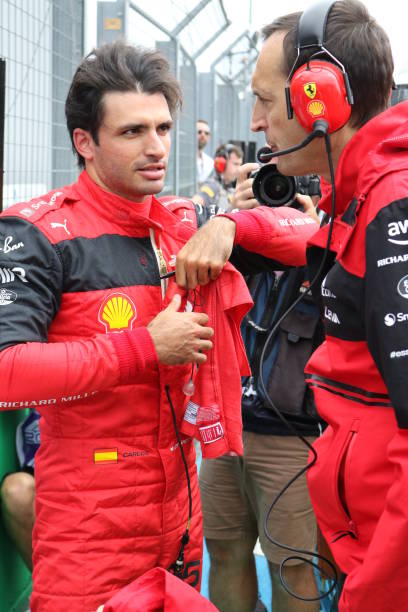 There's a host of drivers starting at the back of the grid tomorrow, which spiced up this qualifying session. Lots of drivers have taken upgrades for their weekend at Spa meaning they've been given a grid penalty. Charles Leclerc, Max Verstappen, Valtteri Bottas, Lando Norris, Esteban Ocon, Mick Schumacher and Zhou Guanyu are all taking grid penalties ahead of tomorrow's grand prix.
The start of qualifying was delayed due to track repairs, but soon got under way.
Qualifying round 1
Nicholas Latifi was the first driver out on track for qualifying on the medium tyres, followed by Schumacher who set the first time of a 1:47.9. It seems that the Mercedes is once again struggling, as both George Russell and Lewis Hamilton drove several flying laps to no avail. The Mercedes is just not picking up any straight-line speed and lacking in pace too. 
Just as Russell pipped Schumacher's time, Sergio Perez set a 1:45.3. That left him nine tenths clear of Russell in the Mercedes. Just like that, Sainz set a 1:45, which was shortly beaten by Verstappen with a 1:44.5. Verstappen remained at the top of the board for the rest of the session while everyone battled beneath him. The Ferraris and Red Bulls remained safe, occupying the top four spots on the board. McLaren had some good pace too, but as if Daniel Ricciardo hasn't had enough of a tough week, he had a lap time deleted. They both make it into Q2, though, alongside both Alpines.
Mercedes had to put in some hard work to make it into Q2, which left the unlucky bottom five as Sebastian Vettel, Latifi, Kevin Magnussen, Yuki Tsunoda and Bottas. This was Bottas's first Q1 exit in 148 races.
Qualifying round 2
The second round of qualifying saw Hamilton out first on track, quickly setting a time of 1:46.6. Still a relatively slow time. Russell changed things by going fastest with a 1:46.2. Within a matter of seconds, Verstappen reclaimed top spot with a 1:44 that really put into perspective how much the Mercedes is struggling. 
Sainz went third fastest after Verstappen's teammate, Perez, put his Red Bull just a few tenths behind Verstappen. Mercedes soon looked to be in more danger after Pierre Gasly split their times, dropping them further down the board. Leclerc originally went sixth fastest and reported that the Ferrari was jumping off of the apex of some of the corners. 
Attention quickly turned towards Alpine and McLaren, though. Ocon had been sitting comfortably in fourth fastest. He got word from his engineer that Norris would be towing Ricciardo, who was yet to set a lap time. Ocon gave a slipstream to Alonso, securing him a place in Q3. In a sudden flurry of times, Zhou, Gasly and Ricciardo all went over the line. It was all cheers for Alexander Albon at the chequered flag, as he finished Q2 in P10, marking his first appearance in Q3 this season. Leclerc topped Q2. For Ricciardo, Gasly, Zhou, Stroll and Schumacher, it was back to the pits.
Qualifying round 3
Albon's first Q3 appearance of the season led to him setting a time of 1:46. Behind him, the Ferraris were running close together. But once again, it seemed Ferrari strategists had made some mistakes. Leclerc, purely out on track to give Sainz a slipstream, was on a fresh set of tyres. He voiced his confusion at being put on new tyres, but continued his Q3 run anyway. 
Perez soon took to the top of the board with a 1:44.4. Verstappen then came charging through with a 1:43.6, which remained the top time for the rest of the session. The red Bull 1-2 looked promising, but Sainz split that up by putting his Ferrari in P2. He had a near miss shunt with Fernando Alonso and kicked up some gravel, but he managed to get pole position for tomorrow's race.
The Belgian Grand Prix will see a Ferrari-Red Bull front row, but not with the usual suspects! It's sure to be an exciting race tomorrow, your top 10 will be:
P1 Sainz
P2 Perez
P3 Alonso
P4 Hamilton
P5 Russell
P6 Albon
P7 Ricciardo
P8 Gasly
P9 Stroll
P10 Vettel
Featured Image Credit: Dan Mullan via Getty Images