Latest Episode | Cut To The Race Podcast
Esteban Ocon put in an excellent performance around the streets of Monaco to claim his third podium in Formula 1 and Alpines first podium since 2021.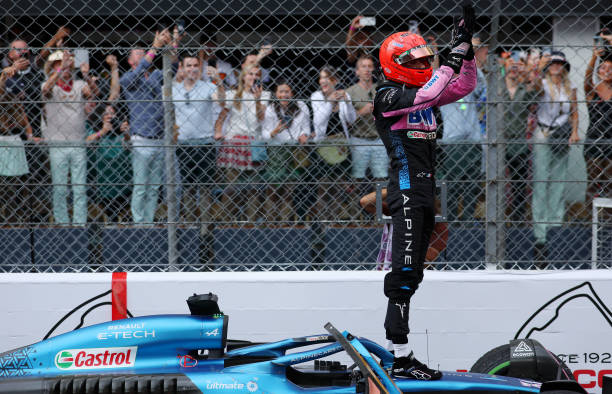 Coming into the weekend, Ocon was sat on just six points after five races in 2023, as he looked to improve on recent results so far this season in Monaco. During Qualifying in Monte Carlo, the Frenchman was on provisional pole at one point in the closing stages of the session but ended up having to settle with what was still an impressive P4 start for the race on Sunday.
However, a few hours after Qualifying, Ocon was bumped up to P3 after Charles Leclerc was given a three-place grid penalty for impeding Lando Norris in Q3. Ocon started the Monaco Grand Prix in the podium places and intended to stay where he was come the end of it.
Despite a late spell of rain and pressure from both Carlos Sainz and Lewis Hamilton in the race, the Alpine driver pulled off a great performance over the course of the 78 laps to achieve his third career podium in F1 and his first since Hungary 2021, where Ocon picked up his only win in the sport to date.
Ocon now moves up to ninth in the Drivers' Championship on 21 points as Alpine move ahead of their 2022 rivals in McLaren to fifth in the Constructors' standings on 35 points.
A day, and a weekend, that @OconEsteban will NEVER forget 🥉👏#MonacoGP @AlpineF1Team pic.twitter.com/1A2cxR7NHo

— Formula 1 (@F1) May 28, 2023
Estie Bestie back in the top three!
After the race, Ocon spoke to the media. Feeling delighted and on top of the world with the podium result, he thanked his team as he capped of a great weekend in Monaco.
"I'm speechless, I'm on a cloud at the moment – I don't know what to say!"
"Before the weekend, if you told us that we were going to be in the top 10, we would have been happy, you know? But it's not the top 10, it's not the top 5, it's a podium! We are on it, and the energy I've received from everyone from [this] weekend has been awesome."
"We boxed in the right moment, we took all the right decisions, and today that's what mattered."
"I can't thank everyone enough for the support I got, and that one goes to all the team, from Viry to Enstone to the track. This one's for us and hopefully there's many more to come."
With the Spanish Grand Prix up next, Ocon will enjoy the result in Monaco as he is looking forward to pushing ahead now and seeing where things can go this season for Alpine.
"For sure, I think everyone is delighted. It shows never stop believing, keep pushing and that's what we did, so let's see where we are next week [at the Spanish Grand Prix]. But we will digest and enjoy before."
Feature Image Credit: (Photo by Ryan Pierse/Getty Images)