Latest Episode | Cut To The Race Podcast
There have been many recent rumours about AlphaTauri's rookie Nyck de Vries. The Dutchman now explains his situation.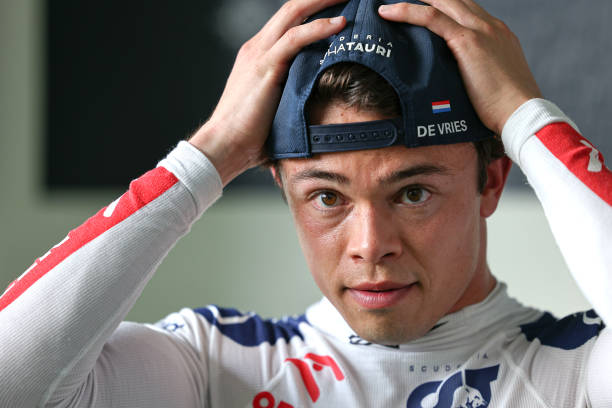 Even though de Vries is F2 and Formula E champion, he doesn't seem to be able to gain a foothold in Formula 1. With fellow Williams rookie Logan Sargeant, he is the only driver who has yet to score points.
The rumours about de Vries started to swirl when Dr Helmut Marko reportedly stated that there was a deadline for the rookie until after the race in Barcelona.
De Vries explained the rumours to motorsport.com:
"Yes [I feel safe in my seat]. Also, it's not a shock to me. It's normal. It's this industry. It's always been like this in Red Bull and in Formula 1. I genuinely believe it's no different than earlier in the season."
"You've always got to perform, you've always got to deliver. It's been like that throughout my whole career.
"As a driver, you always fight for your survival, and you always need to deliver to continue your career forwards successfully. It's normal. It's how it's been always."
De Vries: "A lot more noise" around F1
Even though the Dutchman tries to avoid headlines surrounding his name, he admits that the popularity around F1 does not really increase the pressure.
"I honestly believe there is no more pressure than there is at any other time. Actually, the only difference in Formula 1 is that you have a lot more noise around it.
"Especially when there is a bit of a gap, there is more speculation and talking. That is probably the biggest difference relative to any other championship. But when it comes to the job, everyone needs to do their job and perform."
What does the future hold for the Dutchman at AlphaTauri?
De Vries takes the blame for the increased accidents but speaks directly of joyous moments as well:
"I definitely think that I personally made too many mistakes. I will admit that very openly.
"I also believe that the pace has been strong at several moments and that kind of encourages me and gives me confidence.
"But I haven't been able to execute at the end and put it together. But I do believe the speed has been there."
Whether and how the situation around de Vries will change remains to be seen.
Feature Image Credit: Mark Thompson via Getty Images