Latest Episode | Cut To The Race Podcast
David Coulthard, who drove for Red Bull from 2005 to 2008, has given his opinion on the current team dynamic.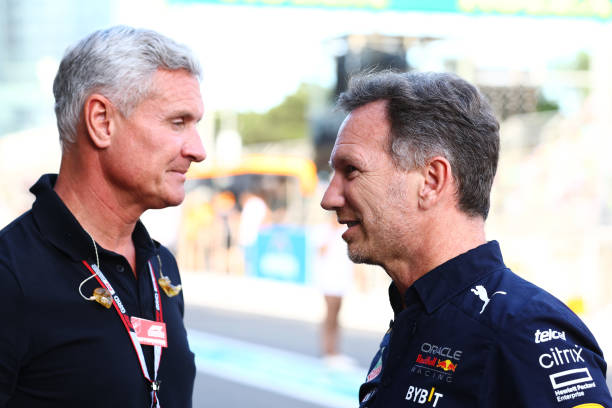 In 2022, Max Verstappen won the Formula 1 world championship with 15 victories. His teammate Sergio Perez finished last year in third place overall, with just two wins in Monaco and Singapore.
A total of 104 points separated Verstappen and Perez.
Coulthard comes down hard on Perez
David Coulthard, who has a total of 246 Formula 1 starts and 13 wins to his name, sees obvious differences between Verstappen and Perez.
According to the BBC, Coulthard sees Sergio Perez's future in "his own hands."
"For Checo to look at how many victories Max had and how many he had, it's not like he is just having to polish a few corners. This is a major rewrite, a software update," he said.
"If you use the same ingredients in the cake you will get the the same cake. You need to change it if you want something different," Coulthard explained.
"He has access to the data of the world champion. He can see where he's quicker, where he's slower. Checo will be quicker in some areas. It's just Max is putting it all together more often than not.
"All the knowledge is there for Checo to lift his performance. If he does then the world championship is there for him to put his hand on.
"If he doesn't, then he will be another driver, like myself, that won a few grands prix."
Daniel Ricciardo's future at Red Bull
Coulthard also commented on Daniel Ricciardo.
The 33-year-old Australian is returning to Red Bull after two years with Renault and two years with McLaren – but as the third driver. In this position, he will work more on marketing and PR purposes than sitting in a Formula 1 car.
Coulthard explains Ricciardo's future:
"Daniel, not being where we knew he could be – he just didn't look like Daniel of old so this is about him trying to rebuild," Coulthard said.
"He has a great legacy with Red Bull and he left to go off and try and make it big elsewhere, that didn't work so he has come back to the family.
"If he can get his mind back to what is was when he was having success, then Daniel has to have an opportunity to come back. If this opportunity doesn't manifest itself then that's probably his grand prix career wrapped up."
We are excited about the developments at Red Bull. Coulthard sums up: "Checo (Perez) will see that there is a real substitute driver there."
Feature Image Credit: Jakub Porzycki/NurPhoto via Getty Images