Latest Episode | Cut To The Race Podcast
Charles Leclerc is third in Ferrari pole-sitting history, yet he's only won three races this season.
In his most promising season yet, Leclerc has been subject to plenty of misfortune. From strategy-based mishaps, to crashes and engine failure, the Ferrari driver's hopes of a championship are slipping away. In an interview with Andrew Benson and BBC Sport, he got candid on having to keep up a top performance whilst carrying the weight of the mistakes on his back.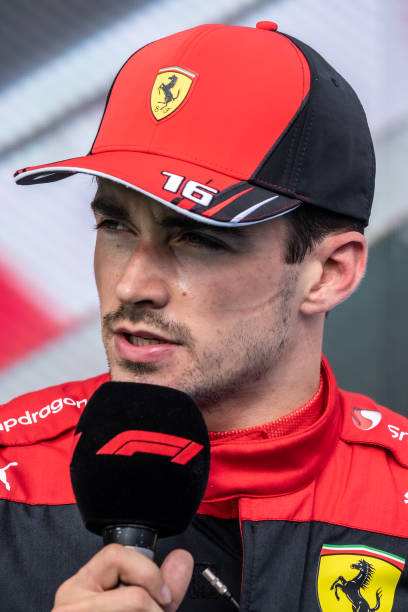 Now that Ferrari have a Championship winning car, it had been expected that there would be a dicey battle between themselves and Red Bull. Yet halfway through the season, Verstappen has an 80-point lead over Leclerc. Both drivers have proven their excellence, but neither are immune to mistakes. Speaking to the BBC on his own mistakes, Leclerc said,
"I'm always harsher whenever it's me who does the mistake, and obviously France was one of those which hurt quite a bit. Imola also a little bit, even though there weren't many points involved because I could go back on track."
Dealing with mistakes
Leclerc's absence on social media following his crash during the French Grand Prix shows how hard it can be in his position. So how does he eventually get back on his feet to fight for the next race? "Mental training.", according to the Ferrari driver. Part of Leclerc's mental training is analysing where mistakes have been made and being honest about fixing them in the future. He stated that, "I've always felt the benefit of being honest with yourself and just grow from it."
I gave it all but went over the limit at the end. Sorry to the team and to all the tifosi that supports us. Instead of a P3, it ended up in a P6. We'll come back stronger.

— Charles Leclerc (@Charles_Leclerc) April 24, 2022
So, what does he have to say on the mistakes being made by his own team? His answer, "Let's say that we know we need to work on that," perhaps says it all. In Hungary, Ferrari opted for hard tyres for Leclerc, which left him fighting for P6. In Monaco Ferrari mistakenly called Sainz and Leclerc into the pits at the same time, losing the race lead for them. Ferrari's pit-stop errors also featured at Silverstone, once again leaving Leclerc in P4. Will Ferrari continue to make the same mistakes in the second half of the season? They have already cost Leclerc several valuable points, so how much more will he take?
Leclerc's future with Ferrari
On the topic of looking into the second half of the season, Leclerc stressed that he wanted to keep his personal performance at the same level. Recognising that he is at his strongest level yet, he confirmed that,
"So there is no need for me to change that approach. Again, try and grow from the mistakes of the first half, but try and perform as well as the first half because the performance I've given, I'm extremely happy about. And this I want to keep."
So it seems that with the continued excellence that he has demonstrated this season and improvement from Ferrari, Leclerc's championship battle will not be over just yet.
Featured Image Credit: Marco Canoniero via Getty Images