Latest Episode | Cut To The Race Podcast
Charles Leclerc reveals he realised "after the Belgian Grand Prix" that his title battle was essentially over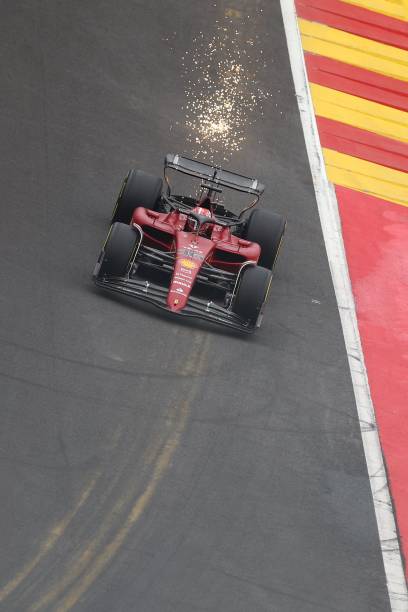 This year's visit to Spa-Francorchamps will be remembered for Red Bull's dominant display, several grid penalties, and the crash between Fernando Alonso and Lewis Hamilton. It was also a race to forget for Leclerc. From one of Max Verstappen's visor strips getting stuck in his brake duct to speeding in the pit lane and getting a five-second penalty, the Monegasque could only finish in P6.
Now Leclerc has revealed in an interview with RacingNews365.com, that he remembers the 2022 Belgian Grand Prix for an entirely different reason.
The end of the battle?
At the end of the summer break, Leclerc notes that he "still believed in the title." But following the performance deficit Ferrari had to Red Bull at Spa, Leclerc's opinion changed drastically. The Ferrari driver said:
"Then we saw that gap in performance between us and Red Bull at Spa, a gap we had never seen in the first part of the year, so I knew it was going to be very difficult."
He continued, "after the Belgian Grand Prix, I realised that I was not going to win the world championship."
To highlight Red Bull's dominance, Verstappen started P14 and went on to win the race by 17 seconds. Whereas Leclerc, who started right behind the Dutchman in P15, could only achieve P6. Was the Belgian Grand Prix the first true indicator that the title fight was over?
Still a positive season for Ferrari
Although Leclerc does not "want to speak too much about the championship," because he's "not really focusing on that." The five-time race winner will discuss the team's performance in 2022.
The Monegasque driver commends the team on their overall season, claiming that:
"I don't think many people would have believed beforehand how good we would be this year."
He continues, "if you look back at 2020 and 2021, those have been two years where we had a very difficult time in terms of performance."
However, Leclerc is the first to admit that there is still a lot for Ferrari to learn. The Ferrari driver will spend the rest of his season helping the team "get better as a team on Sundays." This is in the hope that they can "take an extra step to really fight for the world title" in the future.
Can Ferrari learn enough at the end of 2022 to make a second consecutive title charge in 2023?
Feature Image Credit: Clive Rose via Getty Images