Latest Episode | Cut To The Race Podcast
After starting the Spanish Grand Prix in second place, Carlos Sainz leaves Barcelona feeling disappointed as he ended up finishing behind both Red Bull's and Mercedes' in an underwhelming fifth place.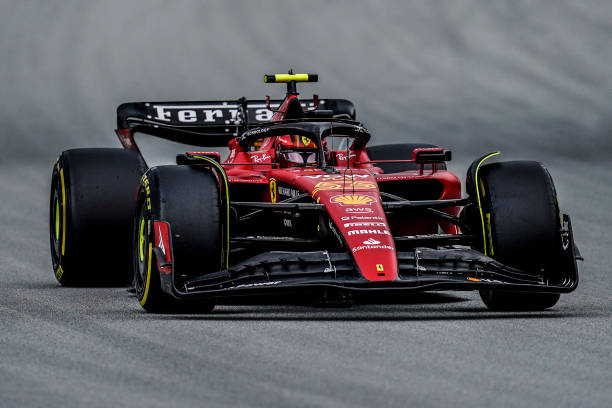 Going into the race on Sunday, Ferrari found themselves at both ends of the grid. Sainz qualified in an unexpected second place with his team-mate Charles Leclerc being knocked out in Q1. Sainz started the Spanish Grand Prix on the soft tyres, whereas the pole sitter Max Verstappen opted to start on the mediums. Leclerc on the other hand would start from the race from the pit-lane after selecting new components.
As the lights went out, Sainz got a better start of the line. Both the Spaniard and Dutchman were neck and neck going into Turn one, with Verstappen doing just enough to preserve his lead. From then onwards, Verstappen continued to distance himself from the rest of the pack whereas Sainz just didn't have the race pace to compete. Over the course of the 66-lap race, he fell behind both the Red Bull's and Mercedes drivers to finish in a disappointing fifth place at his home Grand Prix.
Sainz believes he did the best he could!
Sainz spoke to formula1.com after the race as he believes that he did all he could to achieve a P5 finish at the Circuit de Barcelona-Catalunya.
"I think we actually maximised everything we had," Sainz said. "I gave my absolute best both in the start and the race pace and I'm just a bit gutted that we couldn't put in a bit of a stronger defence on the Red Bull and the two Mercedes because they were quicker than us."
"It wasn't even worth fighting them because they would have passed me one lap later or another, so I did my absolute best but unfortunately this is what we have now."
With Sainz's P5 result and Leclerc finishing outside of the points in P11, Ferrari are continuing to take one step backwards in their attempt to compete with the likes of Red Bull at the front of the grid.
The Scuderia currently sit in fourth place in the Constructors' Championship on 100 points. They find themselves 34 points behind Aston Martin, 52 points behind Mercedes and 187 points behind the leaders in Red Bull.
With this in mind, Both Sainz and Ferrari know they have to do better as the Spaniard believes there is a lot of work needed to be done before we see Ferrari on top once again.
"We've got so much work to do. And to be honest, looking at our weekend, I would struggle to think that it can get worse than that. The target is to only get better from here."
Can Ferrari bounce back sooner rather than later as F1 heads to Canada next in a fortnight's time?
Feature Image Credit: (Photo by Bagu Blanco / Pressinphoto / Icon Sport)