Latest Episode | Cut To The Race Podcast
Jost Capito announced that Nicholas Latifi would no longer be driving at Williams next season a few days ago. Since then, the question has been: Who will replace the Canadian and drive alongside Alex Albon?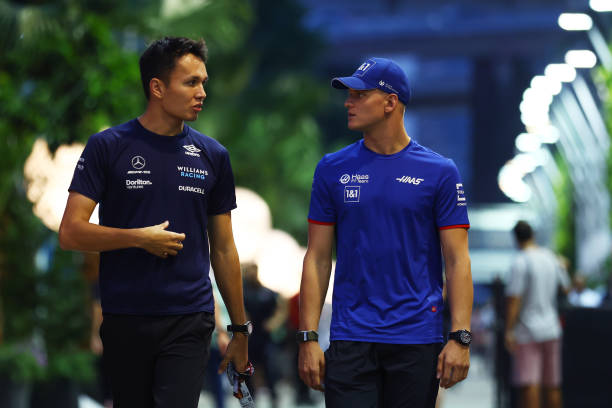 In an interview with RTL, the Williams team boss speaks candidly about whether Williams wants a young driver or a more experienced one.
"There are just the two philosophies you have to deal with," he said.
"I would absolutely see Alex [Albon] as an experienced driver. He was at Red Bull, and he was at Alpha Tauri. One year he didn't drive [in F1], but he was with the team. So he also has experience with how the team operates outside of the car, which has been great for him.
"I see him as an experienced driver. And then you can also add a young driver."
Capito has high hopes for Mick Schumacher
If Alex Albon is an experienced driver, a younger driver who hasn't gained as much experience in another team could drive next to him. The allusions fall on Mick Schumacher, who is said to have started his contract extension talks only a few days ago.
Capito explains:
"Mick [Schumacher] is an option. He also deserves to stay in Formula 1. Whether that's the case, we'll see. But he's definitely an option for us."
He is critical of Schumacher's development at Haas from the outside:
"We have no insights into the Haas team. I don't know what's really going on there and what the conditions are like.
"I mean, when a contract expires, every team always has to think: who will be the next driver?
"It depends not only on the performance but also the relationship between the driver and the team. I really can't say anything about how that is at Haas."
Capito said it remains to be seen how great Schumacher's potential is:
"Mick has the potential to really move forward and be a good driver in F1. He's in his second year now. And if you see that George Russell also made mistakes in his second year at Williams and still progressed accordingly, everything is possible.
"F1 is so complex, and moving up from Formula 2 to Formula 1 is complicated because the cars are so complex, and there's so much more to consider there – technically, F1 is much more demanding. You have to learn that.
"That's where you have to give a driver two years to get there, and then he needs to show in the third year that he's really got it."
Other candidates on the list at Williams
But Mick Schumacher isn't the only one on the potential successor list. Guenther Steiner mentioned that his search included all drivers with a super license.
Capito concluded:
"The bottom line is that our situation is precisely the same [as the one at Haas]. The circle is even a bit wider with us because our young driver in Formula 2, Logan Seargant, doesn't have a superlicense yet.
"He still needs the points at the last race in Abu Dhabi in Formula 2, and of course, he's on our list. And We will only decide that in Abu Dhabi.
"So for us, it's also decided after the season because the whole market is in motion and every day something changes. And we haven't put ourselves under any pressure to make a decision.
"You can see that by the fact that we say we can still decide after Abu Dhabi. But that doesn't mean that if it was necessary that we can also decide before."
Nyck de Vries, who replaced Albon at Monza, made a great Formula 1 debut. But he is also in contact with AlphaTauri.
Capito explains regarding de Dutchman:
"I think the interest from other teams in Nyck de Vries is also relatively large, and there you have to see in the end how he decides.
"We can not, and we do not want to decide now. If Nyck decides to go to another team, then that's the way it is."
The only difference with Haas seems to be that Williams currently has no contact with Nico Hülkenberg.
We can only wait and see when Capito and the team will decide. So the Silly Season could last until after the race weekend in Abu Dhabi.
Feature Image Credit: Clive Rose via Getty Images