Latest Episode | Cut To The Race Podcast
There were battles left, right and centre this race, as Antonio Felix da Costa stormed from P11 to his first race win with Porsche.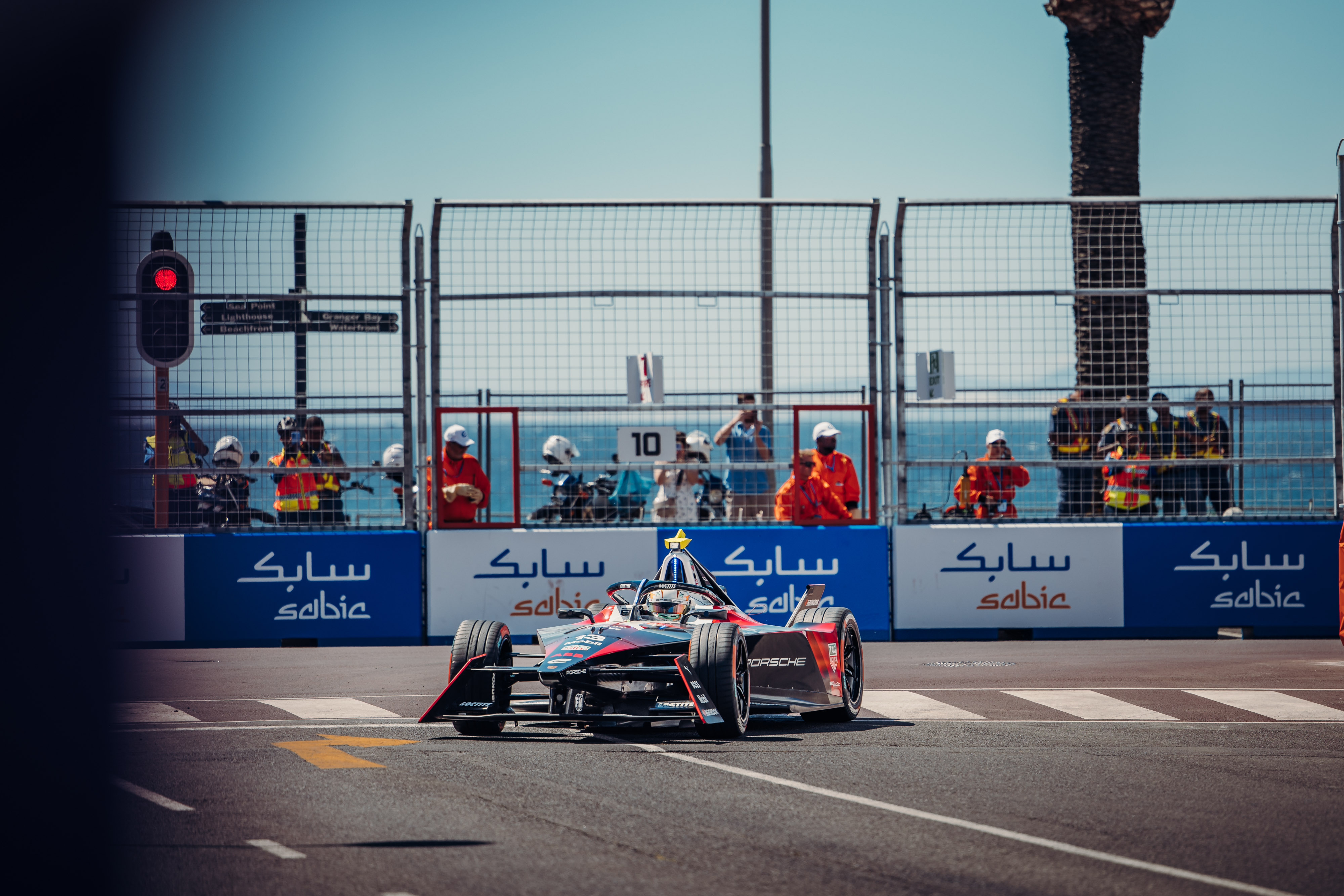 Formula E went racing in South Africa for the first time, as the Gen3 cars took to the streets of Cape Town. Shockingly quick and with a myriad of tricky corners for the drivers to navigate, the Cape Town E-Prix was bound to be an exciting one.
Only 17 cars lined up on the grid, after Mahindra and ABT decided to withdraw from the race over rear suspension safety concerns. It was devastating news for Kelvin van der Linde, as the South African driver had hoped to impress the home crowd today.
Also absent was Sam Bird. The Jaguar driver collided with Edoardo Mortara in the group stage of qualifying earlier, sustaining major damage to the car. Bird's car required a chassis change that the team were not able to complete before the race. It's yet another heartbreak for Bird and Jaguar after the incident between Bird and Mitch Evans in Hyderabad the other week.
Meanwhile, Sacha Fenestraz started at the front, having picked up his maiden pole position in qualifying earlier. Maximilian Günther started behind him, the Maserati driver gunning for his first points of the season.
The starting grid
Here's your provisional grid for the #CapeTownEPrix 🇿🇦

— ABB FIA Formula E World Championship (@FIAFormulaE) February 25, 2023
McLaren's René Rast dropped down from P7 to P10 due to a penalty he picked up at the race in Hyderabad. Edoardo Mortara started from the pitlane after his crash in qualifying. It was a P6 start for championship leader Pascal Wehrlein, while championship competitor Jake Dennis started P12.
We go green in Cape Town…
Fenestraz got away well, while Nick Cassidy got an excellent start. The Envision driver was immediately right on the tail of Maximilian Günther. But Günther was able to cling onto P2, holding off the attacking Cassidy.
A lockup from Wehrlein sent the Porsche driver careening straight into the back of Buemi. It was a devastatingly short race for the Porsche driver, and not ideal for his championship run. Buemi managed to stay in the race but dropped down to the back of the pack. Amidst the chaos, Mortara's race also came to an end.
DRAMA ON THE OPENING LAP!!! 🤯

Our Championship leader @PWehrlein crashes into the back of @Sebastien_Buemi at Turn 7 and the yellow flag is out!#CapeTownEPrix

— ABB FIA Formula E World Championship (@FIAFormulaE) February 25, 2023
Günther was able to jump Fenestraz just as the full course yellows were called, taking the lead. Out then came the safety car.
Laps 5 – 11
The safety car came in and the action got back underway. Günther got away quickly as the Nissan chased him down.
Sergio Sette Câmara and Sebastian Buemi were the first to initiate attack mode, with other drivers following in their lead. Both Günther and Fenestraz went for attack mode, and Cassidy slipped past to the lead of the race. The battle for second began to heat up, Günther defending as Fenestraz relentlessly tried to overtake.
Evans, meanwhile, served a drive-through penalty for overpower — yet further disappointment for Jaguar.
Laps 12 – 15
All drivers bar Cassidy and da Costa had taken their first attack mode, as Envision advised Cassidy to wait.
Cassidy then went for attack mode on lap 14, managing to remain ahead the entire time. Günther then went for his second attack mode, allowing Fenestraz to get ahead.
Rast began to look racy behind Jean-Eric Vergne, as he eyed up P4. Meanwhile teammate Jake Hughes went wide, slipping down to P10 and losing places to both Vandoorne and Dennis.
 Laps 16 – 20
The battle for second continued as Günther chased Fenestraz down under attack mode. The Nissan driver was able to stay ahead, and in turn, started closing in on Cassidy. Fenestraz wanted to attack, but his race engineer advised him to bide his time.
Vergne, under attack mode, started to hunt down Antonio Felix da Costa. Vergne narrowly avoided going into the back of the Porsche driver as he outbreaked himself on a corner. The Porsche driver was able to hold onto P4.
Jake Dennis served a drive-through penalty for failing to respect minimum tyre pressure. Bad news for Dennis' championship challenge.
Laps 21 – 25
Günther crashes out, sending the Maserati into a wall at Turn 1. He sounds heartbroken over the radio, missing out on a podium — and potentially even a race win.
Another full course yellow was called, and the pack was majorly reshuffled. Cassidy and Fenestraz activated their attack mode just as the FCY was called. Fenestraz fell down to P4, whilst Cassidy held onto the race lead. Unfortunate timing for the young Nissan driver.
Da Costa was now hot on the heels of Cassidy, up to P2 from P11. Vergne, meanwhile, was third and had Fenestraz chasing him down.
Da Costa swept in for a brilliant overtake on Cassidy, clinching the race lead. The Porsche driver still had an attack mode to take, but was now 1.3 seconds ahead of the Envision driver.
Lap 26 – 30
Da Costa didn't take attack mode on lap 26, and things began to look a little scary for the Porsche driver. Vergne continued to chase the Portuguese driver, making it even more difficult to take attack mode whilst still holding onto the lead.
Da Costa takes attack mode on lap 28, allowing Vergne to get ahead. Meanwhile, Cassidy and Fenestraz began to fall back from the front, Fenestraz chasing down Cassidy, his eyes fixed firmly on P3.
Da Costa, meanwhile, began to close in on Vergne, trying to reclaim the race lead…
Two laps added
The battle between the ex-teammates continued, whilst Fenestraz got ahead of Cassidy, moving up to P3. Da Costa continued to be utterly relentless, staying right on the tail of Vergne as the DS Penske driver tried to defend his position.
Da Costa then went side-by-side with Vergne, sending it around the outside to reclaim the race lead. An unreal overtake from the Porsche driver!
HANG IT IN THE LOUVRE 🤌

A move worthy of winning any race. Take a bow @AFelixdacosta 👏#CapeTownEPrix pic.twitter.com/G2hrANaCTk

— ABB FIA Formula E World Championship (@FIAFormulaE) February 25, 2023
There was heartbreak as Fenestraz went into a wall, losing out on a podium after such a strong weekend. Cassidy was able to capitalise on this, moving up into third. It all came down to the final lap as Vergne closed in once again on da Costa. It was tight, but Vergne couldn't quite make it.
It was da Costa who crossed the finish line in first, securing his maiden victory with Porsche after a simply remarkable drive.
Full results from the Cape Town E-Prix:
Incredible.#CapeTownEPrix

— ABB FIA Formula E World Championship (@FIAFormulaE) February 25, 2023
Featured Image Credit: @PorscheFormulaE on Twitter