Latest Episode | Cut To The Race Podcast
Formula 1 commentator, Martin Brundle, has warned Max Verstappen of fans who will find his Red Bull dominance boring.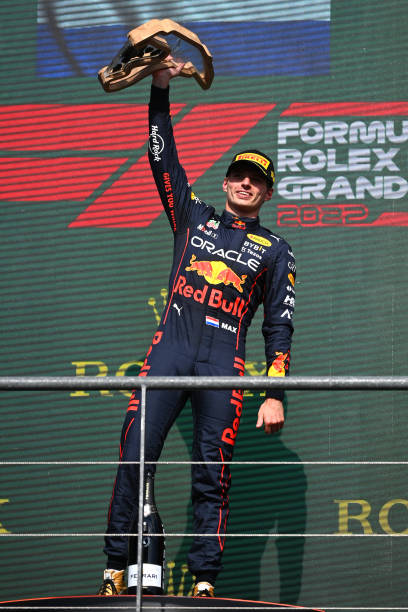 The Belgian Grand Prix was a Verstappen masterclass. The Dutch driver took an engine penalty, started at the lower half of the grid, and still managed to win. And he certainly won with ease. He began working his way up from the 14th spot on the grid to the top place of the podium.  Verstappen has now extended his championship lead to almost 100 points. He sits at 284 points with his teammate Sergio Perez in second place on 191 points and Charles Leclerc now in third with 186 points. 
Verstappen's future looks similar to that of Hamilton and Schumacher
Verstappen's 2022 dominance has been likened to that of the Lewis Hamilton and Michael Schumacher eras. Of course, Verstappen and Red Bull will be happy about this, but some fans are not. In his post-race column for Sky Sports, Martin Brundle picked up on this. He said:
"We will of course soon have some people moaning that one driver is dominating, as we had with Michael Schumacher and Lewis Hamilton, among others, rather than them appreciating the level of excellence Red Bull and Max are delivering." 
Almost immediately after the Belgian Grand Prix, some viewers took to Twitter to have their say. One viewer wrote, "I speak for everyone when I say this sport is much more boring when Max Verstappen is winning." Another said:
Wonder if today might be the race where the tide starts turning for opinion on Verstappen.

Like it did for Schumacher, Vettel and Hamilton, it's just got a bit boring. #BelgianGP

— Luke Etheridge – VSR (@LukeEtheridge95) August 28, 2022
With fans already drawing comparisons between Verstappen, Schumacher and Hamilton, Brundle's warning has come at a perfect time. Brundle also had some words on Verstappen's visor tear off, which has also been a topic of interest. 
Warding off any Ferrari threat
During the Belgian Grand Prix, Leclerc was forced to pit under an early Safety Car after a visor tear off got in his brake duct. Reportedly, the tear off belonged to Verstappen. Brundle believes that it was an unfair incident:
"These visor rip offs need controlling and at least it should be mandatory to write the driver's name on each one. […] Somewhere in my memory bank, these used to have to be put in a pocket or retained with Velcro inside the cockpit, as it's not fair to discard them and ruin somebody else's race."
Even though this did leave Leclerc rather out of sync with the race, Red Bull were flying so fast around Spa that Ferrari were of little concern. Verstappen seems to be all set for a championship win in 2022, but how many years does he have ahead of him? If Verstappen truly is in a dominant era, we can expect much more of this to come. 
Featured Image Credit: Dan Mullan via Getty Images