Latest Episode | Cut To The Race Podcast
Formula 1 managing director Ross Brawn says he sees a similarity between Lewis Hamilton's current behaviour and Michael Schumacher's work at Mercedes.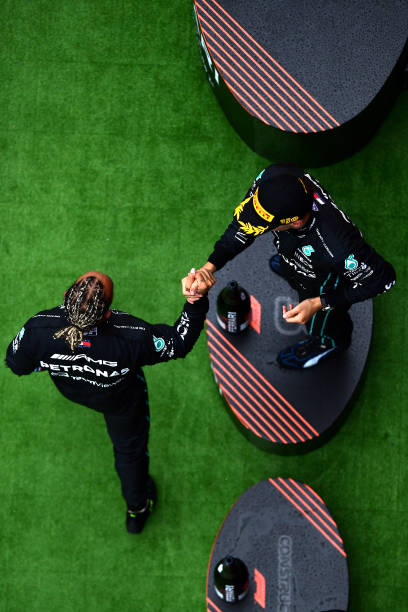 In contrast to the past eight years, Mercedes seems to have problems with the new regulations this year.
The 2022 Formula 1 season has progressed so far without a Mercedes win. Instead, Lewis Hamilton and George Russell have been making a lot of trial and error with the set-ups to understand the W13 better.
For Toto Wolff, Mercedes team boss, the main focus has been on the behaviour and comprehension of this year's Challenger.
Brawn on Hamilton's attitude this year
According to motorsportweek, Ross Brawn explains that he suspects Hamilton is focusing more on improving the pace of the W13 – unlike teammate George Russell.
Nevertheless, Hamilton should not be written off, says Brawn:
"Lewis is in the twilight of his career.
"But that doesn't mean it's over yet. This year, for an extremely long time, he has had a car that he cannot win with. So he puts a lot of energy into changing that.
"For him, this time is a character test. It may well be that his team-mate George Russell is hungrier in the races as a result."
Brawn acknowledges that Hamilton is currently in a similar situation to Michael Schumacher, who made his comeback to Formula One with Mercedes from 2010 to 2012 before calling it quits in motorsport.
"You can compare Lewis' situation a bit with Michael's comeback with Mercedes," Brawn continued.
"As a driver, you always have to decide whether you want to be part of the solution or part of the problem.
"Michael redefined his role back then, so he was part of the solution and helped build the team that would go on to win eight straight Constructors' titles.
"He sacrificed himself for the future of the team, so to speak, and played a key role in laying the foundation for its success.
Nevertheless, Brawn believes we are not seeing the end of Hamilton yet. Such situations strengthen the driver, says the former Ferrari team boss. He speaks from experience:
"Lewis will come back, I'm convinced. Just like his team. I believe that periods of weakness that you have to overcome make you even stronger. I know that from my own experience.
"You have to remember that we narrowly lost three world titles before we made it at Ferrari with Michael Schumacher in 2000," Brawn says.
"The three years before were a tough test. The team could have fallen apart out of disappointment. But the opposite was the case: we grew even closer together and got better.
"We learned a lot and finally turned our weaknesses into strengths."
We will see in the coming weeks whether Hamilton's commitment to Mercedes has paid off. There are still six chances to win a Grand Prix.
Feature Image Credit: Mark Thompson via Getty Images