Latest Episode | Cut To The Race Podcast
Valtteri Bottas has been opening up on his new adventures with Alfa Romeo and how it's impacting him.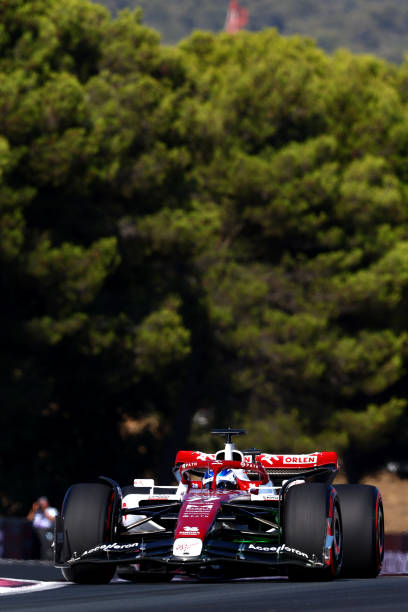 The Mercedes seat saga of 2021 ultimately ended up with George Russell bagging the second seat with the team. Which meant that Valtteri Bottas had to find somewhere to go. The Finn switched to Alfa Romeo, and began his first season with the team this year. He drives alongside Zhou Guanyu. Bottas spoke in an exclusive interview with crash.net on his first year with Alfa Romeo, describing it as having "security."
Bottas on his time with Mercedes
The battle for the Mercedes seat last year was contentious. It's documented in Drive to Survive. Bottas has revealed the pressures of keeping his seat in such a successful team, saying:
"For example. during the holidays, for many years I had the August break wondering, "Do I have a seat next year or not?" And [this year] I could really just disconnect from it really well and have that security." 
Of course, there is some difference in driving for Mercedes and Alfa Romeo. During Bottas' five years with Mercedes, he scored 58 podiums, 10 of them being wins, and 20 poles for the team. Now with his new team, his best result is fifth. It's a very different lifestyle, but Bottas doesn't think this is a bad thing.
"It's no lie, of course. do miss going into a weekend knowing there is a big chance of winning the race. Now, realistically, it's a bit of a long shot. It's a different mindset. For me, this is a project that i jumped into and the rewarding feeling and satisfaction comes from different things. Seeing and feeling the progress."
Looking ahead with Alfa Romeo
There is much less pressure on Bottas now. The pressure to win a race has been lifted, as Alfa Romeo are a midfield team. His team mate is also not a seven time world champion. Bottas did struggle matching Hamilton's pace and performance and was often used to help Hamilton. Now, he is the more experienced (and older) driver. He holds the most points out of the driver pairing within Alfa Romeo too.
It seems that Bottas is now able to have much more fun in Formula One. He confirms in his interview that he certainly needed a change, "I definitely needed something new, a new environment, new targets, new people around me." Since joining Alfa Romeo, the Finn has been having lots of fun. On this, he said, "I really don't care nowadays what people think of me and I just want to try and make the most out of my life and have fun."
Bottas is certainly enjoying his time with Alfa Romeo and hopes to remain in Formula One for as long as possible. It's great seeing Formula One drivers in a good place, and Valtteri Bottas is certainly in one. It's yet to be announced who will be joining him at Alfa Romeo in 2023, but Bottas is here to stay. 
Featured Image Credit: Marco Canoniero via Getty Images