Latest Episode | Cut To The Race Podcast
In the closing laps of the Dutch GP, there was tension between Valtteri Bottas and Mercedes after they pitted the Finn for soft tyres and then took the fastest lap away momentarily from Championship contender Lewis Hamilton. 
Being told early on in the race he was not in contention for the race win, Bottas had a rather quiet race in third and was instructed to hold Max Verstappen up after the Dutchman had pitted, to further help Hamilton's chances for a win.
He had played the team game well throughout the race, allowing Hamilton to get past when needed. But on lap 67 of 72, he was called in to pit for a safety stop as he had a large gap to Gasly behind in fourth, after mentioning on his radio he was experiencing vibrations.
When coming back out on track, his engineer instructed him to not go for the fastest lap as it would take that point away from teammate and championship contender Hamilton. However, Bottas had set purple times in Sectors 1 and 2 before lifting off in the final sector as he received another message on the radio to slow down.
Despite this, he still did gain the fastest lap of the race, including the track record. Hamilton later came into pit on the penultimate lap and regained that championship point with the fastest lap on the chequered flag.
In the media pen after the race, speaking with Sky Sports F1 Bottas said, "It was quite uneventful for me actually. We tried one stop with me, and needed too much management and wasn't that fast.
"At the end we had a gap behind, so we stopped for safety because I started to have some tyre vibrations, so yeah not much happening for me today."
When asked about the fastest lap incident, Bottas said, "I was pushing, but I also knew that Lewis needed that one point more than me, as he is fighting for the title and I was just playing around. I left it at the end."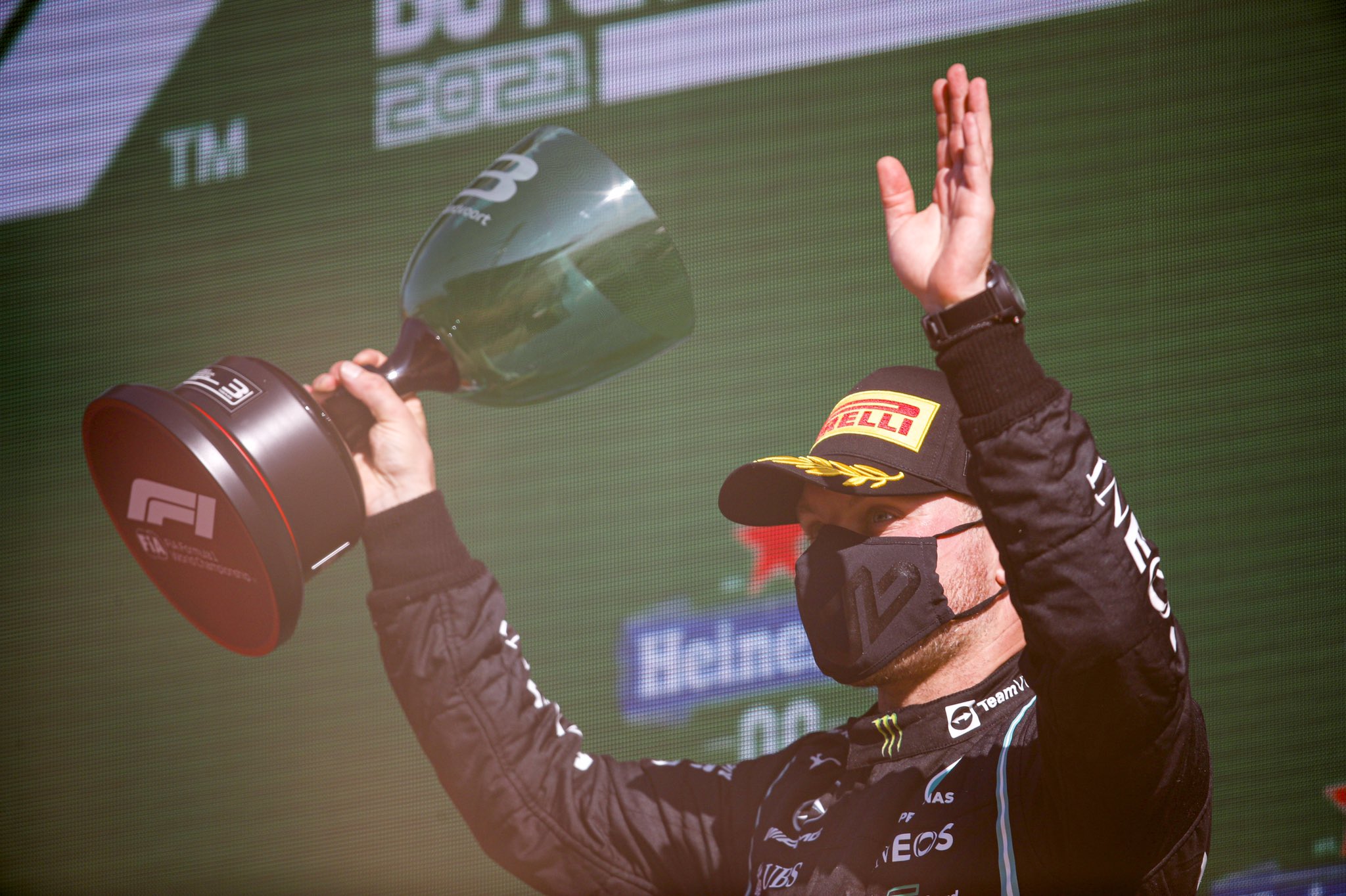 Image Credit: LAT Images/Mercedes AMG F1 Media
The Finn driver is expected to announce before Monza next weekend his move to Alfa Romeo, as George Russell is set to take his seat in Mercedes.
With the announcement looming closer now as rumours keep on growing, it is understandable for Bottas to be frustrated with his position in the team as of now and for the rest of the season.
Mercedes Team Boss, Toto Wolff, said that he understood why Bottas would have chased for the fastest lap.
"That was a bit cheeky, but understandable. Valtteri is always on the receiving end because this championship is so tight.
"He lifted off massively in the last sector, and it was clear that Lewis would do the quickest lap and Valtteri knew about it.
"At the end, Lewis in his fight for the drivers' championship got the point, and it's all good.
"It could have ended up in a loss of a point for Lewis, and it would have also been not right because he had the fastest lap until then.
"But you have to understand also at that point, there's a certain degree of frustration of Valtteri, and at the end, everything is good.
"We're going to talk about it, but in a most amicable and professional way."
It will be interesting to see what is going to happen now in the next 7 days, keep your eyes peeled.
Headline Image: @MercedesAMGF1 Twitter