Latest Episode | Cut To The Race Podcast
Valtteri Bottas qualified 16th for the Spanish Grand Prix on Saturday. He finished the race in 19th place – and the reason seems to have been damage to the car.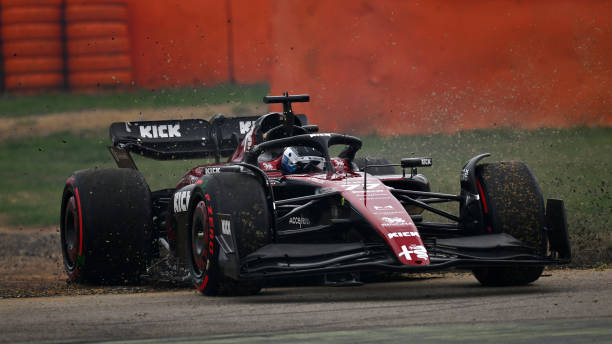 The race in Spain was the 15th Grand Prix in history in which all 20 cars saw the chequered flag. Bottas finished just ahead of Logan Sargeant and looked disappointed.
Problems with Bottas' car since qualifying
The Finnish driver struggled to keep up with the pace of the rest of the field. His teammate, Guanyu Zhou, also managed to score two points for Alfa Romeo in ninth place. Bottas suspected something was wrong with his C43 immediately after the race, according to speedcafe.com.
"For me, it's pretty clear there was something not right with the car, because I was more than one second per lap off, just sliding around," Bottas said.
"Whether it was a mechanical or aero issue I cannot say, because the balance was not, like, way off, but there was just a lack of overall grip.
"So, we'll see if there's something damaged in the car."
At that point, however, it was not sure what had caused these problems with Bottas' car – let alone whether it was damage to the C43 at all.
The resolution of the problem
But a short time later, he announced via Twitter that it was indeed floor damage. According to Bottas' statement to Sauber, it was due to debris he had caught at the start of the race.
Sunday 🇪🇸

I knew something was not right today, and we found significant floor damage post race which was costing aero performance. That meant no chance to fight for points today.

Happy for my teammate @ZhouGuanyu24 to pick up couple of points for us and can't wait to get back… pic.twitter.com/sBFPtcUgD7

— Valtteri Bottas (@ValtteriBottas) June 4, 2023
"First of all, congratulations to Zhou and the team for getting points; he showed good pace, and that's encouraging for the next races, as proof of the hard work put in by the team back home in Hinwil and here at the track.
"From my side, we found damage to the floor, probably from some debris picked up at the start of the race, and that cost us quite a big chunk of performance: as a result, I just lacked pace altogether today, I wasn't able to put up a fight with anybody and it was quite a long race for me.
"I know we can put this race behind us and quickly come back on the right track before heading to Montreal in two weeks. The circuit will be once again completely different, and hopefully it'll suit our car. We had a decent race in Montreal last year, scoring a very good result for the team: hopefully, we'll be able to replicate that, and keep this streak running."
Nevertheless, Bottas was happy for his teammate and Alfa Romeo – whether they can score points again in Montreal remains to be seen.
Feature Image Credit: Jakub Porzycki/NurPhoto via Getty Images