Latest Episode | Cut To The Race Podcast
A second race win in a row for Jaguar's Mitch Evans, as the team picks up its first ever 1-2 in Berlin.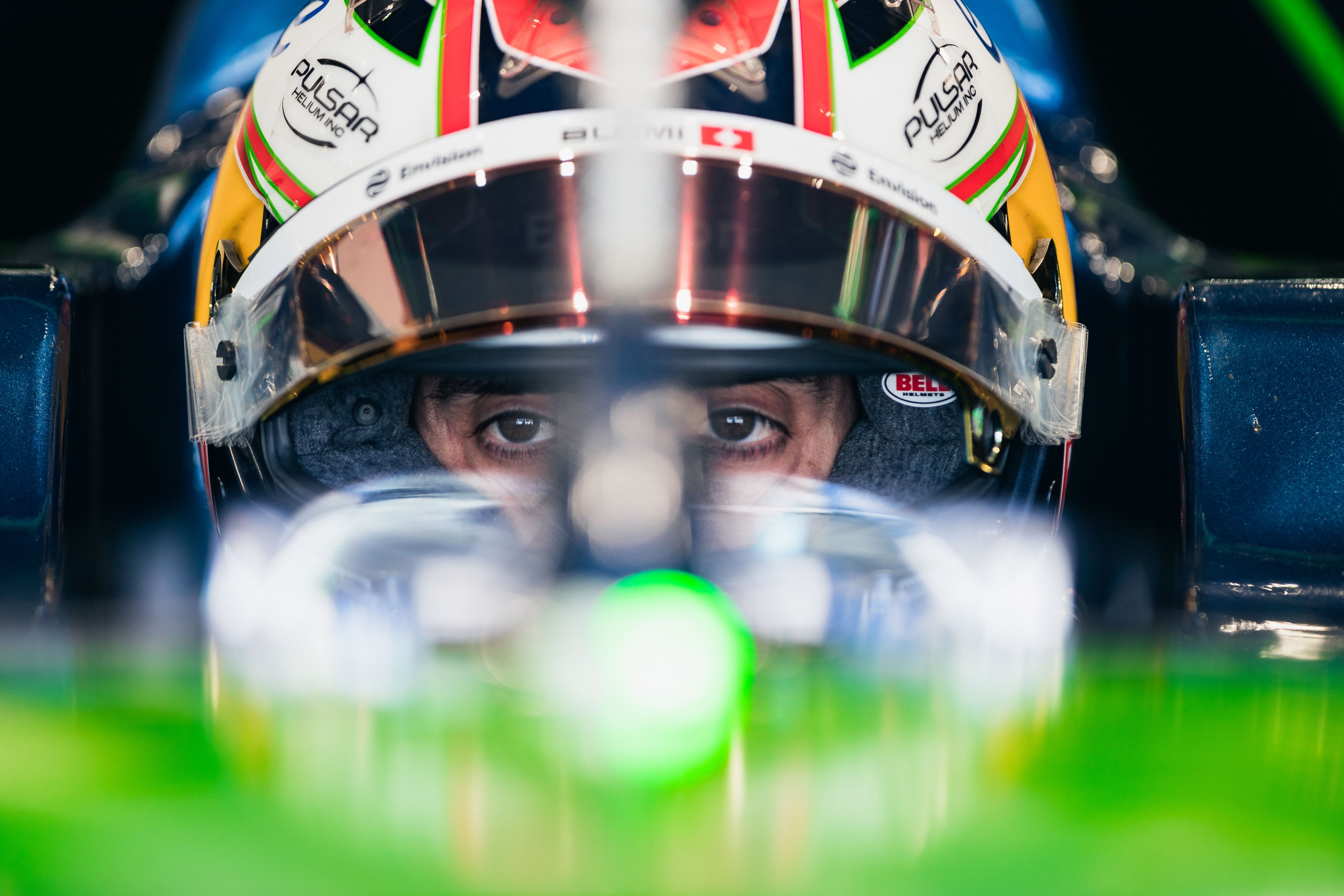 The Gen3 cars took to the circuit around Berlin's historic Tempelhof Airport for the first race of this weekend's German doubleheader. Formula E's most raced track provided the drivers with plenty of challenges; its rough surface meant that tyre degradation was high and that management was key.
Sébastien Buemi started at the front of the grid, having secured a record-breaking sixteenth pole position. Behind him started Jaguar's Sam Bird, proving that the Jaguar powertrain was the one to beat. Meanwhile, a superb qualifying for NIO 333 meant that both cars were starting within the top 10.
The starting grid
💪 Buemi on Pole
👀 Championship leader down in 15th
🤝 Both NIO 333 Racing cars in the top 10

Your starting grid for the 2023 @SABIC #BerlinEPrix ⚡️🇩🇪

— ABB FIA Formula E World Championship (@FIAFormulaE) April 22, 2023
Lights out in Berlin…
It was a fabulous start for Dan Ticktum, who propelled himself from fourth to first within the first corner. Buemi and Bird both suffered a poor start, briefly going three wide with Stoffel Vandoorne. As Ticktum became the race leader, Buemi slipped down to second, with the Jaguar of Sam Bird right on his tail.
Ticktum and Buemi took an early attack mode, opting for the increase in power on only the third lap. Bird inherited the race lead, before taking attack mode himself on lap 4.
Jake Dennis took his attack mode on lap 6, slipping down to P6 behind Maximilian Günther. Dennis was quick to make a move on Günther to take P5, going down the inside of Turn 1.
Bird, in the meantime, was now back in the lead. DS Penske's Stoffel Vandoorne was behind in second, with Dan Ticktum in third. Edoardo Mortara, meanwhile, began to climb the ranks, moving ahead of Mitch Evans.
Mortara leads, safety car out
Mortara continued to fly his way around Tempelhof, slipping up into the race lead. There was contact between René Rast and Sergio Sette Câmara, which brought out the safety car. It was only on lap 12, but there were already multiple drivers on the grid who had used up their entire allotted attack time.
Green flags waved again on lap 14, with Dennis now in the lead. Vandoorne slipped past Ticktum, moving up into P4. André Lotterer and Jean-Éric Vergne made contact on lap 19, both drivers being sent off track. Lotterer was handed a penalty for his part in the incident. Meanwhile, Cassidy made contact with the rear of Bird, picking up potentially costly damage.
Crashing out of the points
A big shunt between Vandoorne and Ticktum brought out another safety car. It's a tough pill to swallow for the drivers; it'd been a strong race for both of them prior to the incident.
😬 Vandoorne and Ticktum continue their discussions out of their cars following their collision.@SABIC #BerlinEPrix pic.twitter.com/PQJ9dZRGWQ

— ABB FIA Formula E World Championship (@FIAFormulaE) April 22, 2023
Among the chaos, Cassidy picked up a puncture, forcing him into a trip to the pits. The McLaren of Jake Hughes got caught up in it all too, dropping him down to the very back of the pack.
Green flag
Racing got back underway on lap 23. Buemi was up in the lead, but Günther was quick to begin challenging for it. As Günther gets past the Envision, Mitch Evans closed the gap to Buemi, eyeing up a move into P2.
Evans made the move on Buemi, his teammate Bird joining in on the action as the polesitter drops down to fourth. Evans went alongside Günther into Turn 9, getting ahead of the Maserati to take the race lead.
Championship leader Wehrlein was up into P7, with teammate da Costa just a position behind. It was a much-needed improvement from Porsche's qualifying position at the German team's home race. Meanwhile, Dennis sent it down the inside of Mortara, jumping up into P5.
Buemi fancies a move on Bird and pulls it off perfectly, taking hold on the race lead. However, Bird wasn't happy to be overtaken and shortly after made a move on Buemi, reclaiming the lead. By this point, Porsche's da Costa was up into P4 in a stellar recovery drive. Yet to take his final attack mode, a podium was well within sights for da Costa.
Dennis slides offtrack
Sliding into Turn 6, Andretti's Jake Dennis flew off track, taking da Costa out in the process. Da Costa's frustration was evident as he was forced to retire, Dennis joining him in the pits not long after.
OH MY GOODNESS! 🤯

Jake Dennis is in the wall in the most dramatic fashion, clipping da Costa in the process!@SABIC #BerlinEPrix pic.twitter.com/u6EMx32Xk1

— ABB FIA Formula E World Championship (@FIAFormulaE) April 22, 2023
With this drama as his backdrop, Buemi was once more in the race lead. The two Jaguars trailed Buemi, with Bird in second and Evans in third. Buemi began to defend the lead from Bird, who began eyeing up a move into first. Evans took the opportunity to get past his teammate, and was soon after sailing past Buemi to take the lead.
Three laps added…
Bird began to look for an overtaking opportunity on Buemi, searching for a 1-2 for Jaguar. The Envision driver continued to defend, giving Bird no chances to get past. Sam Bird, however, decided to send it around the outside, getting past Buemi in a superb move. Evans was safely up in the lead, with little to trouble him as he sailed towards his second race win in a row.
As Buemi began to struggle for energy, Günther managed to get just ahead, finishing ahead of the Envision driver. In the end, it was Jaguar who came across the line first, taking home its first ever 1-2.
The final results
190 overtakes.

Yes, you read that right – the 2023 @SABIC #BerlinEPrix had ONE HUNDRED AND NINETY overtakes 🤯

— ABB FIA Formula E World Championship (@FIAFormulaE) April 22, 2023