Latest Episode | Cut To The Race Podcast
Alpine are believed to be waiting on the completion of a new simulator according to Team Principal Otmar Szafnauer.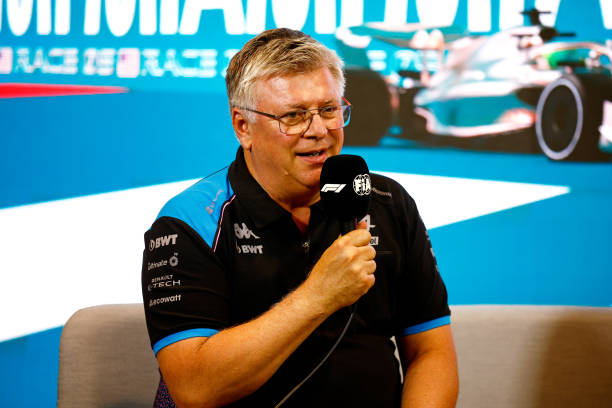 Alpine have had up and down moments in 2023 so far. They have picked up 14 points after five races this season. Pierre Gasly scored points for Alpine on his debut in Bahrain with a ninth-place finish. The team secured a double point finish in Jeddah with Esteban Ocon finishing in eighth and Gasly finishing in ninth once again.
Both drivers were on for points in Australia. However, the race ended in disappointment for the team after Gasly and Ocon collided with each other with two laps to go. Alpine went without points in the next race in Baku due to the team having issues with their cars across the weekend. Last time round in Miami, the French team were back in the points as Gasly took home P8 and Ocon finished right behind him in P9.
Alpine's CEO Laurent Rossi has claimed that the team's performance has been amateurish at times in 2023. Despite the team's underwhelming start to the new campaign, Szafnauer believes that Alpine have gained on some of their rivals from last season. With the team expecting a new simulator in the future, who knows how much pace they could gain on track?
The simulator will take some time!
Even though Alpine's new simulator is set to be ready at some point in 2024, Szafnauer opens up about the transition from their current sim to their new one as he believes that this technology will help the team improve significantly in on-track performance.
"We've purchased a brand-new, start-of-the-art simulator that should be with us in one and a half to two years."
"We've hired people to help us with more accurate lap sims."
"Our simulator is 15 or maybe 20-year-old technology. It's an old McLaren one. I think we bought it about 10 or 12 years ago, but McLaren had 10 years before that."
"It's the first simulator ever, and we have that technology. Things have moved on, so we need to invest. We need to invest in our tools and then we also need to invest in some areas of the business that needs some complementary know-how."
"We're doing both of those things, it just doesn't happen overnight; you order a simulator, two years later, you've got it. It takes that long to make."
Formula 1 action returns this weekend as the team's head to Monaco. With the future looking positive for Alpine, can the French outfit focus on the now as they look to close the gap on the competition ahead.
Feature Image Credit: (Photo by Mark Thompson/Getty Images)