Latest Episode | Cut To The Race Podcast
Fernando Alonso's 10-second post-race penalty in Jeddah was overturned. He gets his podium place back – the 100th of his career.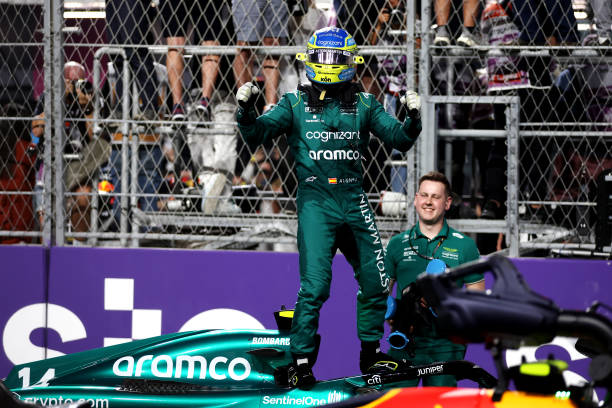 The initial situation: Alonso had to serve a five-second penalty for being in an incorrect position in the starting box. He served the five-second penalty before the pit stop on lap 19. But this penalty was apparently not carried out correctly; after that, he received a 10-second penalty after the race.
Although Alonso went through with the podium celebration, he was later disqualified from 3rd place. George Russell moved up to 3rd place.
Overturn in Alonso's case
After Mike Krack addressed that they would take another look at the situation and decide whether to appeal the penalty, confirmation came later in the evening: Alonso retained third place.
At 00:10 local time, a team representative was called to the stewards for the right of review. At 1:02 came the official confirmation: "working on the car" does not equal the use of the jack on the car. The exact wording in the FIA document is as follows:
"The clear submission by the Team was that the alleged representation of an agreement between the FIA and the teams that touching the car in any way, including with a jack, would constitute "working" on the car for the purposes of Article 54.4 (c) of the Sporting Regulations, was incorrect and therefore the basis of the Steward's decision was wrong.
"In the light of the Petition, the Stewards had to decide if there was a "significant and relevant new element [that was] discovered which was unavailable to the parties seeking the review at the time of the decision concerned".
"If there was such an element(s) then the Stewards would need to consider whether the decision needed to be modified in any way."
The Steward concluded the decision to overturn the penalty:
"We therefore proceeded to hear the substance of the request for review. Having reviewed the new evidence, we concluded that there was no clear agreement, as was suggested to the Stewards previously, that could be relied upon to determine that parties had agreed that a jack touching a car would amount to working on the car, without more.
"In the circumstances, we considered that our original decision to impose a penalty on Car 14 needed to be reversed and we did so accordingly."
Fernando Alonso keeps his 3rd-place finish. Aston Martin is still 2nd in the constructor's standings.
Image Credit: Ayman Yaqoob/Anadolu Agency via Getty Images