Latest Episode | Cut To The Race Podcast
With 97 laps under his belt after the Abu Dhabi post-season test, Fernando Alonso has had a good taste of the atmosphere at Aston Martin. The Spaniard feels even more confident that he has made the right move.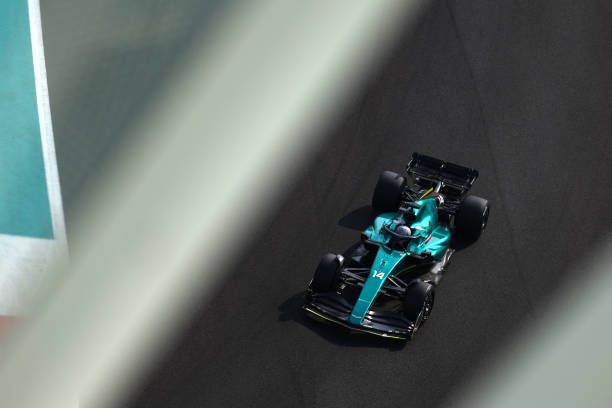 The two-time world champion explains, according to racingnews365:
"I'm much more optimistic now than when I signed for Aston Martin.
"I was 90 percent happy, [then] when they start improving and they finished the season on a high I was 100 percent. This morning, I was 100 percent plus.
"The feeling that I have today in the garage with the guys and the potential of the team, the talent that I see in the engineering room here is outstanding. So, I am really, really happy."
Alonso was initially surprised by the mileage of his Aston Martin's engine. With Alpine, he had to retire to quite a few technically caused DNFs last season – so it's no wonder this unsettled him.
"When they told me the mileage of the engine yesterday night, I was concerned because I said that number is so high on my standards! But we did 97 laps [with] no problem."
But the Aston Martin, on track without sponsors, lasted out. As Alonso is currently on loan at Aston Martin, no other sponsors were allowed on the British Racing Green livery.
Alonso's future with Aston Martin
Pedro de la Rosa was also on board as Aston Martin's Team Ambassador.
He was testing the Jaguar challenger with Alonso for the 2002 Formula 1 season. Now, Alonso was reminded of that time.
"We entered the garage this morning together and we saw the green car. We both said this is exactly as Jaguar in 2002, but this is completely a different project for sure."
Nevertheless: Alonso wants to avoid getting used to the AMR22. The 2023 Aston Martin will be different, says the Spaniard.
"We have to sit down, I have to go through now in my mind everything that I felt.
"There are small things and most of them are comfort, it's not really the balance itself or the behaviour of the car.
"I was happily surprised with everything, but this year's car is not anywhere near what we will run next year.
"There was not really anything to get confident [with] or anything like that. It's not like there's going to be a continuation of this car [for next year]."
The following season will show whether Alonso can assert himself in the next Aston Martin.
Feature Image Credit: Photo by Joe Portlock – Formula 1/Formula 1 via Getty Images