Latest Episode | Cut To The Race Podcast
Alex Albon reflected on a tough weekend for Williams in Austria as he see's no points scored as a missed opportunity for the team.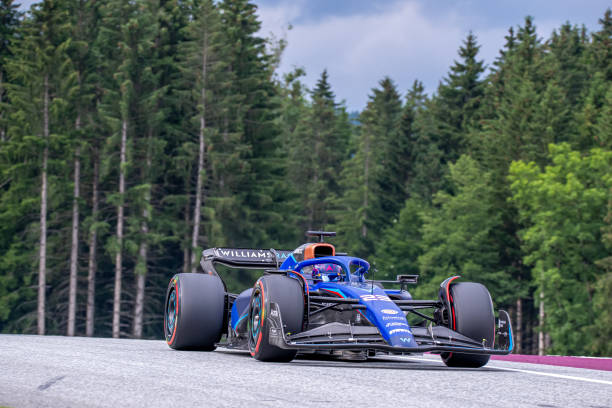 Albon scored his best result of the season so to date over a fortnight ago in Canada. His impressive drive saw him finish in P7 and pick up six important points in the process. 
The Grove outfit have demonstrated strong straight line speed in 2023. This strength can be advantageous around certain tracks, in particular the Red Bull Ring. Keeping this in mind, Albon and the team had a great chance to score even more points across the weekend in Austria with the return of the Sprint format. 
However, despite Williams' best efforts, they were unable to take away any points in Spielberg. Albon secured a 13th place finish in Saturday's Sprint race and narrowly missed out on a top ten finish in Sunday's Grand Prix, coming across the line in 11th. 
His team-mate Logan Sargent had to settle with a P18 finish in the Sprint and could only manage P13 in the race even with a five second time penalty for exceeding track limits. 
After the race, Albon spoke to formula1.com as he reflected on the race weekend as a whole. 
"We had a great start and couldn't really use the start to find a position, to gain any positions. The first stint [on medium tyres] was quite fun, I had the Red Bull [of Sergio Perez] around me, I had George [Russell] behind me, [and] it felt like I was in a good place."
"I struggled a little bit on that first prime [hard] tyre, we came out after the [Virtual Safety Car] within a lot of the guys who started on primes. To be fair, Kevin [Magnussen] is good at defending and he kept me behind longer than I should have been, so I destroyed my tyres a bit fighting him."
"I struggled a bit through that whole stint and when I saw Stroll pit ahead, I knew… It's the Jaws music coming from behind and he got me."
Ultimately, Albon felt disappointed that he didn't come away with any points and see's it as a big opportunity missed. 
"P11 I think is all we could have done today. [In the Sprint], I think we should have been in the points… I think we should have come away from this weekend with points – it's a track that suits us more than others."
Where can Williams score points at next?
Despite F1 heading to Silverstone for the British Grand Prix this weekend, Albon believes that the most likely track that Williams can score points at next is Spa-Francorchamps.
"Maybe Spa, I'm thinking, could be the next chance, but it's great progress, we're showing that we're now fighting… Also Logan [Sargeant] had a great race in P13, so it was a great race for both of us. We're making progress and that's the main thing."
Williams currently sit in ninth in the Constructors' Championship, with Albon scoring all of their points so far this year. With there being three more races coming up in the month of July, can Williams pick up some valuable points, as they look to close the gap to Haas and Alfa Romeo ahead of them?
Feature Image Credit: (Photo by Bryn Lennon – Formula 1/Formula 1 via Getty Images)