Latest Episode | Cut To The Race Podcast
In a recent interview, Lewis Hamilton has said how much he struggled during the first half of this season as he dealt with the long-term effects of COVID-19. That was also when we saw a few uncharacteristic mistakes from the seven-time world champion. So, was long COVID to blame?
Hamilton missed the penultimate race of last season in Sakhir after testing positive for the virus, and was visibly suffering when he returned for the final race despite having tested negative.
The long-term effects of contracting COVID are still not fully understood, with research currently being undertaken in an attempt to unravel the mystery of why certain people are seemingly hit at random with various lasting symptoms.
Whilst not giving too many details, Hamilton said in the wake of his illness that it had hit him hard; the Mercedes driver lost four kilograms in weight in the space of a week.
Eight months later, after a particularly trying race fighting from the back around the twists of the Hungaroring in 33-degree heat, his ongoing struggles were clear to see as he staggered and swayed on the podium, barely able to remain standing.
In the immediate aftermath, Hamilton said:
"I had really big dizziness and everything got a bit blurry on the podium. I haven't spoken to anyone particularly about it but I think it is lingering."

"I remember the effects when I had it. The training has been different since then and the levels of fatigue you get are different and it's a real challenge."
When you now hear the 36-year-old say that the entire first half of the season was "one of the toughest" he has ever had that you remember some of the very un-Hamilton like moments we saw earlier in the year.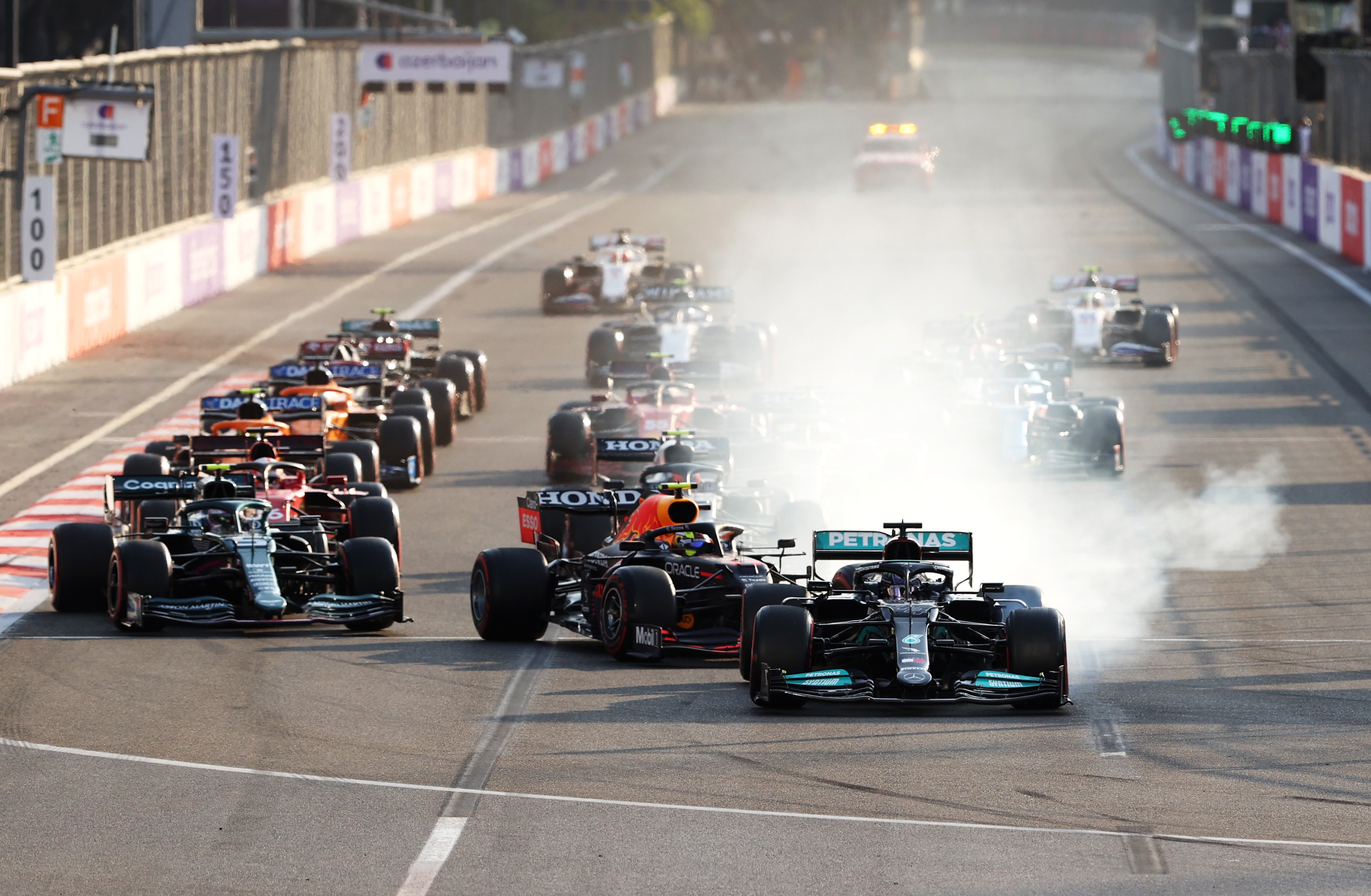 Image credit to Getty Images.
There was the decision to lap future teammate George Russell on the wet part of the track having just fitted dry tyres in Imola which saw him slide into the gravel. An off-colour weekend in Monaco. And, of course, the infamous "brake magic" button hit in Baku.
Whilst these were fairly minor indiscretions which just so happened to have severe consequences, we are talking about a man who has set the bar incredibly high when it comes to his consistency.
Those on social media who have blamed his errors on "being under pressure for the first time in years" were clearly either not watching or not paying attention during 2017 and 2018.
Hamilton took on Sebastian Vettel and Ferrari in largely evenly matched cars – with the Scuderia undeniably faster for much of 2018 – but the Briton was near-perfect in every single session, to a ridiculous degree. For two straight years.
He has shown that he thrives under pressure, often raising himself to a totally different plane – see Q3 at Singapore 2018 – when truly challenged.
Image credit to Getty Images.
So, what happened earlier this season?
He was certainly still able to drive to his best ability – or very near it – when on autopilot, and outperformed his machinery even as early as the season-opener, holding off Max Verstappen for an unlikely victory.
But perhaps, with his body stretched to its limits, his mind was clouded at times. Everyone will have experienced that feeling of fogginess when they are suffering from extreme exhaustion – a lack of clarity when it comes to rational thinking in that decisive split second.
It would certainly explain those unusual driver errors.
Hamilton fans will be pleased to know, however, that he believes the effects are behind him.
"Right now I feel better than I've felt in a long time. So, somehow I've managed to push through it. I've really focused on recovery and training, breathing techniques. I was just running the other day, feeling better than ever."

"In the last few races, with the heat and everything, because I've been able to train and push my body a little bit further now, particularly since the break, I've not had any problems in the races and I'm really grateful for that. I feel like it's gone, thank God."
And it shows. Hamilton has been back to his very best in the last two races, and at such a crucial time.
The title battle looks set to go down to the wire and a fully fit, fully motivated Lewis Hamilton is a force to be reckoned with.
Headline image credit to Getty Images.