Latest Episode | Cut To The Race Podcast
The tension was palpable as Lewis Hamilton hunted down Max Verstappen at the United States Grand Prix last weekend. Would he catch in time? Would he make a climactic move on the final lap?
As it turned out, no – he would not.
But there have been many instances in Formula 1 history where the unexpected or unimaginable has come to pass, right at the death.
Last year, we had more late Hamilton-Verstappen drama when the latter hunted down the then-six-time world champion as he crawled around Silverstone on three tyres after a late puncture. It was a dramatic final lap, with Hamilton eventually clinging onto the win by the skin of his teeth, but it was probably not the most dramatic. Here are a few contenders for that accolade…
2016 Austrian Grand Prix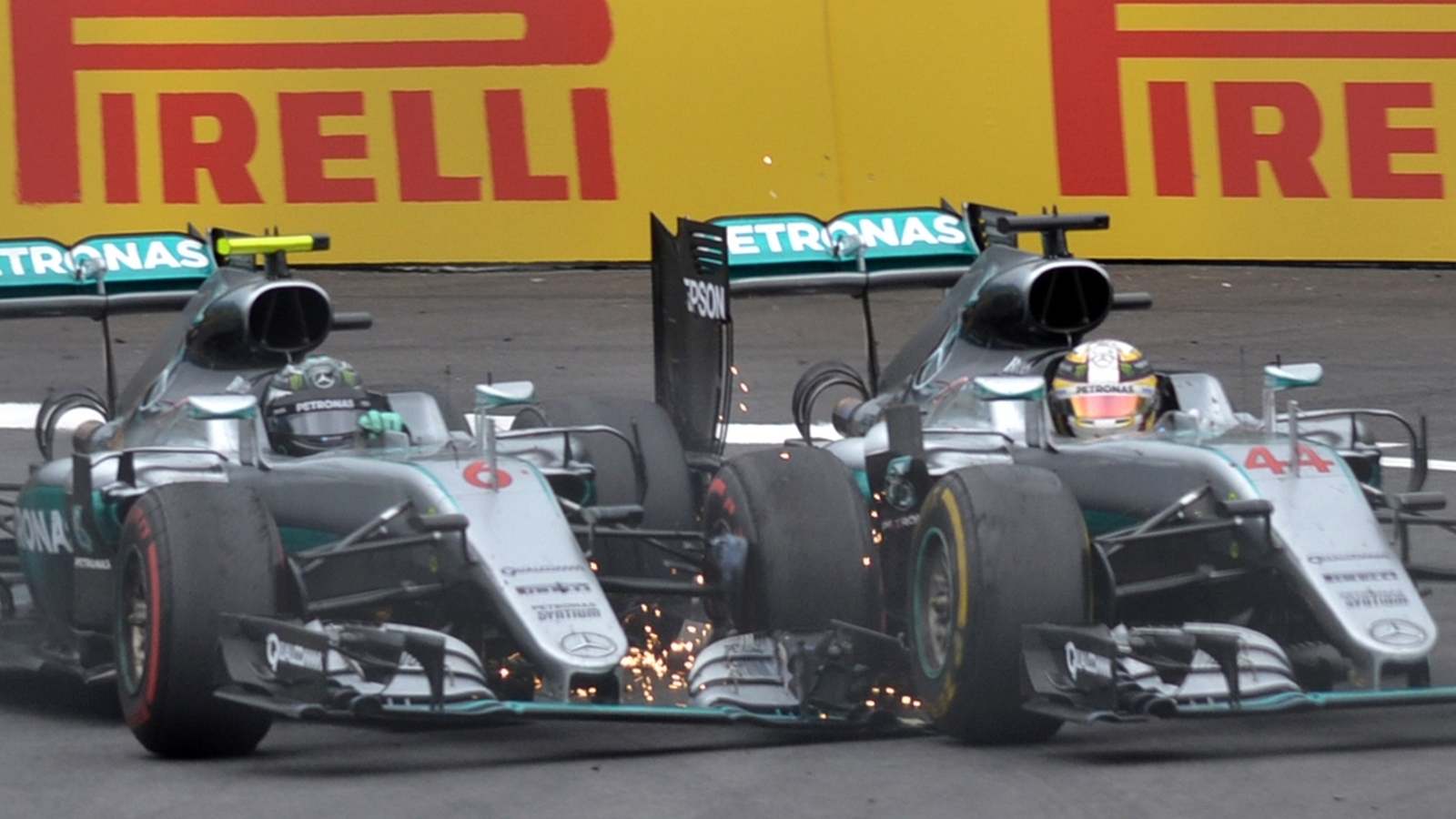 Image credit to Formula 1.
Hamilton was chasing down his teammate, Nico Rosberg, for the lead as he attempted to close the gap in the championship after early-season reliability issues. The two Mercedes had come together in a costly way a few races earlier in Spain and, as Hamilton went to the outside of Turn Two on the final lap, they would do so again.
Rosberg tried to force Hamilton wide – a move he had been on the receiving end of numerous times – but went too far, damaging his front wing and limping home in fourth place with a 10-second penalty for good measure. Rosberg would go on to eventually claim the championship, nonetheless, after another costly engine failure for Hamilton late in the season.
2011 Canadian Grand Prix
Image credit to Rex Features.
The longest race in the sport's history came right down to the wire. After numerous safety cars and a full, two-hour suspension for torrential rain, Sebastian Vettel started the final lap with Jenson Button breathing down his neck, a little over four hours after they had initially started the race.
Button had stopped no fewer than six times and at one point had been in last position, but his excellence in tricky conditions allowed him to scythe through the field and force Vettel into a mistake halfway round the final lap. The German ran wide onto a wet patch at Turn Six and Button came through to take a truly extraordinary victory.
2008 Brazilian Grand Prix
Image credit to Getty Images.
Whilst the lead of the race may not have changed hands, final laps don't come much more dramatic than this. Hamilton needed fifth in the final race of the season to guarantee a maiden title, having excruciatingly missed out in similar circumstances the year before. But mother nature was not going to make things simple.
A wet-dry race saw heavy rain fall with a handful of laps remaining and a pit stop resulted in the young Briton rejoining in fifth. An equally young Vettel passed him on lap 69 of 71 and it looked as though Hamilton would miss out again as Felipe Massa took the victory that he required to become champion. However, Timo Glock had not stopped for wet tyres and Hamilton passed him on the final corner of the final lap of the final race to reclaim that crucial fifth position and win the championship.
1997 Hungarian Grand Prix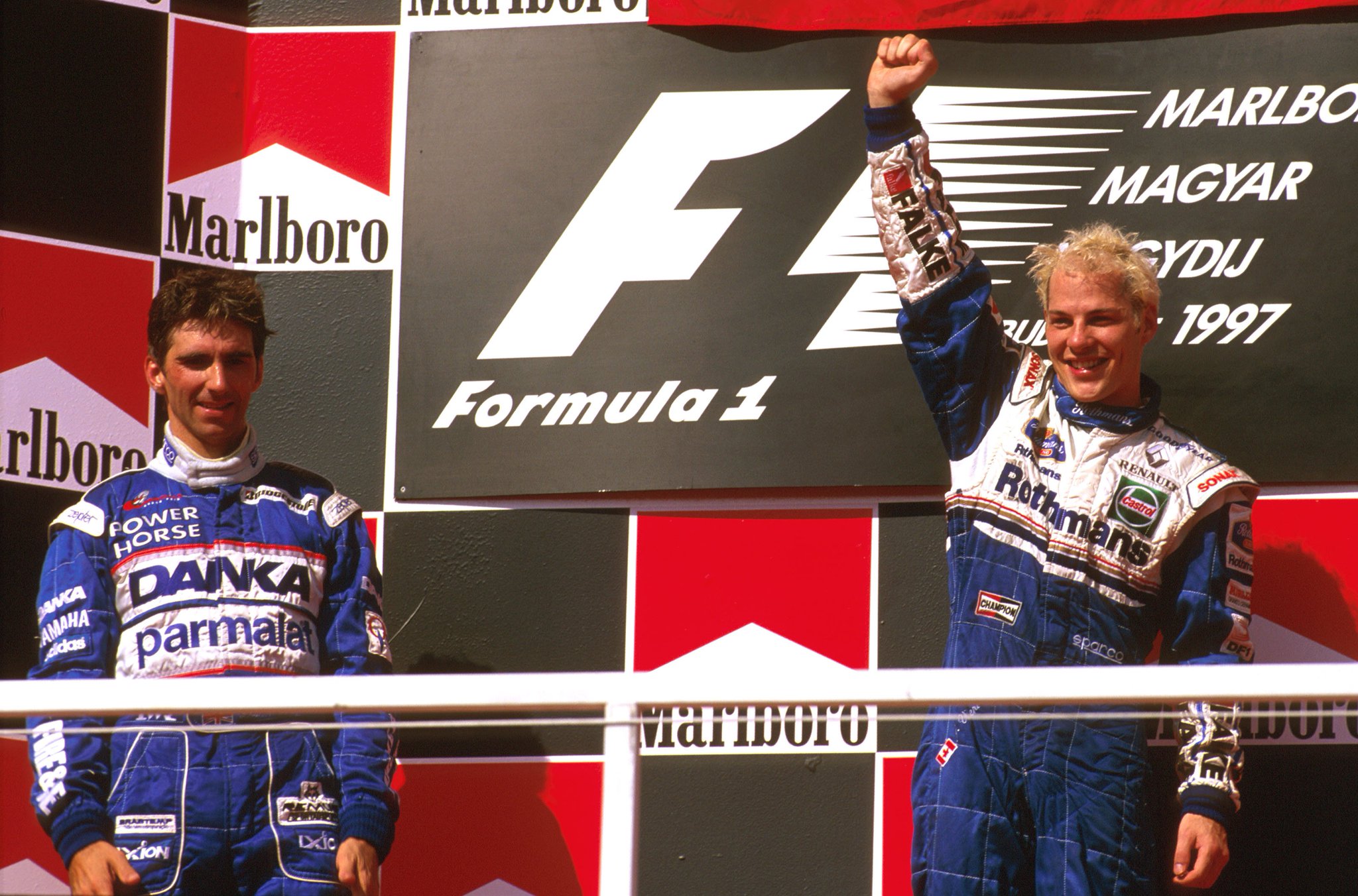 Image credit to LAT Images.
Damon Hill so nearly pulled off the ultimate underdog story at the Hungaroring in 1997. Having been dropped by Williams at the end of 1996, despite winning the world championship, Hill joined a struggling Arrows team, inspired by new boss Tom Walkinsaw's grand plans. It didn't work out as planned, though, and the champion had just one point as he arrived at the 11th race of the season.
Thanks to a unique mix of tyre complications, multiple retirements and brilliance from Hill, he found himself in a comfortable lead for most of the race. But, just a couple of laps away from Arrows' first ever victory, his hydraulic pump failed and Hill was agonisingly passed by Villeneuve on the final tour. The problem was eventually put down to a broken washer worth 50 pence.
1982 Monaco Grand Prix
Image credit to LAT Images.
It seemed as though nobody fancied winning the 1982 Monaco Grand Prix. With three laps remaining and rain starting to fall, Alain Prost spun out from the lead, handing the lead to Riccardo Patrese, only for the Italian to spin, as well, one lap later. That left Didier Pironi in the lead, but his car would run out of fuel on the final lap. Andrea de Cesaris would have inherited the lead but had also run out of fuel and Derek Daly — the next man down the road — had just retired with a gearbox failure.
As James Hunt put it, "we've got this ridiculous situation where we're all sitting by the start-finish line waiting for a winner to come past, and we don't seem to be getting one". Patrese had managed to restart his car, though, and eventually came through to take his maiden victory.
1971 Italian Grand Prix
Image credit to GrandPrixPhoto.
The Italian Grand Prix in 1971 saw the closest ever finish to a race. It was also the final Italian Grand Prix to be run on the original layout; the enormous speeds reached that year saw two chicanes introduced in 1972 on safety measures.
The high speeds resulted in the field breaking up into packs, with the leading one consisting of eight drivers. Peter Gethin, Ronnie Peterson, François Cevert, Mike Hailwood and Howden Ganley battled all the way to the end, constantly in and out of each other's slipstreams. They crossed the finish line covered by just 0.61 seconds, with less than two tenths covering the top four and Peter Gethin taking his sole F1 victory by 0.01 seconds.
1967 Italian Grand Prix
Image credit to F1 Photos.
Jim Clark was cruelly denied victory in one of his greatest ever races at the 1967 Italian Grand Prix. The Scot led the race until lap 12 when he picked up a puncture and lost an entire lap. He then spent the next 48 laps fighting through the field at an astonishing rate, before taking the lead and pulling away.
Clark's poor luck was not over, however, as on the final lap a faulty fuel pump slowed him significantly and allowed John Surtees and Jack Brabham to pass. Surtees took what would prove to be his final win by less than a car length at the line, as Clark coasted to a consolatory third place.
Honourable mentions must also go to: Nigel Mansell grinding to a halt whilst waving to the crowd at the 1991 Canadian Grand Prix; Didier Pironi and Gilles Villeneuve's infamous scrap at Imola in 1982; Jack Brabham crashing at the final corner of the 1970 Monaco Grand Prix; and the four-way photo finish at Monza in 1969.
Could this incredible season produce a dramatic finish to rival "Is that Glock?" in 2008? We will just have to wait and see.
Headline image credit to Getty Images.