Latest Episode | Cut To The Race Podcast
Lando Norris has had his best start to Formula 1 season, and the future is looking even brighter for the 21-year old McLaren driver, who has recently signed a multi-year with the team. He has already scored 3 podiums thus far in his career, and I know this is only the beginning for him.
The 21-year-old is making waves and paving the way for the future of F1, streaming on Twitch with 943K followers (and counting), starting his own Esports team Quadrant with over 260K subscribers on YouTube and loved by many of his fans for his humour and memes.
After being teammates with Carlos Sainz Jr. for two years, the bromance duo was pretty evenly matched especially in the 2020 season with only an 8 point difference in the Driver's Championship. The arrival of Daniel Ricciardo to the Woking team caused speculation of how he would fair against the experienced Aussie driver who has stood on the top step of the podium multiple times. But so far, Norris has a 40-point lead ahead of his teammate and beaten him in 5 out of 6 races.
Before the upcoming race this weekend at the French Grand Prix at Circuit Paul Ricard, Norris is the only driver to have scored points in every race this season and also to have been in the top 10 the last 11 races (going back to the Emilia Romagna Grand Prix at Autodromo Internazionale Enzo e Dino Ferrari last November).
Before we head into the tripe-header of France and Austria, I thought I'd take a look back at his 3 podiums so far, starting with where it all began in Austria last year.
Austria 2020
The Austrian Grand Prix saw the delayed opening to the 2020 season due to the Coronavirus pandemic cancelling the usual season opener back in March in Melbourne, Australia. But this race was DEFINITELY one to remember for all the highs and lows it provided including an abundance in time penalties and 9/20 retirements!
Qualifying was an exciting one. With Norris in his second season of Formula 1 with McLaren, he challenged the Mercedes and Red Bulls within the top 4 in Q2 and Q3. He finished qualifying in P4, his best result in his Formula 1 career so far.
Just before lights out, Hamilton (who was to start in P2 on the grid) was given a 3-place grid penalty, as the stewards felt Hamilton did not adhere to yellow flags in his final flying lap, which then meant that Norris was now starting in P3.
With the race underway, Norris was battling both Red Bulls and Mercedes in the opening laps, but unfortunately fell down to P5.
However by lap 11, the race leader Max Verstappen lost power and retired from the race, now bumping Norris up into P4. But by lap 33, Racing Point's Sergio Perez passed the McLaren and he was back down in P5.
Image Credit: Formula1.com
But all hope was not lost, and the last 20 laps of the race were wild. With even more retirements to the race and plenty more safety cars deployed, the McLaren driver had to keep full concentration as it was impossible to know what was going to happen next in this race.
With only 10 laps to go, things got very interesting. All whilst Norris was on the attack to Perez, Red Bull's Alexander Albon and Lewis Hamilton had a collision, which spun Albon off the track, giving another place to Norris. On lap 69, the 7-time World Champion was awarded a 5-second time penalty for causing a collision, and Norris performed a very bold lunge against Perez, now putting him back in P4, after having been passed by Charles Leclerc a few laps earlier.
On the last lap of the race, the Briton had to give everything he had in order to have been in less than 5 seconds of Hamilton to be standing on the podium.
He crossed the chequered flag of the opening Grand Prix with the fastest lap of the race (his maiden one) and then was told by his engineer that he was 4.802 seconds behind Hamilton, putting him now in P3 after Hamilton's time penalty.
Norris celebrated his first podium in Formula 1 in his career, and we were introduced to his unique way of celebrating with champagne (hitting the bottle on the floor for an almighty spray).
This made him the third-youngest driver to be standing on the podium in F1 history.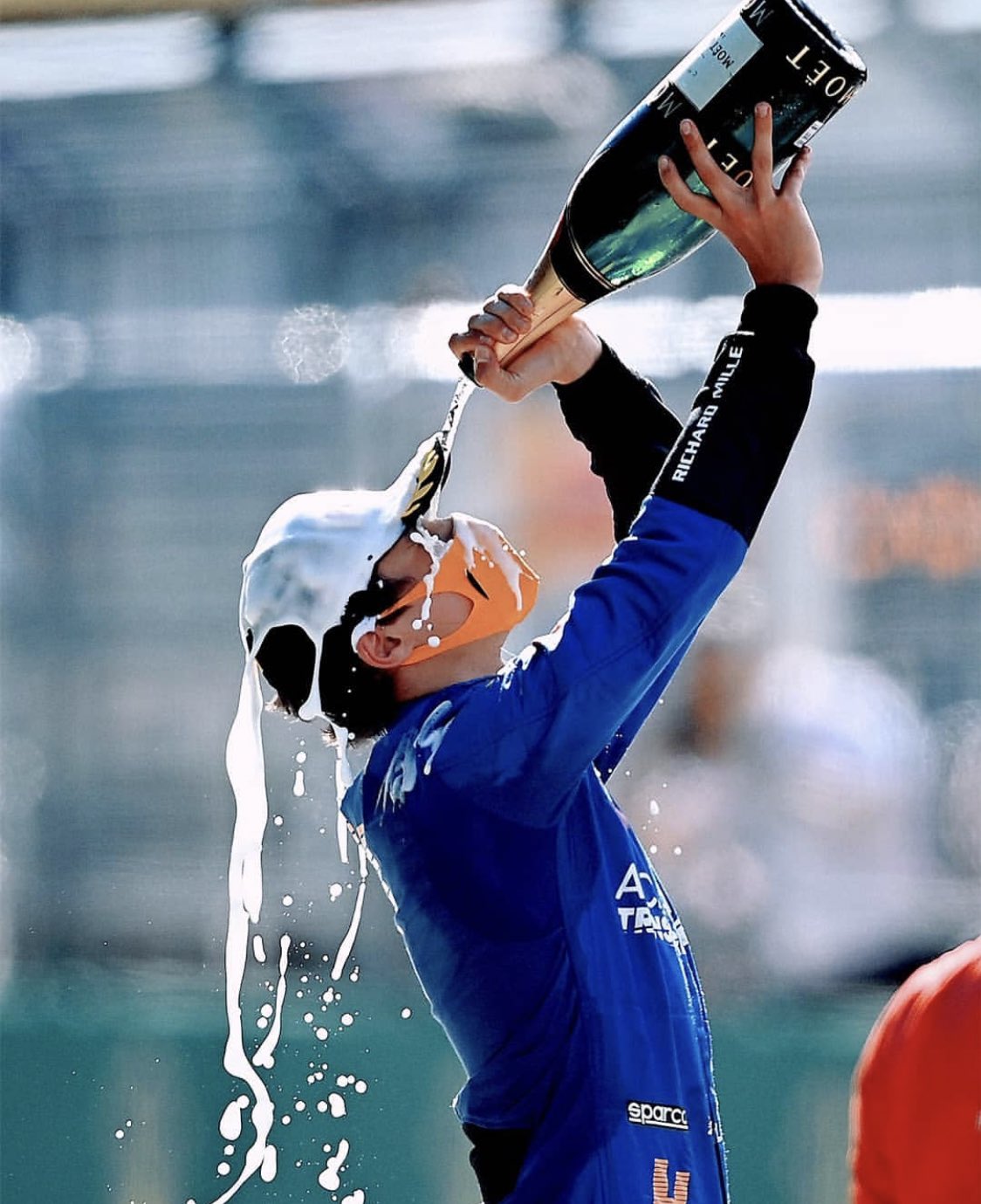 Image Credit: @LandoNorris Twitter
Imola 2021
The second race of the season was a highly eventful one, to say the least. One of the biggest surprises of the weekend was Norris' lap deletion in Q3. He had incredible pace the entire weekend, and the last few seconds remaining of Q3, Norris was setting purple sectors, looking to put himself onto the second row of the grid for the race, however, he had unfortunately exceeded tracks limits on turn 9 by a frustrating couple of centimetres margin. He expressed his disappointment via social media, knowing full well he could have been on the second row on the grid rather than P7 with his previous set time.
But with a new day, a new mindset and determination came as he tweeted, "New day. Gonna go get it." And that he did.
He was able to provide us with some very exciting overtakes. On lap 7 he took the restart after the safety car in P9 but by lap 9 he moved himself up into P6 overtaking Lance Stroll, Carlos Sainz and Pierre Gasly. Through team orders, he was able to pass his teammate, Daniel Ricciardo, to put him in P5 after highlighting his extreme pace in the race.
Coming ahead of Perez after his pitstop, and Hamilton's misfortune of going off track, Norris was then bumped up into P3. Shortly after this, a huge crash between Bottas and Russell brought out the red flag.
Choosing a different strategy from his opponents, he opted to have the soft compound tyre on instead of the medium, in the hope to make an early advancement and nurse the tyres back home maintaining his position on a podium.
With lights out for the second time, Norris made a quick advancement from Ferrari's Charles Leclerc to put himself into P2. Now with his tyres wearing out compared to the other drivers' mediums, Hamilton was on the hunt to put himself back on the podium after coming off track before the red flag.
After an exciting battle, the McLaren driver couldn't hold off the 7-time World Champion any longer and moved down to P3, but earned his place on the bottom step of the podium.
This was a very well-deserved podium for Lando Norris, and with it only being the second race of the 2021 season, he has shown the progression he has made within such a short period of time.
Image Credit: Zak Mauger/Motorsport Images
Monaco 2021
With low expectations coming into the weekend, Norris showed a lot of pace on Saturday and he was able to stick his McLaren in P5 to start the race on Sunday. He was even more thrilled to have been only 2 tenths off pole position and a few hundredths from a higher grid position.
Already promoted to start the race in fourth due to Charles Leclerc being unable to start the race, the Briton was able to maintain his grid position defending from AlphaTauri's Pierre Gasly just behind.
By lap 30, Bottas was forced to retire out of the race after his terribly shocking pitstop as the right front tyre was unable to be removed, which meant Norris was back up in the podium position.
But it wasn't all plain sailing, Norris radioed his engineer asking for radio silence after feeling the pressure from Red Bull's Sergio Perez on the hunt for that P3 position with 5-lap fresher tyres. Also the 21-year old was shown the black and white flag earlier in the race for exceeding track limits, therefore needed full concentration for the remaining laps of the Grand Prix, especially at a track that is notorious for its crashes.
The McLaren driver was able to keep the Red Bull at bay and saw the chequered flag in P3, celebrating McLaren's first podium since 2011, and Lando Norris' third in his career.
Image Credit: Mark Sutton/McLaren Racing
I really believe he will be able to be on the podium again this season (if not more than once again), and could he be able to climb higher? I DEFINITELY THINK SO!
We could be witnessing the beginning of a future World Champion. Watch out for Number 4 Lando Norris!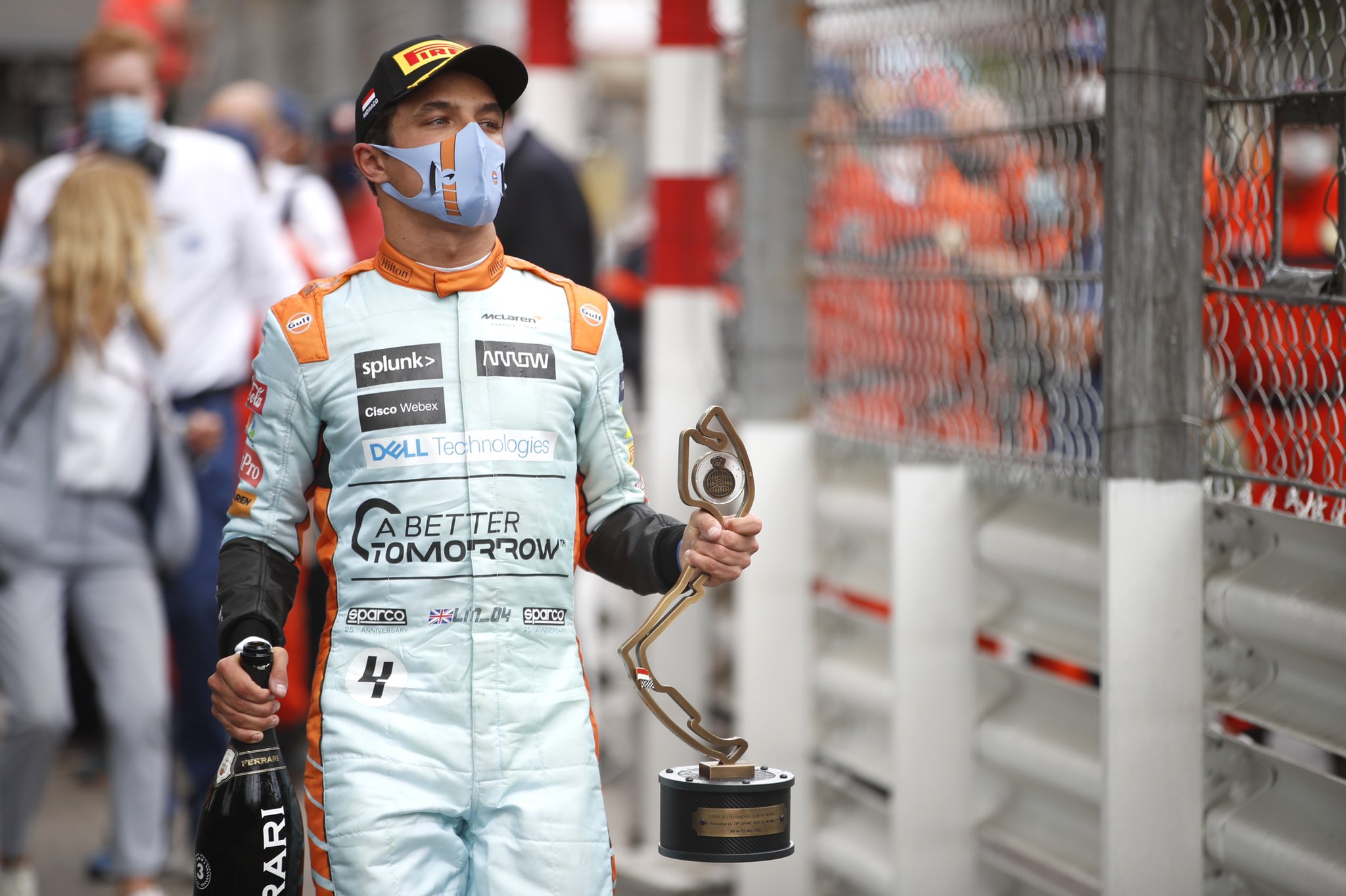 Image Credit: @McLarenF1 Twitter
Headline Image: @McLarenF1 Twitter