Call me a romantic, but I believe the Formula One season should end in the most dramatic fashion possible. It should ebb and flow and ultimately crescendo at one of the most consistently entertaining venues on the calendar. But what we've become accustomed to – rather unfairly, in my opinion – is an anti-climax to the Formula One season.
In the pursuit of objectivity and impartiality, it's only just that I concede that the sheer dominance of Lewis Hamilton and Mercedes has not helped the matter – for how eventful can a finale be, when there's not all that much left on the line?
And so, to my point. I've said it before, but the Yas Marina Circuit is undeserving of the season finale. For me, there is only one venue that can truly produce the kind of spectacle, and drama, that we, the fans, deserve: Interlagos.
I've held this opinion for some time now, but last weekend's Sao Paulo Grand Prix rendered this view ironclad in my mind. Personally, I think the weekend was the strongest of Hamilton's career. Yes, the sprint helped his initial misfortune, but the utter dominance and determination of his performance were remarkable. But I digress.
Money talks in sport, and there are surely economic, and political, reasons behind what can only be seen as the commercially orientated decision for Abu Dhabi to host seasons finales. Sao Paulo is also vulnerable to Brazil's race returning to Rio de Janeiro, but we'll set those factors aside for now. So, let's take a look at the evidence…
Brazil
Since 2006, Sao Paulo has hosted the final grand prix of the season on six occasions, with four of those races also the title decider. Known for changeable weather conditions and bold overtakes into the Senna 'S', Interlagos brings a colourful, carnival atmosphere to the calendar and the drama to match.
The races have produced some classic grand prix over the years, like the incident-filled race in 2003. Not to mention some of the all-time great individual performances, like Max Verstappen's unlikely podium in the wet in 2016, which saw him rise from P16 to P3 in the final 16 laps of the race.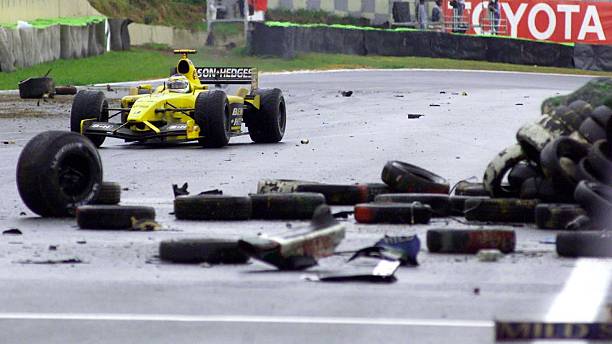 Image Credit: Alexander Hassenstein via Getty Images 
The 2006 calendar marked the first time Interlagos was to conclude the season, and the first of three straight finale-deciders in Sao Paulo, each more entertaining than the last.
Michael Schumacher needed to win his final race for Ferrari, with Fernando Alonso failing to score, in order to take his eighth world title. It wasn't to be, and he bowed out of the sport (for the first time) after an action-packed grand prix that saw him tangle with Fernando's teammate, Giancarlo Fisichella. His heroics were ultimately futile, as Alonso gave an assured performance to come home in second and win the title by 13 points.
The 2007 finale kicked things up a gear, as Lewis Hamilton lost all gears for 25 seconds during the race in mysterious circumstances. It ended up costing him the title in his rookie season.
Kimi Raikkonen, Fernando Alonso and Lewis went into the final round separated by just 7 points, with Hamilton needing only fifth to secure the title. A messy opening lap dropped him to eighth and whilst working his way back through the field, the mechanical issue struck.
To add insult to injury, strategy confusion led to Lewis needing an extra pitstop. Kimi's Ferrari teammate Felipe Massa let him through to win, thus securing the title by a single point from both Hamilton and Alonso.
Paddy Lowe, then McLaren Engineering Director, explained the hydraulic problem years later on the Sky Sports Race to Perfection series, whilst also stating that had the issue only lasted for 20 seconds, Lewis would have been able to recover and win the title.
An already controversial season due to Stepneygate, when asked about what happened at the end of his debut campaign by F1 journalist Mark Hughes in 2012, Lewis replied "I didn't know at the time. But I do now. It's not something I can talk about."
In my opinion, 2008 was the best of the lot. Massa trailed Hamilton by 7 points heading into the final race, in circumstances that echoed the season before. Felipe did everything he could have done by putting his Ferrari on pole, but again, Lewis only needed fifth.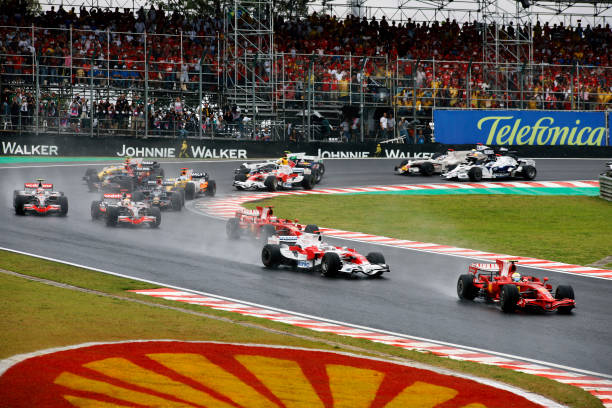 Image Credit: Darren Heath via Getty Images 
Hamilton fell back after the first stops, and changeable conditions further divided the field when light rain resulted in a flurry of pitstops with just 5 laps to go. With Lewis now on Intermediates, and the cars ahead of him staying out on dry tyres, he needed the weather to intensify.
A mistake with 3 laps to go saw Lewis fall into sixth behind Sebastian Vettel as the rain got heavier. It was now critical he track down Timo Glock – still on dry tyres – and pass him.
Massa crossed the line first to provisionally win the championship, with Lewis still in sixth. But in the most dramatic of twists, Lewis passed Glock into the last (true) corner of the last lap, of the last race of the season, to take his maiden Formula One title.
Fast forward to 2012, and Fernando Alonso again found himself in a championship showdown in Brazil. This time he was up against reigning champion Sebastian Vettel, in a battle to claim their third crowns.
Alonso started the weekend 13 points behind and with an outside chance of an upset, but a poor start and a chaotic first lap left Vettel at the back of the pack, somehow escaping retirement after a shunt with Bruno Senna.
Alonso proceeded to pull off a stunning move into the first corner to dispatch both teammate, Massa, and Vettel's teammate Mark Webber, at the same time, moving into third and the lead of the championship.
Again, changeable conditions wreaked havoc, as Vettel worked his way through the field. Nico Hulkenberg in the unlikely hunt for a top-three finish, made a mistake that saw him collide with Lewis Hamilton, putting the latter out and earning Nico a harsh penalty, as his best chance for a Formula One podium slipped away.
Fernando could only finish second, whilst Sebastian made enough progress to claim sixth and his third title by a mere three points.
Abu Dhabi
Abu Dhabi has become the standard-bearer for closing the season since joining the calendar in 2009, and this year will mark the tenth time the Yas Marina Circuit has hosted the curtain call and the eighth time in a row. The outcome of the Drivers' Championship has gone down to a final round in Abu Dhabi on three occasions, with this season likely a fourth.
There have been strong performances here in the past, think Kimi in 2012, or Max last season, but it has never been a venue to produce high drama and edge-of-your-seat action. And for the final race of the season, that's a problem.
The first championship decider here was in 2010, and we were robbed of what should have been at the least, Vettel vs. Alonso Part I. Four drivers went into the final round with a theoretical chance of winning the title: Alonso led the way on 246 points; with Mark Webber on 238; Red Bull teammate Vettel on 231; and Hamilton a very unlikely candidate on 222 points.
Vettel took pole, with Alonso lining up third and Webber in fifth. An early safety car split strategies and the Renault of Vitality Petrov came in at the end of lap one, with a view to finishing the race on those tyres.
When Alonso and Webber both stopped a few laps later, the pair found themselves behind Petrov and unable to make headway. They spent the rest of the race stuck behind, whilst Vettel and the McLaren's were rewarded for staying out longer.
In the end, it was an easy win for Vettel, as Alonso and Webber limped home seventh and eighth respectively.
2014 and 2016 provided the only two final race deciders of the hybrid era (so far).
The race in 2014 was Formula One's first, and last, foray into a double-points finale. Although it thankfully didn't catch on, it did increase the stakes for the final round that season.
Nico Rosberg claimed pole, with his teammate alongside in second. But the decider lasted one corner, as Lewis made the better start and could control the race, and the championship, from the front.
Rosberg began encountering issues on lap 23, with a loss of engine power and ERS failure, and the finale petered out from there. What had been an unexpectedly close and intense season between the two Mercedes drivers ended relatively unremarkable.
Felipe Massa tracked Hamilton down in the closing stages, who had eased off, in pursuit of what would have been his final win in Formula One, but he was unable to pass. Nico fell down the order and came home in P14.
If 2014 had been a good season, 2016 had been even better. Multiple comings together, and a rivalry to which would have made Senna and Prost proud, the championship again came down to the final race.
Although Lewis found himself 33 points behind with four races left, back-to-back-to-back wins set up the showdown in Abu Dhabi. Rosberg only needed third to win the title, which wasn't the tallest of orders, given the dominance of the Mercedes.
Hamilton started on pole and easily controlled the pace. Unthreatened by his teammate behind, he sought to back Nico up into Vettel's Ferrari and the Red Bull of Max Verstappen, in the hope that Rosberg would make an error.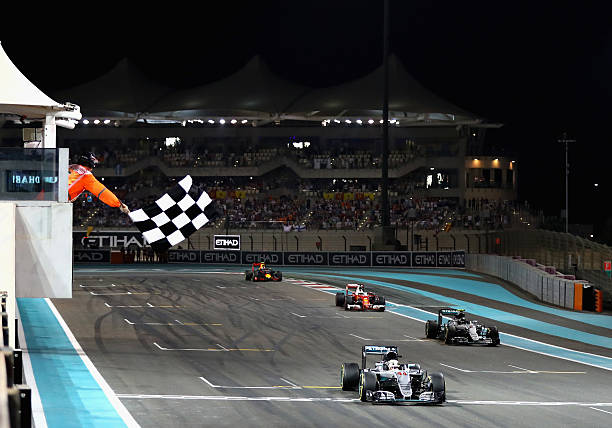 Image Credit: Clive Mason via Getty Images 
Nico held firm and crossed the line less than half a second behind Lewis to claim the title by five points. It wasn't Hamilton's finest hour, and he did his best to manufacture drama, but I can't help but feel a few more variables would have helped spice things up.
With just Qatar and Saudi Arabia still to come before the last race of the season, it's looking increasingly likely that the Abu Dhabi Grand Prix could prove consequential this year as well. How that race will pan out is anyone's guess, but we can only hope it maintains the heightened levels of drama we've been able to enjoy so far in 2021.
The Chequered Flag
Comparing Formula One races is no exact science. There is a multitude of different factors and contexts to consider, and enjoyment, drama and entertainment are ultimately subjective. It's impossible to say for definite whether Brazil would have led to better championship showdowns.
Rosberg may well have had mechanical difficulties in a Brazilian finale to 2014, which would have rendered the race equally uneventful, and Lewis probably wouldn't have been able to back Nico up in the same way, had the 2016 season concluded at Interlagos, which would have left Rosberg to waltz to the title with comparatively little pressure.
I choose these two examples, as they are uniquely altered by the dominance of Mercedes at the time, which meant that other drivers, and other cars, played a lesser role in the outcome of the championship.
However, for me, it is undeniable that Brazil produces better races, and has produced better finales in the past. There's an increased likelihood of fluctuating weather, more opportunity to overtake and more variety in strategy. It has a proven track record of this, and Abu Dhabi does not. There are more variables and more chances for the unexpected, which is exactly what you want when a Formula One championship is at stake.
If you were to switch the venues of the title deciders on this list, I think it's fair to expect that on balance, the races in Brazil would be worsened by being moved to Abu Dhabi, and the races in Abu Dhabi would at the least get no less interesting, if not better, by being held at Interlagos.
I'm keen to see if the alterations to the Yas Marina Circuit for 2021 will arrest the issue of poor-quality races, but I'm not holding my breath. Unfortunately, we may well see this historic season go out not with a bang, but with a whimper.
And so, in the name of sporting drama, the Sao Paulo Grand Prix should absolutely be the final race weekend of future seasons.
What do you think? Let me know in the comments below.
Feature Image Credit: @TheBishF1 on Twitter