Latest Episode | Cut To The Race Podcast
Carlin's rookie Logan Sargeant has had pace since his first weekend with the team, but knows he still has a lot to learn.
The American driver spoke to Formula 2 ahead of the next round in Baku, citing his need to iron out mistakes and perform consistently to fight at the front of the pack.
2022 so far
It's clear in Formula 2 this year that the veterans have the upper hand. The current top five in the standings are all at least in their second season of the category. The top rookies, namely Sargeant, Jack Doohan, Ayumu Iwasa, and Dennis Hauger, have all shown great pace that has been marred by inconsistency.
Sargeant has qualified in the top five twice already in 2022 and been inside the top ten more often than not. He took his maiden podium in the Barcelona Sprint Race, coming from sixth on the grid to finish third.
But there have been times where Sargeant's rookie status has been more clear. Starting the Sprint Race in Imola from pole, he had a bad start and slipped back to sixth. There have also been times when he's struggled with tyre management.
The most recent round of Formula 2 took place in Monaco, where a tricky qualifying session put Sargeant 13th on the grid. He managed to finish in the top ten of both races that weekend, but ultimately was disappointed.
"I feel like our pace is is a lot better than the results to be honest," Sargeant told Formula 2 after Monaco. "To leave here with two points after being so quick all weekend, it's a bit painful, but we'll take the positives. At least a podium or a win would be nice. But for now [it's] just one step at a time."
Sargeant is currently tied for eighth in the standings with his teammate Liam Lawson. Lawson has also been the victim of some bad luck and a couple of poor qualifying sessions. And Sargeant is only seven points behind Doohan, the highest placed rookie in the standings. That's the accolade he'll be aiming for during the rest of the season.
Lots to Learn
Sargeant competed in three seasons of Formula 3 before he had the chance to make the step up to Formula 2. That gives him more experience than several of his fellow Formula 2 rookies. But they're all new to Formula 2, and there's a lot to learn for all of them.
One of the big things that rookies are having to tackle this season is brand new tracks. So far those have been Imola and Monaco, and up next is another new track for them.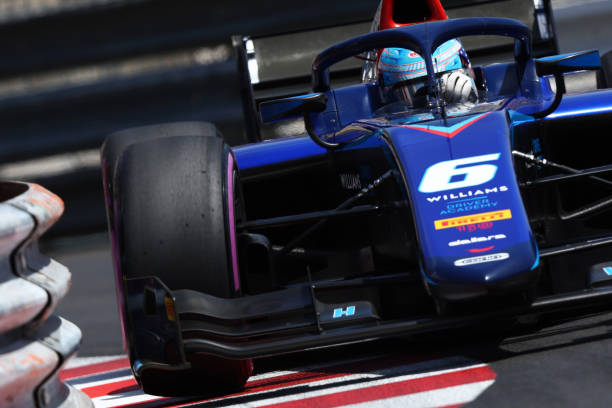 "It's a track I've never been to," Sargeant commented on Baku. "So I'll be doing prep work with both Williams and Carlin on that side to get as well acquainted with the track as I possibly can. Hopefully once we get there, it all just feels natural and comes together."
After Baku, the drivers have a break before they head into the busiest month of the season in July. With nine rounds still to go in Formula 2's longest ever season, consistency is key for Sargeant:
"No mistakes. Without the mistakes we were quick enough to be right at the front, so all we have to do is dial those out and we'll be right there."
Sargeant has the rookie of the year title on the line and a potential Formula 1 seat with Williams in his sights. To make that happen, he'll have to be as flawless as possible for the rest of a long season. There's a lot on the line.
Feature Image Credit: Getty Images