Lewis Hamilton put on a strong defense to win an extraordinary Bahrain Grand Prix by less than a second after a battle with Max Verstappen that went down to the wire!
Early Stages
Sergio Perez's already difficult afternoon got even worse as electrical issues forced him to stop during the formation lap. He managed to get going again but had to start his Red Bull debut from the pits.
The pack were forced to complete and extra formation lap but once the lights went out for the first time this year, Max Verstappen led them down into turn one with Lewis Hamilton hot on his heels.
The rest of the field followed through turn one cleanly but Nikita Mazepin's race ended after he lost the rear accelerating out of turn two. The Russian went spinning off into the barriers, bringing out the safety car. His teammate Mick Schumacher lost control in similar fashion once the race restarted and found himself back in 18th.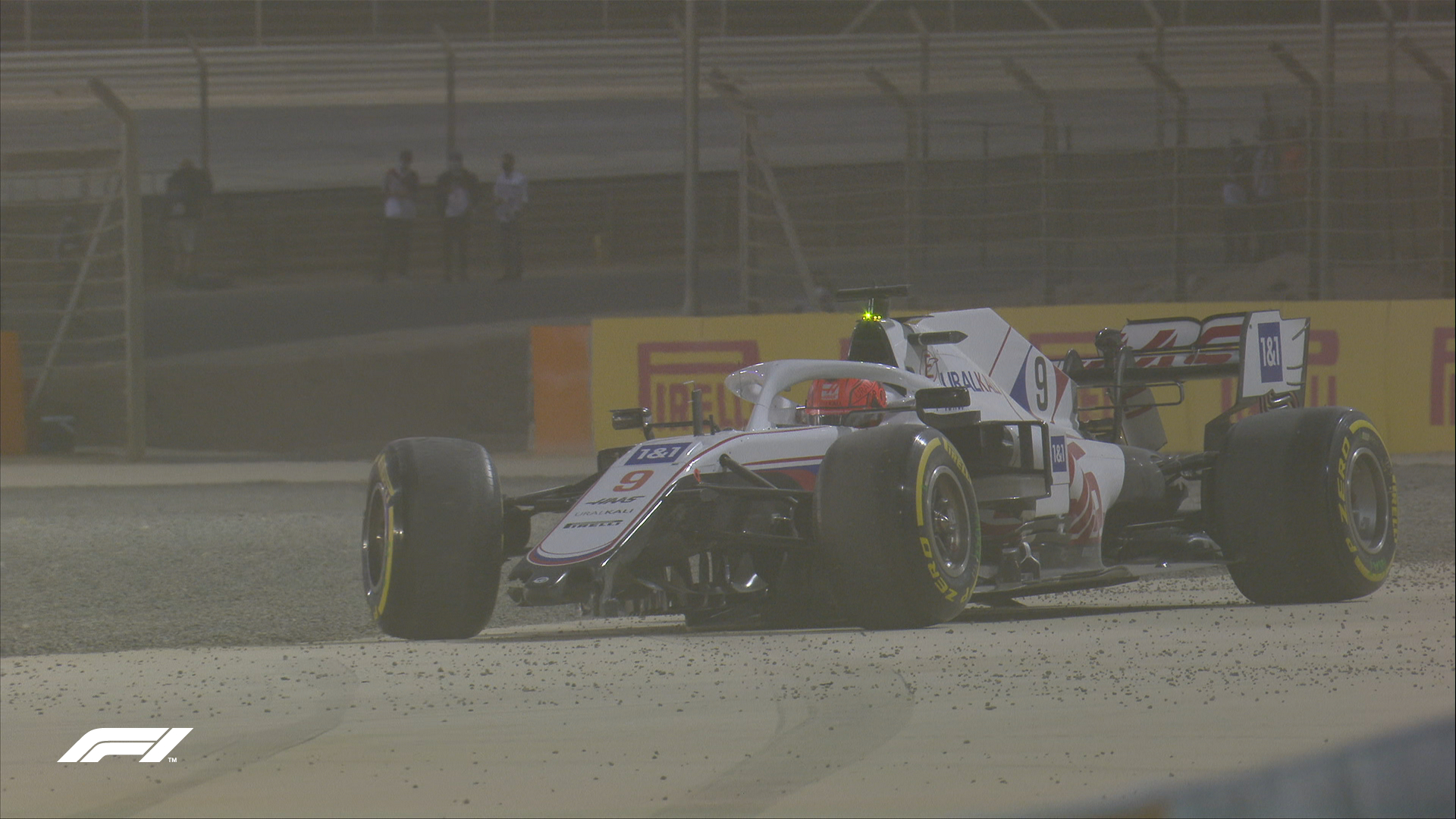 Credit: Formula 1 , Source: Twitter
After qualifying a brilliant fifth, Pierre Gasly's had an awful safety car restart. The Frenchman lost his front wing after touching the rear of Daniel Ricciardo through turn five. Once he pitted, he came out of the pits dead last behind the Haas of Schumacher.
Carlos Sainz made a clumsy move on Sebastian Vettel into turn ten and made contact with the side of the AMR21. Meanwhile his teammate Charles Leclerc enjoyed an early duel with Valtteri Bottas before falling back in between the two McLarens of Lando Norris and Daniel Ricciardo.
Mercedes pulled the trigger for the undercut early on lap 14 with Hamilton, but surprisingly Red Bull did not react on the following lap and decided to keep Verstappen out.
Red Bull eventually gave in and pitted a few laps later but the undercut from Mercedes meant Hamilton took the first place. From a lead of 1.6 seconds, Verstappen was now 6.6 seconds behind his main rival but on fresher tyres. The race was on.
Mid Stages
Verstappen gradually closed the gap down to Hamilton with Bottas lurking in third to hold the Dutchman between the two Mercedes. After a his pre-race problems, Perez was having another remarkable comeback drive and was climbing up the order to try give Verstappen some support.
Elsewhere, the veterans were firmly in the heat of battle as Fernando Alonso first duelled with Sebastian Vettel before Kimi Raikkonen came through to take the Spaniard down the main straight for 10th.
After an excellent start, Vettel's tyres began to drop off and he fell back down the order to 17th once he pitted for fresh rubber. Stroll was in the points but Aston Martin were certain their strategy would put both cars in the top ten.
Alpha Tauri were having a second-rate season opener as Gasly was stuck down near the bottom of the pack, meanwhile debutant Yuki Tsunoda was out of the points.
As Vertsappen got within two seconds to Hamilton, Mercedes made the call to pit their race leader on lap 29 to avoid Red Bull's undercut. Hamilton came out on the hard tyres and had to extend his next stint for as long as possible.
Mercedes repeated this with Bottas two laps later but an issue with the front right caused their pitstop to last ten seconds. Bottas came out behind Ricciardo in sixth and seemed out of the picture, it was now advantage Verstappen.
Disappointingly Alonso's return was ended abruptly after overheating rear brakes forced him to retire his Alpine on lap 34. He'd been battling well over the points but leaves Bahrain empty handed.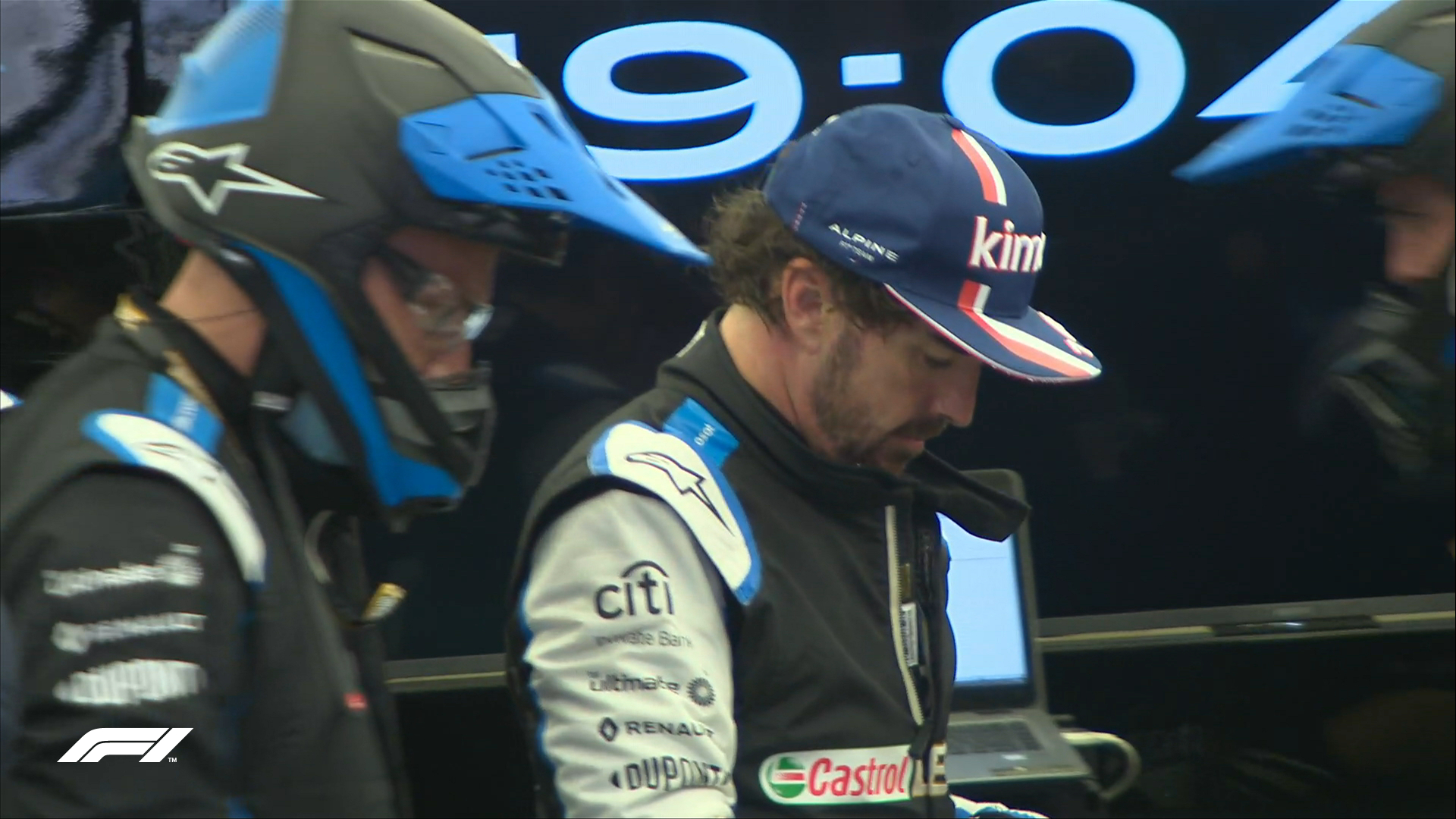 Credit: Formula 1 , Source: Twitter
Red Bull pitted Verstappen onto the Hard tyres on lap 40 with another sub-two second stop. Hamilton took the lead once again and was ahead by 8.8 seconds once Verstappen re-joined the track. Verstappen's tyres were ten laps younger and immediately began to close the gap, with 17 laps left, Hamilton was having to maintain his tyre life. The hunter had now become the hunted.
Latter Stages
On lap 44, Vettel and Ocon's challenging afternoons got even worse as they tangled with each other at turn one. Vettel locked up and went into the back of the Alpine sending both cars spinning round. They were both now out of the points with damage to their cars and Vettel received a ten second time penalty for his troubles.
Elsewhere Perez was continuing to climb, making moves on Ricciardo for sixth and pushing towards Leclerc for fifth.
Verstappen was slowly closing down the gap to Hamilton but the laps were ticking down. There were just 2.1 seconds between them on lap 50/57 and it was officially foot twitching time!
After an excellent stint on his tyres, Hamilton showed his first sign of struggles on lap 51, he locked up and ran wide at turn ten putting Vertsappen within a second and crucially, in DRS range.
Vertsappen drew closer to Hamilton down the main straight but was forced around the outside by the leader who held the position. Verstappen challenged again on the approach to turn four and took the lead on the outside. However, in another twist he had to give back the position immediately, after running too wide through the corner and off track limits to take the position.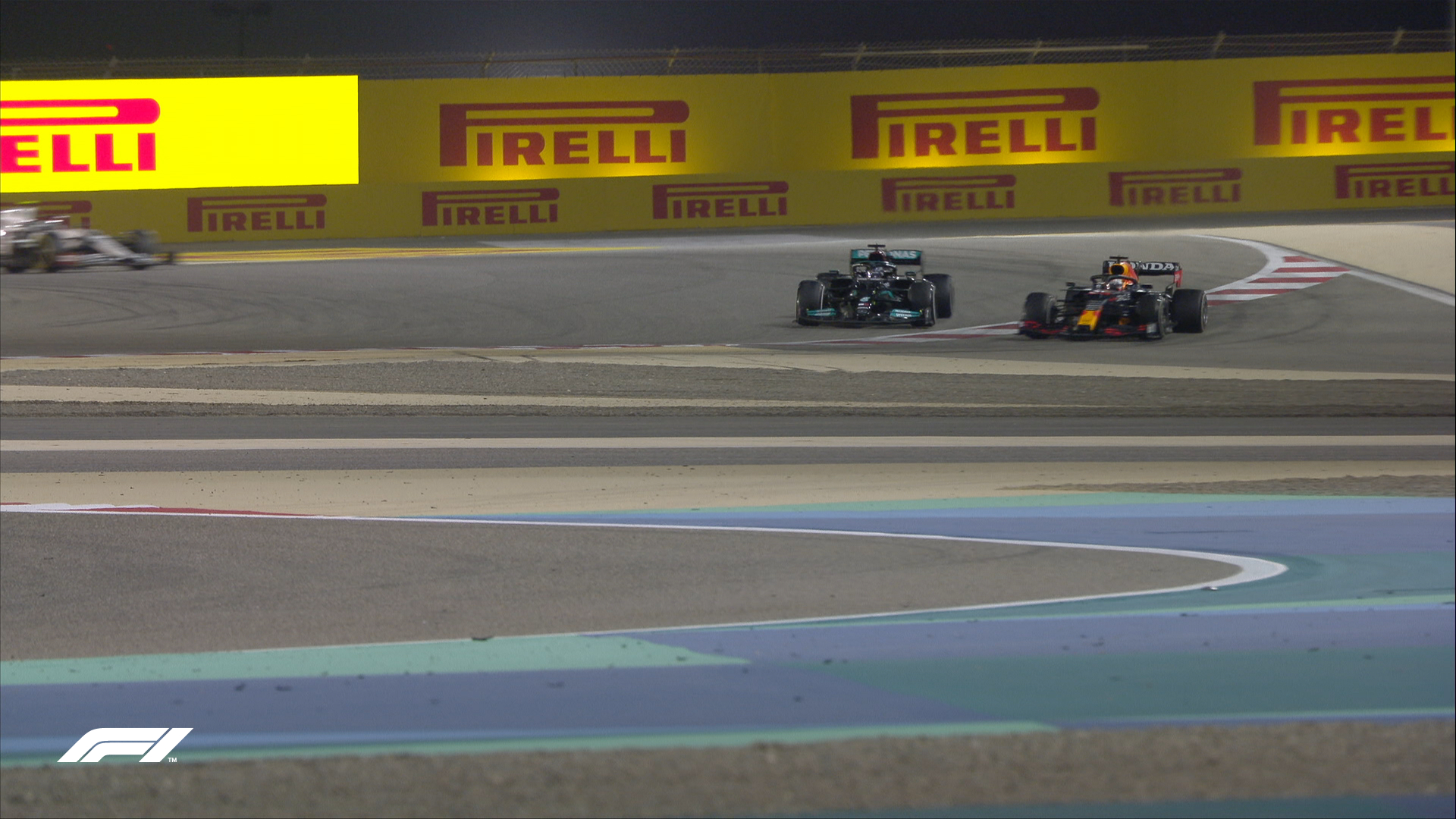 Credit: Formula 1 , Source: Twitter
Following this, Hamilton struggled for grip as he defended his lead with all his might while Verstappen got back into DRS range at the start of the final lap, the fight was going down to the wire. The Dutchman tried to make a move but Hamilton held firm on completely dead tyres to win the season opener for the first time in five years, by less than a second.
A disappointed Valtteri Bottas came home to complete the podium. Norris placed his McLaren fourth with Perez managing to get past Leclerc for fifth to complete a brilliant comeback drive.
Ricciardo had a great debut for McLaren in seventh with his predecessor Sainz just behind. It seems Ferrari have found some pace following their troubles last season.
Tsunoda had an F1 debut to remember for Alpha Tauri, managing to get into the points ahead of Stroll who rounded off the top ten in his Aston Martin.
Credit: Formula 1 , Source: Twitter
After a mix-up of strategies, the battle between Hamilton and Verstappen came to an epic conclusion out on track with Hamilton reigning supreme in the slower Mercedes. It was the epic battle we've all been waiting for and it certainly didn't disappoint!
Sources
Mazepin – https://twitter.com/F1/status/1376190257729835015/photo/1
Alonso – https://twitter.com/F1/status/1376205091087192065/photo/1
Verstappen's illegal move – https://twitter.com/F1/status/1376212080886489090/photo/1
Full Race Results – https://twitter.com/F1/status/1376216895469326337/photo/1