Latest Episode | Cut To The Race Podcast
Still only 17 years old, the Campos driver has had an assured start to the F3 season, including crushing the opposition in the category's first race in Monaco since 2012, when it was still GP3.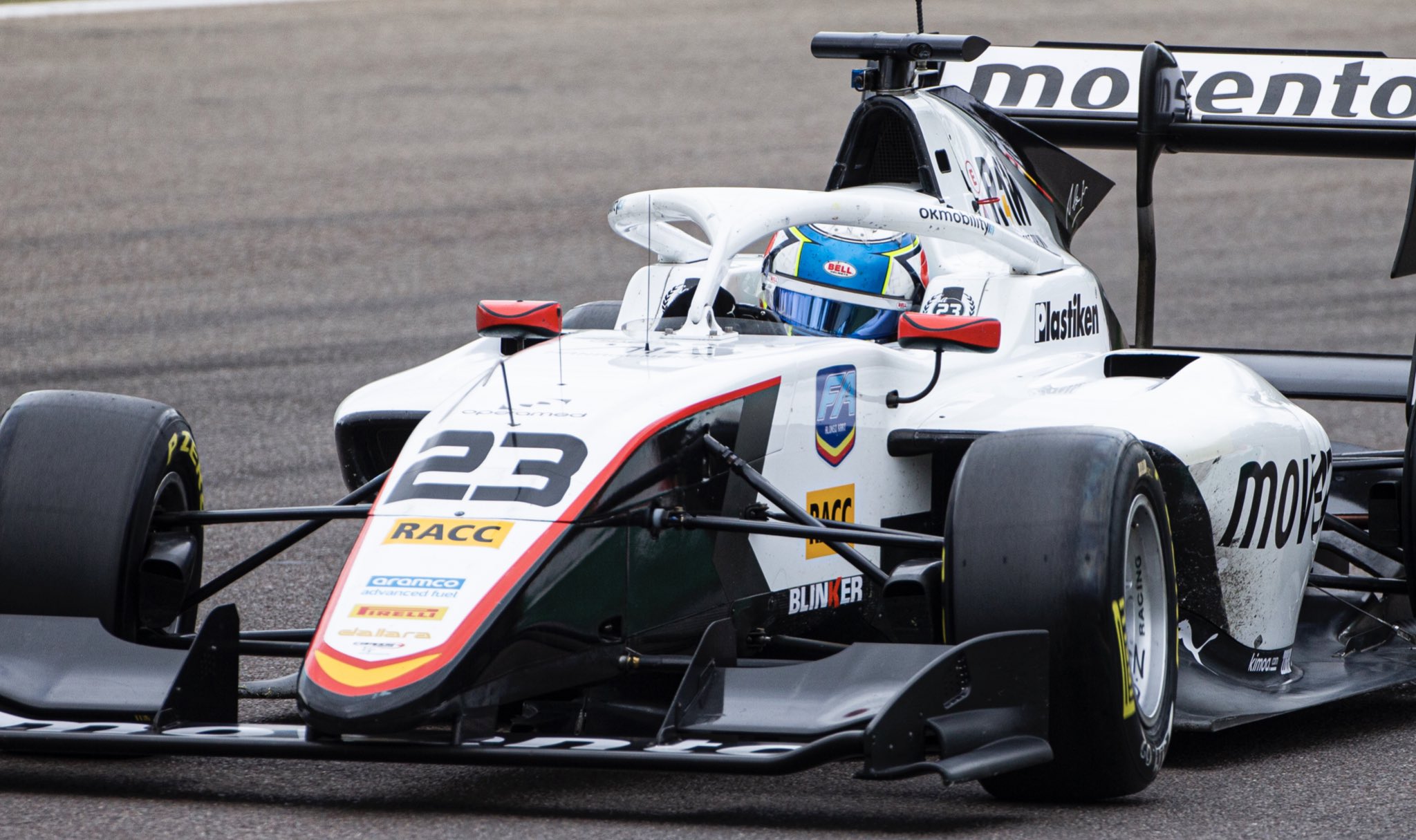 Josep María Martí, known as 'Pepe', stepped up to F3 in 2022, but had a quiet campaign, only scoring points in the final sprint race of the season, at Monza.
This season, however, has been a different story for the Spanish driver. Still with home team Campos Racing, he took his maiden victory in the Bahrain sprint. Points finishes in both feature races thus far and a second win, in Monaco, mean Martí sits third in the championship after five races.
In those five F3 races, only twice has the win been taken by over a second. On both occasions, the victor has been Martí.
Just @JMMarti_oficial counting his wins in 2023 so far… ☝☝#MonacoGP #F3 pic.twitter.com/BA6D9N3Mgg

— Formula 3 (@Formula3) May 27, 2023
His win in Monaco – on his first trip to the principality and in his debut race on a street circuit – was over eight seconds clear of second-place Leonardo Fornaroli. A lifetime in F3 terms.
Speaking to selected media – including FormulaNerds – afterward, Martí hailed the "pretty special" experience as "a dream come true", saying that he felt "ecstatic."
"I think everyone wants to win Monaco and to do it in my first race, even if it is the sprint race, it's a great feeling."
In taking such a commanding victory, in more-testing-than-expected conditions, the young racer clearly enjoyed his first taste of Monte Carlo:
"For me, it was my first experience around Monaco, and it was awesome – it's just insane. It's such a great track."
More difficult than it looked
Martí confirmed that he did have "very light contact" with the wall on two occasions and found the beginning of the race difficult to navigate.
[🇬🇧] WE ARE WINNERS IN MONACOOOO!!!

Unbelievable Race! Leading from lights to flag with a 8.1s gap at the end. 🤯

Thank you so much to @CamposRacing for the great work today. We'll push hard for some points tomorrow 💪🏻

Thanks everyone for the support ❤️ pic.twitter.com/yZQRL4vBJM

— PepeMartiS (@JMMarti_oficial) May 27, 2023
In a race that saw considerably more tyre degradation than anticipated, the young Spaniard was able to hold on to his Pirelli's better than those behind him.
"When I saw Leo [Fornaroli] really close to me in the first three or four laps after the safety car, I was quite nervous," he began.
"I didn't know if he could keep that pace up. Obviously [I had] no idea what degradation was going to be like – so it was a little bit of a 'what's going to happen?' situation.
"But as soon as I saw the tyre dropping for myself, I realised that if he kept pushing then he was gonna drop as well.
"So, from that point onwards I was just trying to manage the tyres, trying to manage the situation.
"And slowly, when I saw him dropping off, coming out of the DRS zone, that's when I started to monitor things more closely and try to keep consistent and stay out the wall."
Martí revealed that the tyre wear he did led him to suffer from understeer, which is ultimately what caused his Campos to find the wall a couple of times en route to victory.
A sign of things to come
In the previous round, F3's debut appearance at Albert Park in Melbourne, Martí started both races from last place on the grid, in P30.
Despite that, he was able to work his way through the field, finishing the first race P13, and taking points with P7 in the second.
Win #2 of 2023 for @JMMarti_oficial! 🏆🏆#MonacoGP #F3 pic.twitter.com/vx3qRjiJr9

— Formula 3 (@Formula3) May 27, 2023
Aware of the pace within the Campos car, the 17-year-old touched on what could have been in Australia.
"If we'd started further up in Australia, I think we could have been up there, fighting for a feature race win," he said. Looking ahead to what may lay in wait for the rest of the season, the driver of car no. 23 was optimistic in tone.
"I think the pace was amazing and I assume, with the car being this good through the first three or four rounds – I think you can expect us to be up there. Not just me, but my teammates as well throughout the season."
Turning his attention to the championship battle, Martí highlighted the strong performances he's produced in the races, even if they haven't yielded the points they might deserve.
"It's good to be back up here, and obviously win. It's good to be able to have that pace again – that we knew we had – and dominate like we did today.
"I think if we'd started further up in Bahrain in the feature race, in Australia in the feature race, and sprint race, it would be really different stories, so we would be probably closer to Gabriel [Bortoleto] in the championship."
The Trident driver sits 28 points clear of Martí, despite the result of the Monaco sprint race.
"So, in that sense, very important today, and hopefully tomorrow we can also do a good job and hopefully make up some positions for some points."
Biggest strength
FormulaNerds moved the attention back towards Martí two race wins in 2023, asking if he feels he's been approaching leading the field differently to his peers, or whether different situations have their part to play.
Ever the racer, Martí qualified his answer, saying:
"Well, I think a little bit part of it is that we've had – both my races in which I've won – a long period of racing before the chequered flag, which I think has been different than some of the other circumstances. For example, race two in Bahrain." He went on to add:
"But apart from that, I'd say that my strength has always really been race management and the way I race. So yeah, I think I've always had that strength."
First pivoting to address a development area that could prove critical in the F3 championship battle, Martí went on to elaborate on what he feels are his biggest strengths.
"Obviously in qualifying, I think I've said a million times by now over the last year and a half, qualifying has never been my natural gift, but I'm slowly getting there and getting better.
"On the other hand, race pace has always been one of my biggest strengths and my ability to, more or less, have a good feel for the tyre and how it's degrading and what to do to make it better.
"So, in that sense, yeah, I think part of it is maybe me and part of it is maybe conditions."
The young Spaniard closed with a laugh and some introspection over the answer just given.
"It sounds very arrogant, now that I hear myself," he concluded.
It wasn't, and it isn't.
Feature Image Credit: @CamposRacing on Twitter