Latest Episode | Cut To The Race Podcast
Monaco: It's Formula 1's crown jewel and the race every driver wants to win.
Throughout its illustrious history, the streets of Monte Carlo have played host to some of the sport's most iconic moments – and it's the venue where stars have been born.
Bianchi's brilliance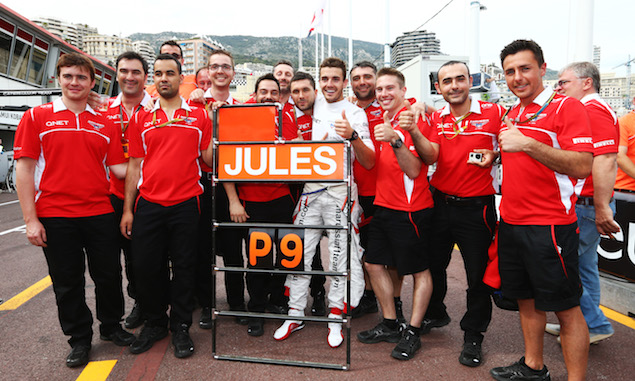 Rewind back to the start of the 2014 season, and the struggling Marussia team were rooted to the back of the grid – locked in a battle with Caterham to avoid the dishonour of finishing last in the constructors' standings.
But Marussia had a young driver with potential in abundance in the shape of Jules Bianchi.
It was the Frenchman's second season in F1, and he already had a mightily impressive CV, winning French Formula Renault, and both the Masters of Formula 3 and the Formula 3 Euro series.
But in the Marussia – which was arguably the slowest car at the time – it was near impossible for Binachi to really show his ability, even if he was consistently finishing ahead of teammate Max Chilton, another tidy young driver.
But the 2014 Monaco Grand Prix is where the world would take note.
The race was largely one of attrition, being filled with collisions and only 14 drivers would see the chequered flag – one of whom was Bianchi.
The Marrusia driver boldly barged past Caterham's Kamui Kobayashi at Rascasse, and even with a five-second penalty was able to finish in a sensational ninth-place, beating the likes of Kevin Magnussen in the McLaren and Kimi Raikkonen's Ferrari.
The brilliant result earned the praise of some of the sport's best drivers, with Fernando Alonso commenting: "I am extremely happy for him, [and] very proud for what this result will mean for his career. I have no doubts it will be a good career, but hopefully with this result he can have a more competitive car next year and show his talents even more."
It was Marussia's first points in F1 since they entered under the Virgin Racing name back in 2010.
Tragically, the world would lose Bianchi just two years later, aged just 25.
After a collision with a recovery vehicle at Suzuka in 2015, he lay in a coma for nine-months before passing.
Australian journalist Will Dale fittingly described Binachi's excellent Monte Carlo performance after his death: "Monaco 2014 will be remembered as his day in the sun, the high watermark of a career – a life – ended far too soon."
Hubert's heroics
Formula 2 has become a breeding ground for exceptional talent to develop their craft before making the jump to F1, featuring the likes of Charles Leclerc, George Russell and Lando Norris.
One other driver who looked like he would follow suit was Anthoine Hubert.
The young Frenchman had already been making waves in the junior categories, winning the GP3 series in 2018 before his promotion to F2.
On his debut in Bahrain, he would finish a very commendable fourth, but it was – like Bianchi – at Monaco, where he announced himself.
Hubert finished eighth in Saturday's feature race, which guaranteed him pole in the following day's sprint race.
It was far from easy for Hubert, who had the Carlin of Louis Deletraz filling his mirrors during the closing laps – but the Lyon-born driver was able to hold him off to take his first ever F2 victory.
He would continue to impress, winning his home sprint race at the Paul Ricard Circuit a month later.
Sadly, we wouldn't get to see where Hubert's exponential potential would take him.
At the 2019 Belgian Grand Prix, he would be involved in a major incident with Ralph Boschung and Juan-Manuel Correa, creating an impact of 70G.
Hubert was pronounced dead approximately 90 minutes after the accident, at just 22-years-old.
The next day, life-long friend Leclerc paid tribute after winning his first-ever F1 race saying: "We have lost a friend first of all and it's very difficult in these situations, so I would like to dedicate this win to him. I can't fully enjoy my first victory but it is a memory that will live with me forever."
Inconsolable sadness has so often come hand-in-hand with Motorsport – and this day allows us to remember the talents of those we lost far too soon, as they lit up the streets at the most challenging of circuits.
R.I.P Jules Bianchi (1989-2015)
R.I.P Anthoine Hubert (1996-2019)