Latest Episode | Cut To The Race Podcast
The news that the legend that is Valentino Rossi would be retiring from MotoGP at the end of this year was no surprise, but I couldn't help but feel quite emotional that it was finally happening.
Call that statement over the top, but Rossi is MotoGP. The nine time world champion has inspired so many current riders on the grid,  and even introduced his own team into the Moto2 class to bring in new talent mentored by him. He has been such a pillar within the sport that many of us, including myself, have always known Moto GP to have Rossi racing. Now that he has announced his retirement, I feel a bit sad that this era is coming to an end.
So what made Rossi the legend that he is?
At 42 years old, the Italian has had an incredible career. Spanning 26 years, Rossi has achieved nine world titles, seven of which were won in the top class. He has 115 victories, and is the only rider to have competed in over 400 grand prix races. His racing style is fearless and calculating, making every race exciting to watch. His flamboyant style of celebrating his race wins was just as intriguing as the race itself.
But something I enjoyed witnessing with "The Doctor" was his relationship with his rivals. Sometimes it was fierce and intense, controversial even, and other times it was funny how he would react.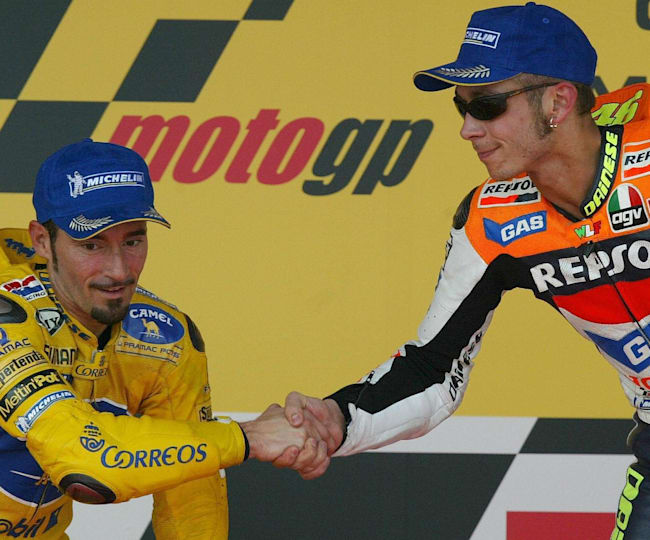 Image Credit: Getty Images
Loris Capirossi and Max Biaggi
Rossi has had his fair share of rivals. During his 250cc career, his fiercest rival was Loris Capirossi, but despite the intense battles, things never escalated between the two Italians. It wasn't until Rossi entered the 500cc championship that things became heated with Max Biaggi. The rivalry between Rossi and Biaggi had been growing since the mid 1990's, but it wasn't until the first round of the 2001 season at Japan that we saw just how fierce this rivalry would become. Biaggi tried to push Rossi at high speed to send his fellow countryman into the dirt, but Rossi was able to overtake him a few laps later, and gave him the finger on the way past. This obviously incensed Biaggi and two months later the rivalry turned physical as the pair came to blows at Catalunya. The fight involved their entourage and circuit employees and despite neither admitting getting into the fight, Biaggi appeared on the podium with clear marks on his face.
After what appeared to be a PR stunt putting the controversy behind them, the rivalry still simmered on track but never escalated as Rossi ran away with world championships and Biaggi struggled to find consistency after switching teams.
Sete Gibernau
Sete Gibernau was his closest rival in the 2003 and 2004 seasons and although the pair got along well during 2003, the relationship turned in 2004 at the Qatar GP when Rossi was handed a penalty which was thought to have been instigated by Gibernau. Rossi's team received the penalty for cleaning up his grid position to aid traction, something that not only Gibernau's Grisini team objected to, but the Repsol Honda team also. Rossi then accused Gibernau of "playing a dirty game" and it caused an epic fall out between the pair.
Image Credit: Motorsport Images
Casey Stoner
But the rivalries that I remember being particularly heated were between Rossi and Casey Stoner. I was never a fan of Stoner. The Ducati rider was more of a time trial rider, not a racer. He would run out into the distance and you would never really see him in a fight for position. But the move to Ducati in 2007 started a fire amongst the pair. Rossi, in his Yamaha, was regularly fighting for wins with Stoner, but their rivalry turned nasty at the United States GP in 2008. As Rossi made a move on Stoner at the corkscrew, Rossi ran into the dirt and as he rejoined the track, he nearly collided with the Australian. Stoner then nearly collided with Rossi a few laps later after taking his bike for a trip into the gravel and rejoining the track nearly taking out Rossi.
Jorge Lorenzo
As his rivalry with Stoner heated up, Rossi had a new team mate at Yamaha as Spanish rider Jorge Lorenzo stepped in. At first, the youngster did not pose a threat to Rossi, but in 2009 things became heated. As Rossi battled and won the race on Lorenzo's home turf in an unlikely victory, Lorenzo took the championship in 2010 as Rossi fell foul to a shoulder injury. Switching to the Ducati team, Rossi basically handed Lorenzo the next two seasons championships as the Ducati was not as competitive as he would have liked. He returned to Yamaha in 2013, still with Lorenzo as his team mate and the intense rivalry resuming. In 2015, Rossi was on course to win his tenth world title, and was just ahead of Lorenzo in the standings, but an incident with Marc Marquez in Malaysia demoted him to the back of the grid in the final race of the season at Valencia. Lorenzo started the race in Valencia on pole and won the race, and subsequently the championship by five points. Rossi claims he was stitched up with the Italian stating that "having Marc Marquez as the bodyguard of Lorenzo is embarrassing."
Marc Marquez
Marc Marquez saw Rossi as his childhood hero, watching him race as he was growing up. After entering MotoGP in 2013, he always insisted that it was a pleasure battling it out with Rossi on track. They endured some small collisions which the pair put down to racing incidents until the 2015 season in Malaysia when Rossi accused Marquez of deliberately being aggressive to cost him time between him and Lorenzo. After that incident which was dubbed "The Spanish Stitch Up", the relationship was strained, with Rossi still maintaining that Marquez was too aggressive. It took a few years for them both to shake hands and make up and it finally happened in 2019, just before the celebrations at the grand prix in Argentina.
Headline Image: MotoGP